Gwen
spending Christmas in her new forever home!

When TAF first met Gwen at Animal Control, we were told that she had been impounded in a deplorable state. Gwen was so infested with fleas that she was actually bleeding. She was dangerously close to being emaciated and she was terrified. We were actually called to help because the shelter environment was getting the best of Gwen and she had stopped eating.

Once we took Gwen into our care, she was taken to the vet by the next morning. After staying the day receiving medical treatment, Gwen went into foster care at The Moon Dog Farm. There she was nurtured, hand fed and given every opportunity to thrive. When she was feeling especially lonely, Gwen was able to score a place in the bed next to her foster dad.

Knowing that Gwen was bonding so quickly to her new foster family, we thought it best if we could find a forever home willing to continue with her medical care. This way Gwen could bond with them as she continued to healed.

Wouldn't you know it as soon as we posted about Gwen and her medical needs, a special family stepped up to adopt her. Even though they knew Gwen wasn't 100% they welcomed her with open arms. Their selfless act of kindness was going to forever change a homeless dog's life and give the ultimate gift of a forever home... what extraordinary people. Gwen is a very lucky little girl.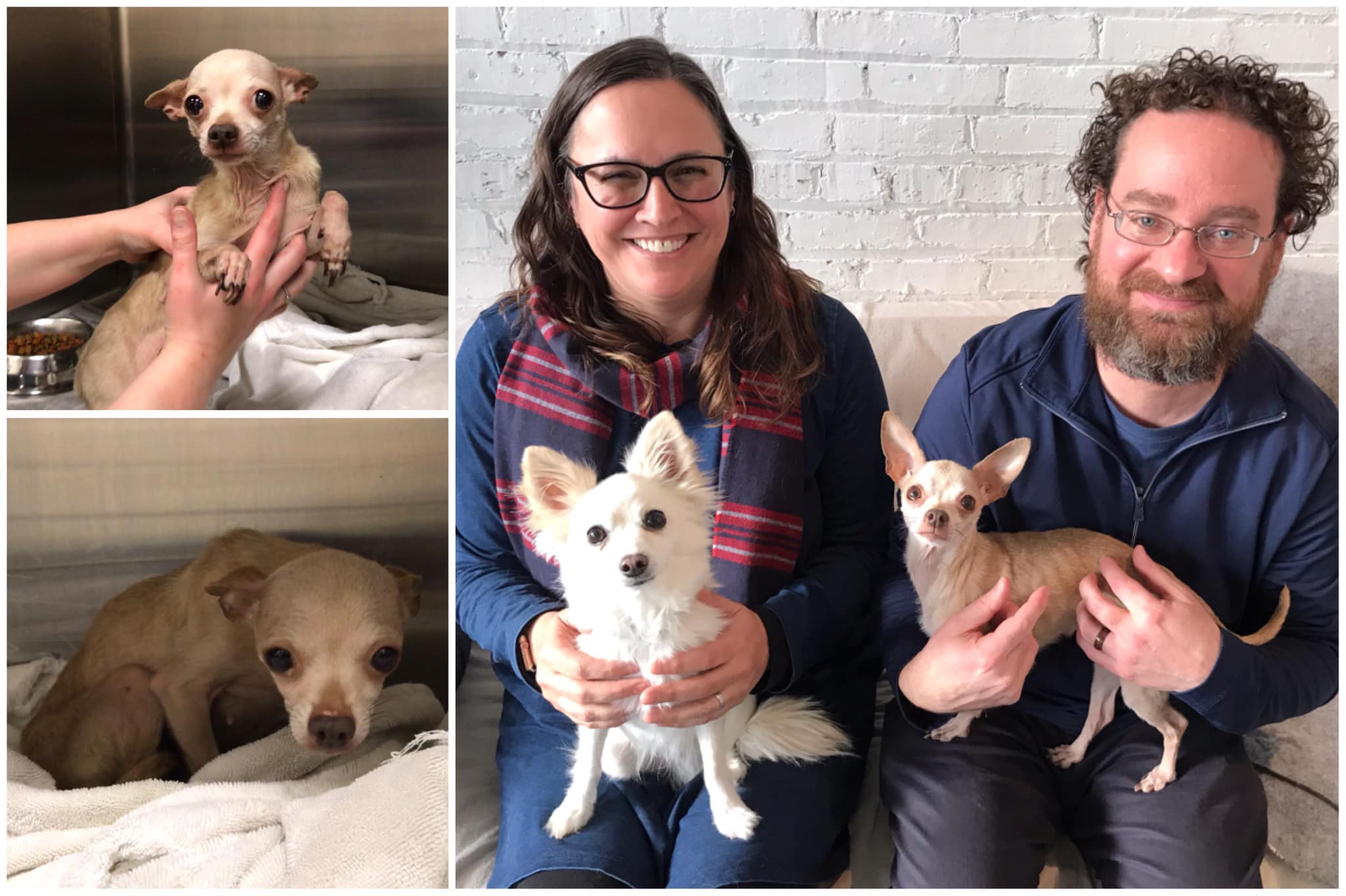 Binky
Remember Binky? We never got the chance to show you her amazing new dad. He fell in love with her the moment that he met her and the rest is history!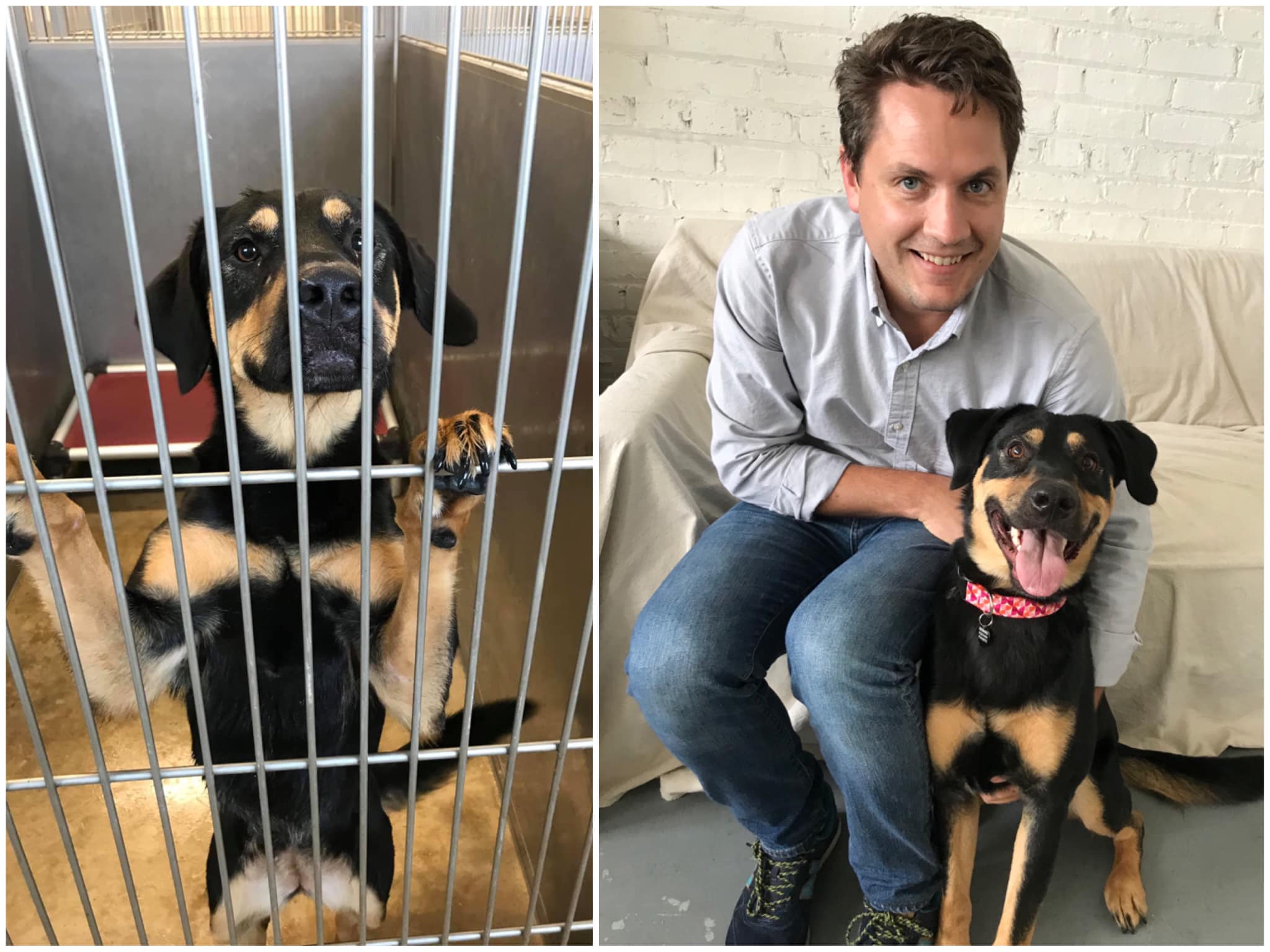 Violet
Violet never got the chance to tell you that she found her forever home! She is enjoying her second chance at a new life with her big sister, mom and dad this Christmas.
Violet's parents are pretty special people and we are so happy for all of them
!
Skeeter
Little Senior Skeeter Found His Forever Home!
Early in July, TAF came across a little senior pup while walking through Animal Control. Cowering in the corner of his cage, Skeeter was scared and confused. How could he even begin to comprehend how he ended up there? Due do his horrendous teeth, Skeeter was repeatedly passed up by potential adopters and rescues. Everyone knew that his dental alone would cost close to $800. This did not include vaccinations, senior blood panel, microchip and neuter. Skeeter was going to be a big financial undertaking that could put a lot of people/rescues in the red.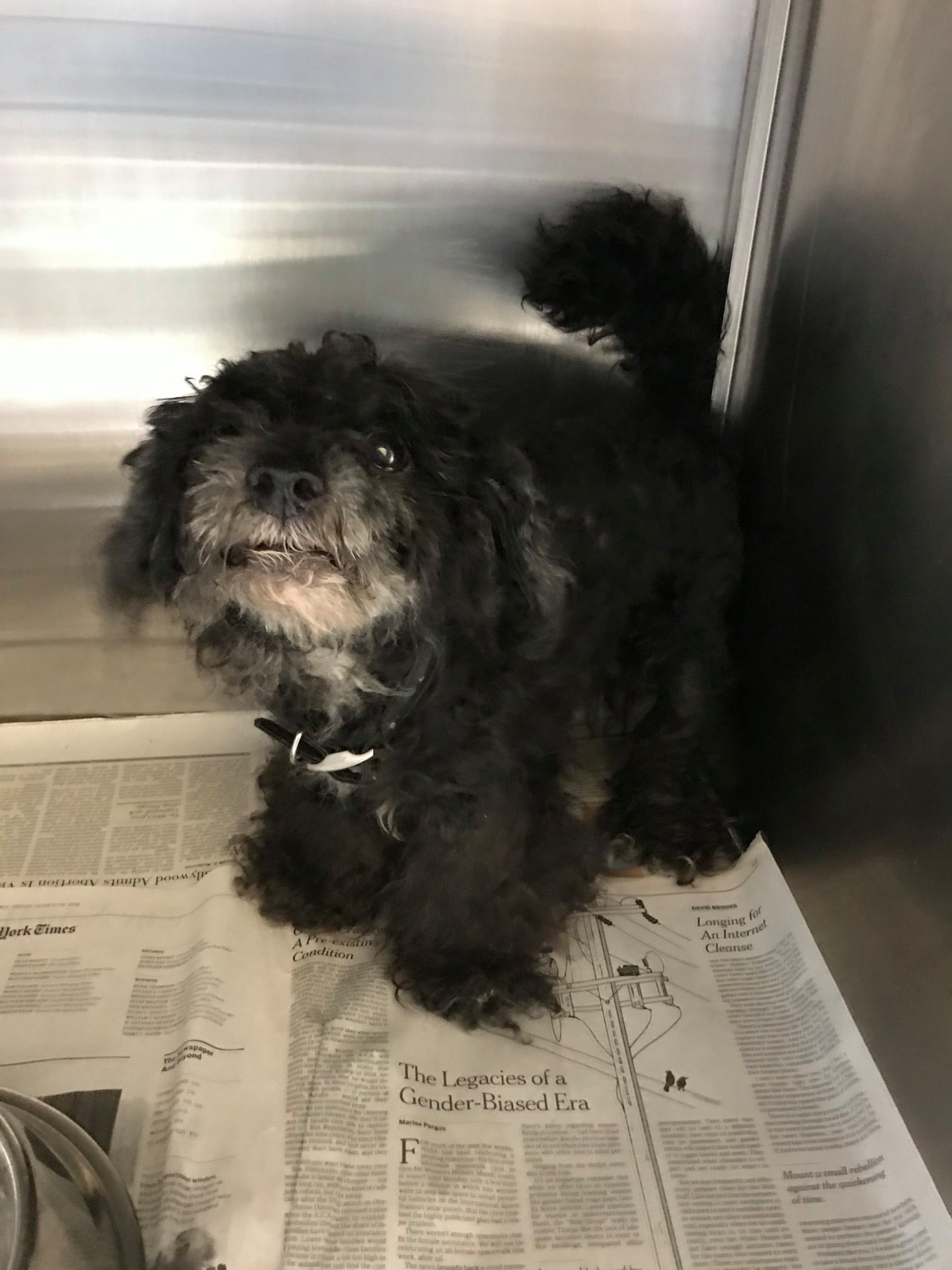 Knowing that TAF has some pretty amazing supporters, we saved him that very same day. Skeeter would go on to spend the next few weeks at the vet fighting off an upper respiratory infection and preparing for surgery. Once he was all fixed up, he came back to us and was officially ready for adoption.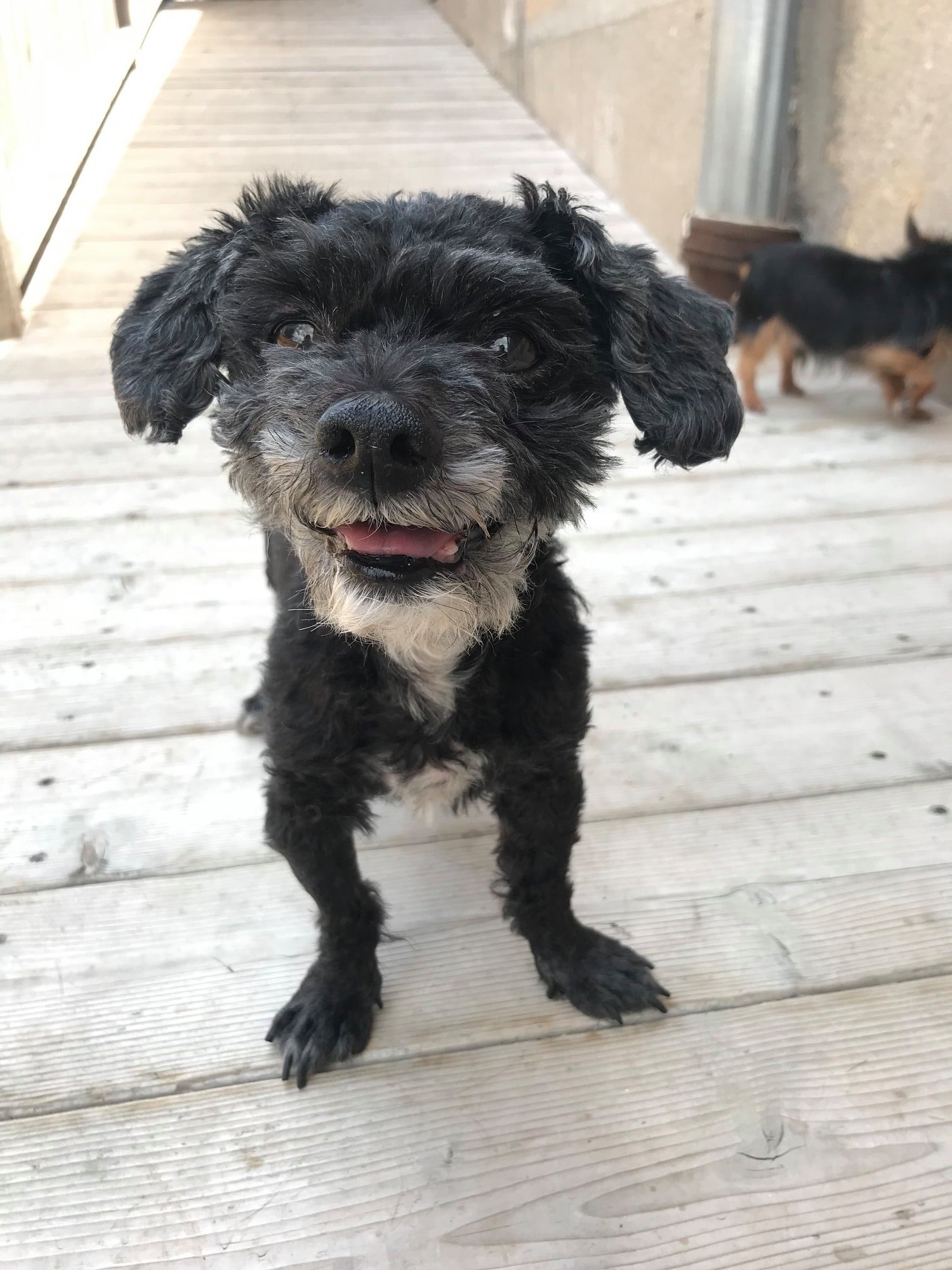 With that being said, we are so happy to announce that Skeeter has found his forever home! Skeeter has left the city for a quieter life in the suburbs. He is an only child and his new mom and dad adore him. Skeeter has yet to want for anything and is spoiled rotten. For a senior dog running out of time at Animal Control, you couldn't have asked for a happier ending. Skeeter's new mom and dad wanted to give a senior dog the best twilight years of their life and they are doing just that. Thanks to everyone that supported Skeeter and made it possible for us to give him a second chance!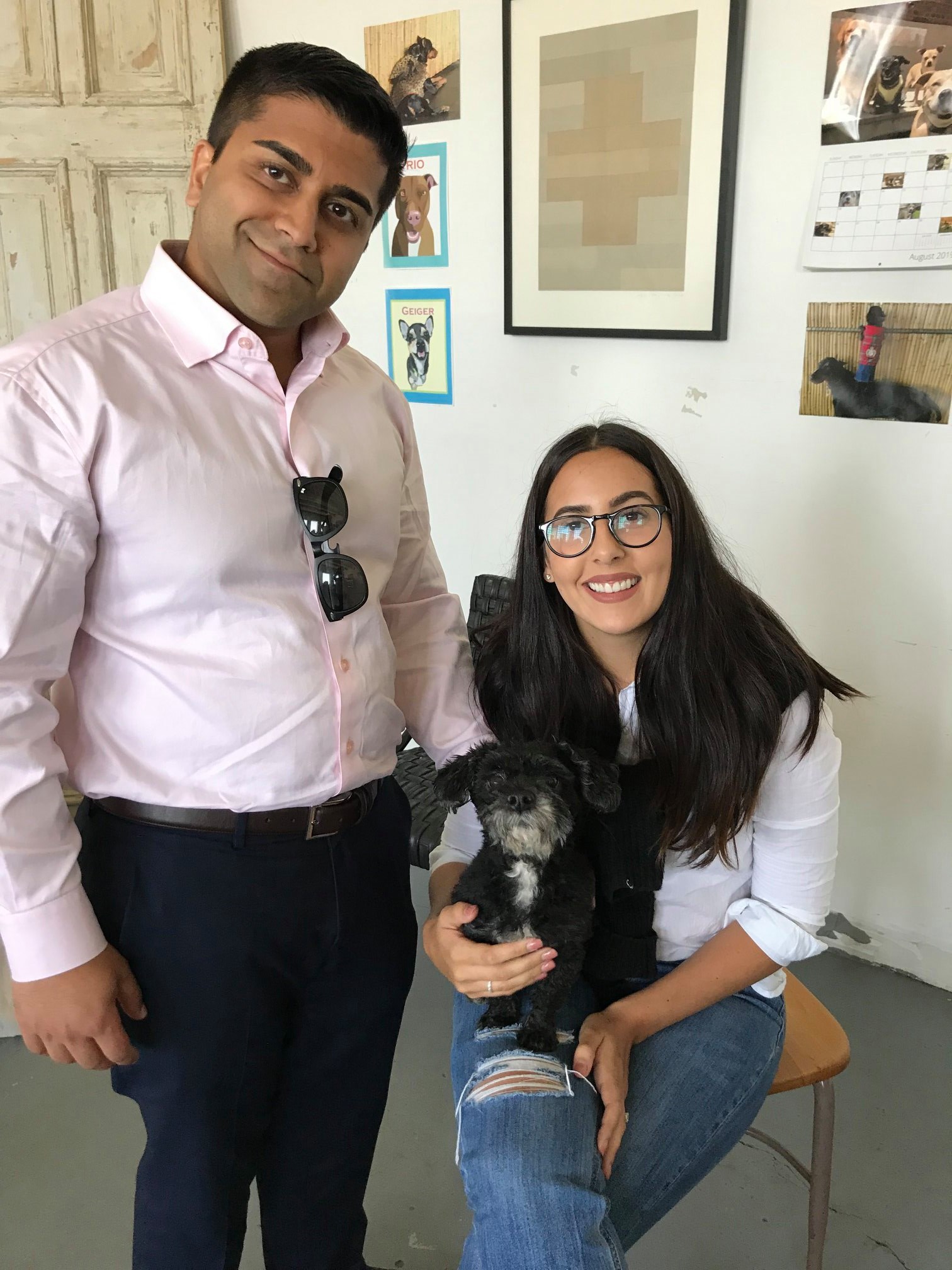 Winston
Imagine being at Animal Control and looking over to see Winston trembling through the bars of his cage in fear… With 80% of his teeth missing, Winston's tongue was hanging out of his mouth and his remaining teeth were as brown as his fur. Estimated to be 10-15 years old, Winston was believed to be totally blind at the time. With the deafening barks of the other shelter dogs, Winston did not know what was going on or where he was. Needless to say, we left with him that day.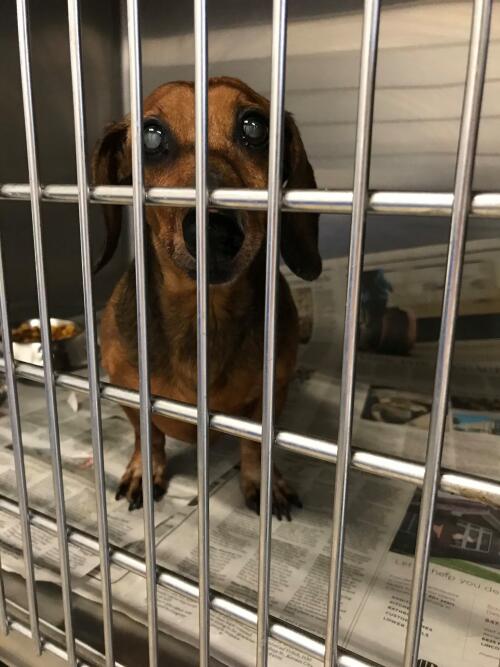 Once in our care, Winston immediately underwent extensive dental surgery. The condition of his mouth was so dire that the roots of 6 teeth were already abscessed. The abscessed roots were so severe that they almost fractured his jawbone. Winston was also diagnosed with severe cataracts but it was determined that he did have some vision. One more discovery was that Winston tested light positive for Lyme Disease. He has been started on Doxycycline and his medical team believes that he will be just fine.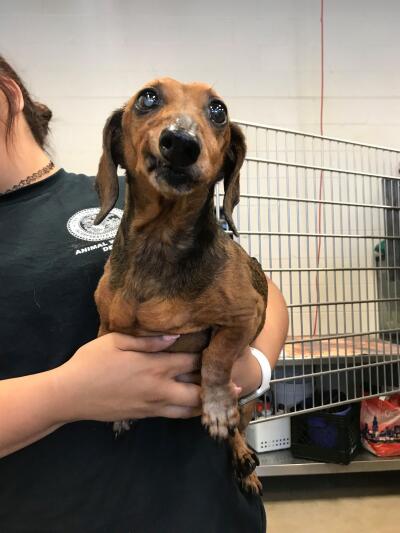 Once through the worst of it, Winston was ready for adoption. Little did any of us know that the perfect home was waiting for him! Winston's future mom was looking for a senior pup that needed a second chance. One that had been left behind and wanted nothing more than to be loved… for her, Winston was the one. When Winston met his future mom and brother, he walked right over and gave his mom a kiss on her hand. For him, she was the one. The rest is history. This beautiful family can now live happily ever after Winston can live out his twilight years with grace and dignity. TAF would thank to send out a big thank you to everyone that donated towards Winston's extensive medical care. We honestly could not have done it without you. Most of all, TAF would like to thank The Moon Dog Farm for fostering Winston and taking such great care of him. As always, you really did us a solid.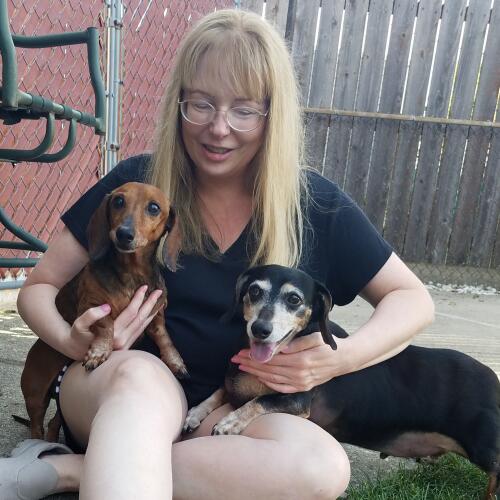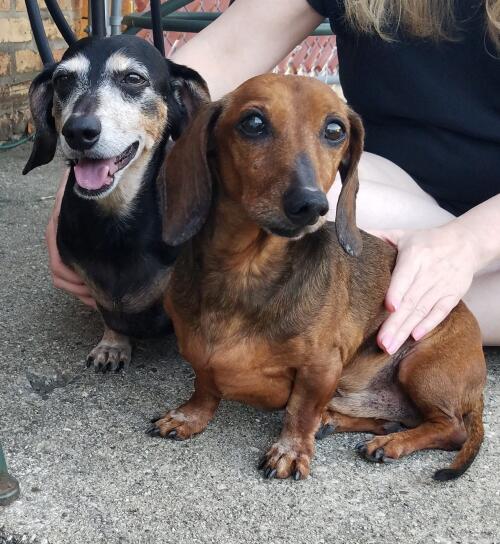 Sophia

On June 10th, an emaciated female puppy was found unresponsive in an alley right on the asphalt. At first it was assumed that she was dead but the officer that picked her up realized that she still was still breathing. In critical condition, Sophia was brought to the vet in hopes of giving her a fighting chance. It was a long shot but they had to try. When Sophia reached the vet, her blood glucose level was so low that it didn't even register. It would take Dextrose and IV fluids for Sophia to regain consciousness.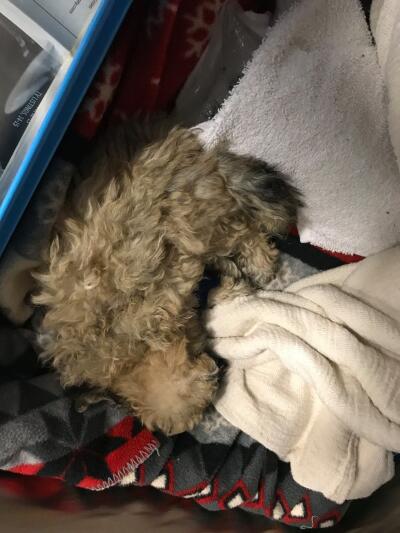 Once Sophia was considered stable, she was impounded at Animal Control where she continued to receive IV fluids and be syringe fed. When TAF was asked to save Sophia, we had no idea that she was no more than 8-10 weeks old. It was not until arriving at Animal Control that we fully realized the gravity of the situation. When brought to her cage, all that you could see was a kitty litter box a towel and some blankets. Sophia was so small that she disappeared into the background. It wasn't until I picked her lifeless body up that I realized Sophia was skin and bones under all of that fluff. She needed immediate critical care and time was of the essence. Sophia would go on to be hospitalized in the ICU at the ER vet for the next 5 days.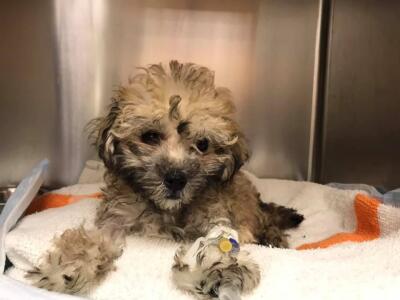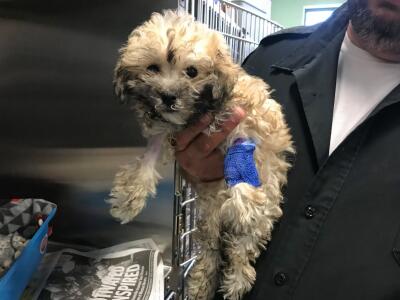 Once considered stable she was transferred back into our care. In the weeks to follow, it was a constant battle to get Sophia to eat and at one point we thought we were going to lose her. There were a lot of sleepless nights, trips to the vet and many prayers to get Sophia through the worst of it. The VIP through all of this was TAF's momma therapy dog Antler. Antler kept Sophia warm and watched over her until she was ready to venture out on her own. When Antler needed a break, she would call in our giant puppy Eeyore to babysit for her.
At one point during all of this, a very special woman offered her help in nurturing Sophia back to health. When Sophia needed round the clock care, it was impossible for her foster mom to provide it. This is when Linda came in to help. Linda eventually took over the majority of Sophia's continued care and made sure that she made it to every vet appointment, etc. Needless to say, Sophia quickly bonded with Linda. Linda never left Sophia's side and made sure that Sophia had constant companionship. Now after 3 months, we are so happy to announce that Sophia has made a full recovery and found her forever home. Linda is now Sophia's new mom. Sophia's story of survival is nothing short of a miracle. This brave little puppy never gave up and with the help of Antler, Eeyore, Linda and an army of people supporting her... she got a second chance at a new life. Sophia had a lot of living left to do and was not ready to leave… The Rainbow Bridge just had to wait.
Hannah
Back in June, TAF came across Hannah after her owner had given her up to Animal Control. She was a scared little thing with infections in both ears and in need of dental surgery. Though Hannah looked a bit pathetic, she still found it in her to wiggle her little nubbin' when we went to her cage. Once she realized that she was about to be saved, there was a whole lot of wiggling going on!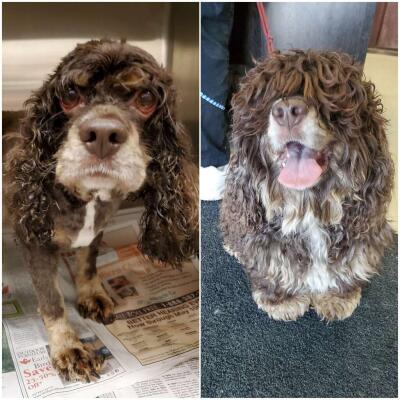 Hannah would go on to stay at the vet until she underwent surgery. Once she was given the ok to go, she went into a foster home.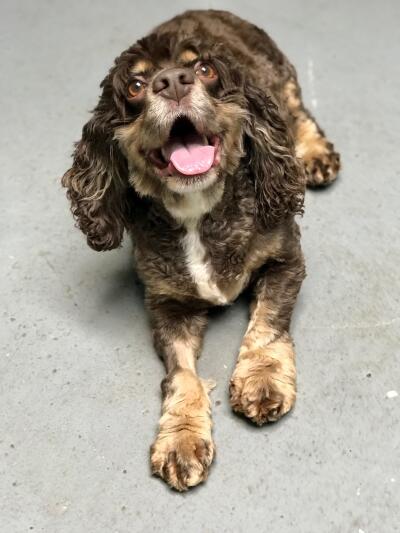 TAF is so happy to finally announce that Hannah has found her forever home! Her new brother could not be any cuter and they truly love each other. When it comes her new mom, well… she is over the moon for Hannah. Hannah will never be left behind again and she will never go without. She has a forever family that loves and cherishes her, now and forever. A big thanks you to everyone that donated towards Hannah's medical care. Once again, you have allowed us to provide another homeless dog with top-notch medical care. Also, thank you to The Moon Dog Farm for taking care of our sweet girl until her new mom came along. As always, you are so appreciated!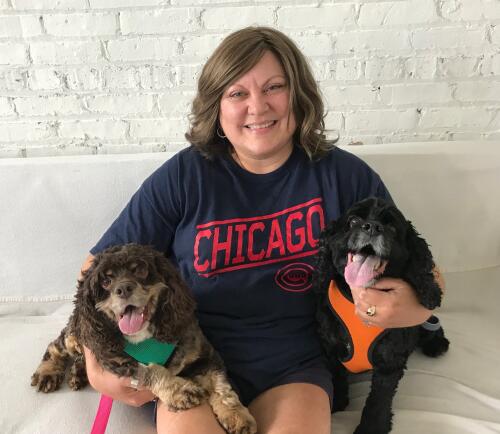 Tootsie
Our Blind & Deaf Senior Finds Her Forever Home
On June 10th, Tootsie was given up to Animal Control when her owner was moving. What Tootsie's owner did not tell the facility was that Tootsie was almost completely deaf and blind. If they just had let someone know about her medical conditions, she wouldn't have been left to suffer in a cage. All that she knew was that she wasn't at home and could only move a few feet in each direction. One might assume that Tootsie had behavioral issues, due to fear, but she did not. Tootsie was quiet as a mouse and just liked to know you were there... she just wanted to be loved. When TAF was asked to save Tootsie from Animal Control, we too had no idea that she was almost completely blind and deaf. Even though we knew her case would be a challenge, we just couldn't leave her behind. In addition to two major medical issues, Tootsie's teeth were so bad that she could not eat without feeling pain with each bite. At that that point, her quality of life was horrible. TAF took Tootsie right to our vet where she was started on pain medication and antibiotics for her teeth. She also underwent a slew of tests to see if there was anything that could be done to help her eyesight and further bring her comfort.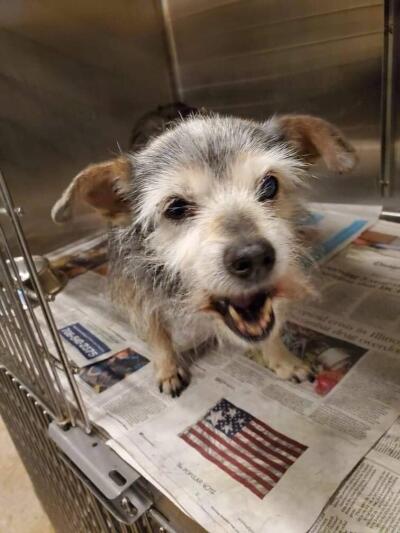 Once considered stable, Tootsie was transferred to a foster home to await dental surgery. Our friends at The Moon Dog Farm would go on to assist with her care until Tootsie was ready to find her forever. They really did us a solid and took a huge load off of our back. We are so grateful for their continued friendship.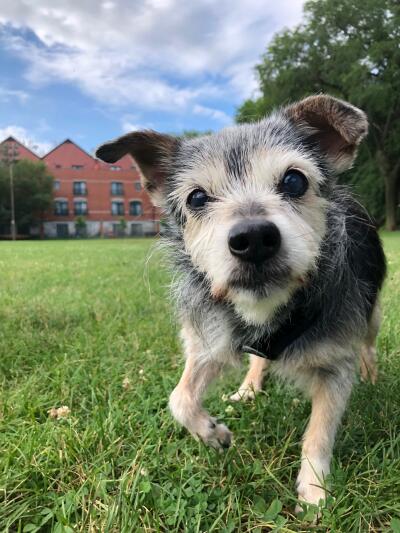 Now for the great part… we are so happy to announce that Tootsie has found a forever home! She has two moms and fur siblings to watch over her, love her and guide her through the rest of her twilight years. We couldn't have asked for a lovelier couple to pick up where we had all left off. Tootsie's moms have shown such an extraordinary act of kindness, compassion and understanding… medical issues and all, they have given Tootsie her happily ever after. Here is a wonderful update from Tootsie's new mom's… Tootsie eats like a horse and we are working out a system of gates to keep her safe. She rests well (hard stop at 9 pm) and she LOVES the stroller when we go on walks. We don't know what her life was before but we are committed to making all that she has left safe, loving, and happy. Thank you for bringing her into our lives and pack!!! I think that it goes without saying that Tootsie has just hit the jackpot. We are so grateful for everyone that gave this forgotten senior a second chance. To our donors, we couldn't have done it without you. We continue to be blown away by your generosity and for making saves like this possible. You are truly the best.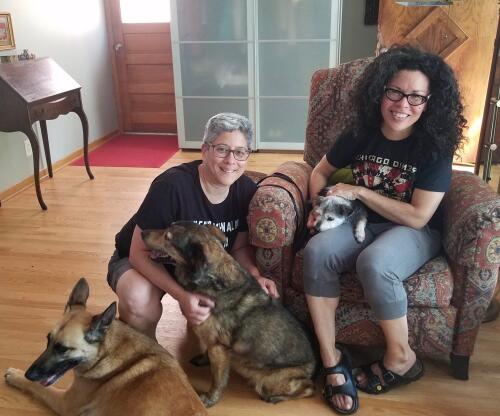 Nymeria
On May 20th, an emaciated Nymeria walked herself into a car service station looking for help. She didn't want much but for a scrap of food, to rest and relief from her pain. Due to her overpowering smell and dilapidated appearance, the customers asked that she be turned out onto the street. There was no compassion shown towards Nymeria only disgust and a lack of humanity. As Nymeria was being let out the front door, a kind woman came to her rescue and let her into her car. It was then that TAF was contacted and we agreed to meet Nymeria at the ER Vet.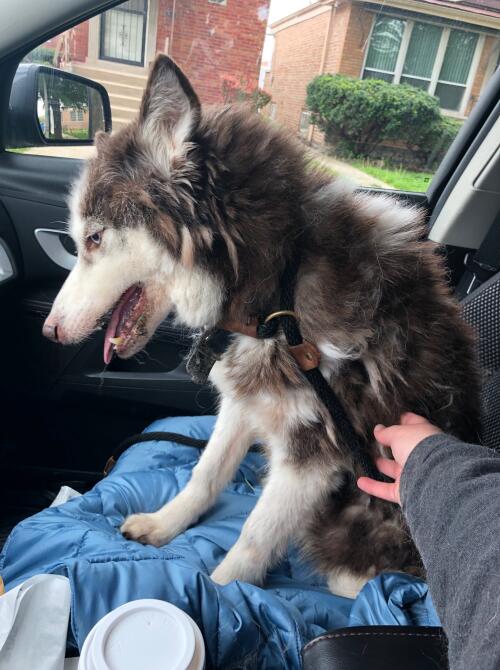 We knew that Nymeria was emaciated but did not know that she was starving to death due to extreme pain. Upon further examination by the ER vet, Nymeria's teeth were so rotted that some were actually soft to the touch. As you can imagine, Nymeria screamed out in pain when her mouth was examined. The level of pain was so intense that she actually needed to receive Fentanyl medication in her IV fluids. Fentanyl is the medication used after major orthopedic surgery. Nymeria would go on to spend the next 3 days receiving pain medication, antibiotics and supportive care at the ER. Once it was determined that Nymeria was stable, she was transported to TAF's primary Veterinarian for a surgery that would ultimately save her life. In all, Nymeria would need to have 34 rotting and infected teeth removed… that very next day her quality of life has already greatly improved and she started to eat on her own.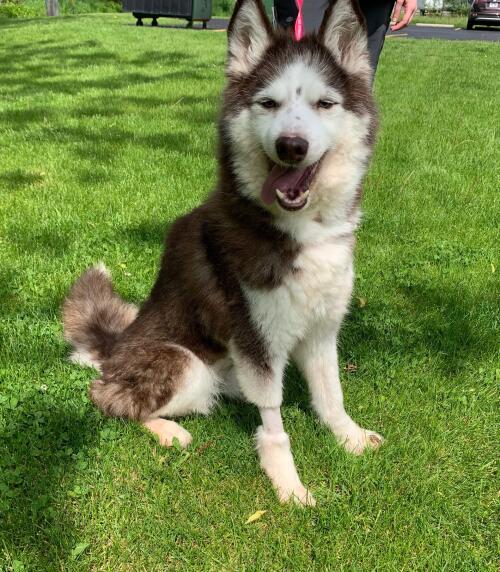 No longer did she cry out in pain when she ate and she finally showed us her smile. In the weeks to come, Nymeria recovered in our care and continued to slowly gain weight. At first we needed to roll wet food up into little balls and freeze them. These meatballs were much easier for her to eat and she ate multiple small bowls throughout the day. Since Nymeria was still emaciated, we had her on a slow re-feeding routine t prevent re-feeding syndrome. As time went on, Nymeria started to go on long walks and enjoyed her time in the sun. She would sunbathe and enjoy the company of anyone that wanted to say "hello". Almost immediately back into our care, Nymeria's future mom started contacting TAF letting us know that she was interested in adopting our senior. Even though she had only seen photos of Nymeria on facebook, she had felt an instant connection. It didn't matter that Nymeria was 10(+) years old; only that she deserved a second chance.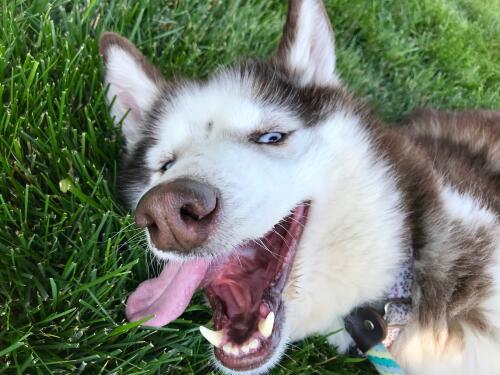 When Nymeria was ready for adoption, her new mom and dad drove over 5 hours to meet her. They had already fallen in love with her and wanted to meet her in person. Upon meeting Nymeria, there was an immediate connection and Nymeria undeniably knew that she had just found her forever home. There was a pep in her step and she was smiling from ear to ear. Nymeria had found her family and it was just meant to be. Not only did Nymeria find her mom and dad that day but gained two senior siblings… a ready made family for a once forgotten dog from the streets of Chicago. Nymeria now calls Wisconsin her home and is happy to have left the city life behind. She has the most amazing parents and spends her days going for walks and sitting in the backyard with her family. She is now living her happily ever after.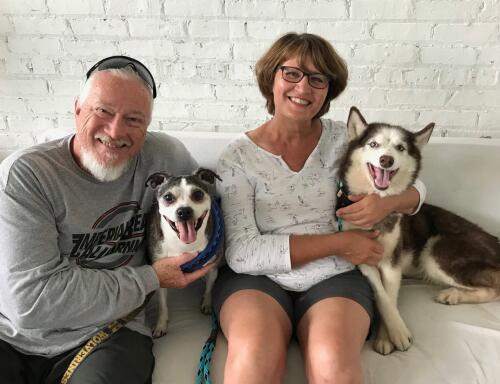 TAF would like to thank everyone that contributed to saving Nymeria. She truly did have an army of people rallying behind her and cheering her on. From start to finish there was Katie that rescued Nymeria off the street; Nymeria's medical teams from MedVet and Delavan Lakes Animal Hospital; Lauri who transported Nymeria to our vet up in Wisconsin and Sabetha and Paul who drove her back to us in Chicago. Lastly, our BIGGEST thank you must go to everyone that donated towards Nymeria's extensive medical bills. She would not have survived without you giving TAF the opportunity to provide her with the best medical care possible. This along with so many positive thoughts and prayers that really lifted Nymeria up and made her one of the many survivors of TAF.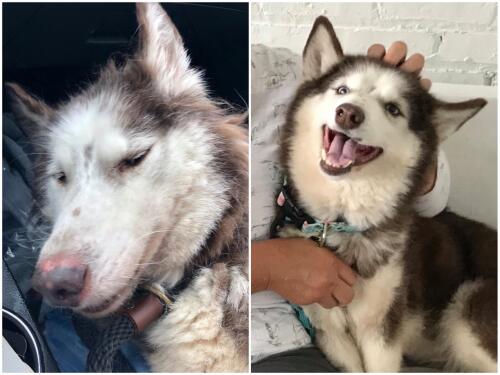 Macey
After spending day in and day out in a cage lined only with newspaper, Macey has found a forever home!
On June 8th, TAF was contacted by local Animal Control about a senior Chihuahua that had been with them for over a month. Macey was showing very poorly in her cage and nobody wanted to take her out let alone adopt her. Knowing that she stood little to no chance of leaving the facility, we agreed to take Macey in. When we went to meet Macey, she was missing quite a bit of her fur , her bare skin was pink as could be and he tongue was hanging out. She badly needed a dental and pretty much just looked like a scared little rodent. It broke your heart seeing a 5 pound senior little so terrified that they were trying to crawl up the back of their cage. Long story short, TAF took Macey in and was able to bring her right to the vet.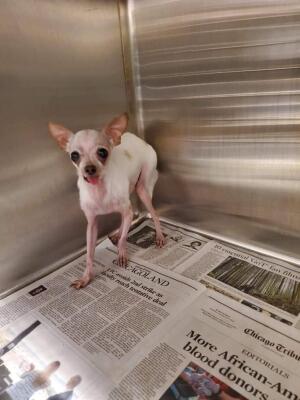 After recuperating there for little over a week, Macey came back to TAF. She needed to put on some weight before going under for dental surgery so she chilled out with us. During that time, one of TAF's first adopters (started back around 10 years ago) contacted us about possibly giving Macey a forever home. This beautiful couple had already adopted 3 TAF dogs in the past and now was ready for another. Their first adopted dog, Leia, was actually paired up with TAF's namesake Trio. Leia had been used in a testing lab. Their next adopted pup was a sweet Chihuahua mix named Wilma. Lastly, perhaps one of my favorite foster dogs ever, was Chula. Chula was the littlest biggest jerk and was a 5 lb. piranha that lived at my home. I never even tried to interact with Chula; TAF's therapy dogs Bentley & Hazel Grace won her over. Once they did, Chula followed Antler and Miller around. Finally, she gave me a chance and became my little buddy. After that she was a work in progress and eventually realized that humans could be pretty cool once given a chance. (Please make sure that you check out Chula's face in one of the family's adoption photos! If looks could kill… LOL!)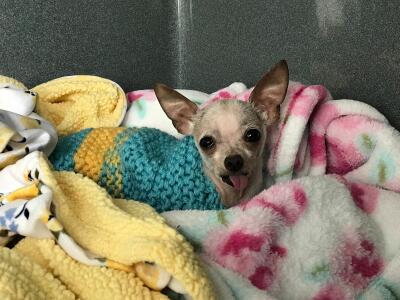 Well, with all of that being said, TAF is so happy to officially announce that Macey has been ADOPTED!!! This poor senior dog had to go through hell to come out on the other side to one of the most loving and happy homes. She will never want for anything and will always know that she is loved unconditionally. Pretty much her twilight years will be awesome with two of the most selfless people we have ever met. Like with Chula, Macey's mom and dad saw just special a senior dog can be.