Aster
When Aster was to be euthanized, people like you stepped in and saved her life…

Back on September 1st, TAF received a distress call from the emergency vet. We were told that a puppy had been hit by a car and was going to be euthanized if we couldn't cover her medical bills and take her into our program. Aster had both of her front legs broken and she was suffering. It was a do or die situation and we chose life.

After having both of her legs repaired by an Orthopedic Specialist, Aster would go on to have 10 weeks of physical therapy and rehabilitation. TAF paid for all of Aster's medical bills and her foster home took on the daunting task of keeping a 10 month puppy on strict crate rest. Not to mention driving over 4 hours a week for Aster's doctor appointments. It was a labor of love for Aster's foster parents and we can't thank them enough. Lisa and Officer Bob are truly amazing human beings.

Now, we are so happy to officially announce that Aster has a mom and dad to call her own! Our brave little puppy conquered all odds and was given a second chance. Because of TAF'S selfless donors, a defenseless puppy's life was saved and a forever home was found. A forever home with a family that loves her and will watch over her for the rest of her life… and a very long and happy life that will be.

Thank you to Aster's medical teams. There were so many people that put our puppy back together, again. To everyone that sent positive thoughts, prayers and shared Aster's post, you truly made a difference. Thank you!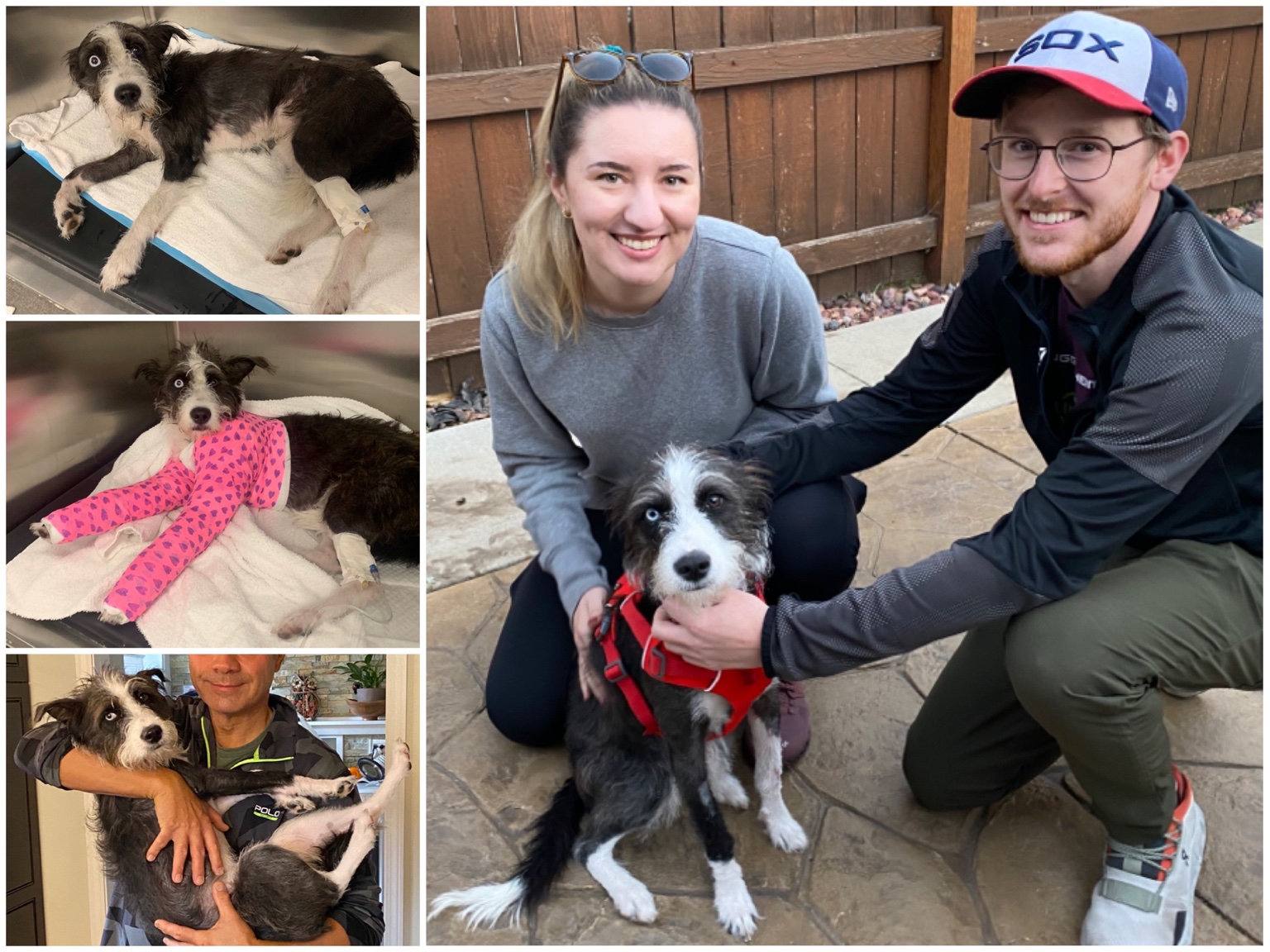 Marge
MARGE!!! Look at one of our little miracles. After surviving a flea infestation that drained most of her blood. A mouth full of rotten teeth and coming dangerously close to losing both of her eyes, Marge did it! Our senior girl has made a full recovery and found her forever home!

On September 27th, Marge was left to die in an alley. TAF took life saving measures that included a blood transfusion, amongst other things. Marge was so critical that her medical team didn't know where to begin or if the battle had already been lost. We told them to start simply with a heartworm test and senior blood panel. After that, we would make our decisions based on quality of life, realistic outcomes and gut instincts. We can, now, proudly say that we knocked this one out of the park!

When it comes to Marge's new mom, WOW! She is a repeat adopter and has helped so many abused dogs in our care. We were absolutely thrilled when she reached out to us asking to be Marge's mom. Alycia is a truly selfless woman and Marge will never go without. Who would have thought that a dog thrown away like trash would have gotten such a happy ending? I guess everything is possible if you just have faith.

TAF would like to thank all our generous donors and supporters. By sharing Marge's post, sending prayers, positive thoughts and donations, she was given a gift that most abused dogs never get… a do over. A second chance to live the life they were meant to have.


Kingsley
On December 13th, TAF posted about a senior dog that had received some bad news. After beating all medical odds, Kingsley was diagnosed with early-stage bladder cancer. It was a fluke that we found out and a gift that we did. With medication, Kinsley's medical team believes that he can live a full and happy life for the year to come.

When it came time to find a home willing to take in a senior dog diagnosed with cancer, hyperthyroid and potential bladder stone issues, we thought the odds were slim to none. Well, we are happy to tell everyone that there are some really kind people that stepped up and offered to see things through to the end with Kingsley… truly selfless people.

With that, we are thrilled to announce that Kingsley's Christmas wish came true… he just found his forever home! A home that will help him thrive for the months to come and be by his side when the seasons change. It takes a special person to knowingly step into such a role and Kingsley is blessed to have found one. Well, there are actually two… Kingsley has a dad, too!

A happy ending like this is pretty unbelievable any time of the year. However, on Christmas Eve, it seems a lot more special. Kingsley has been given a chance to live happily ever after.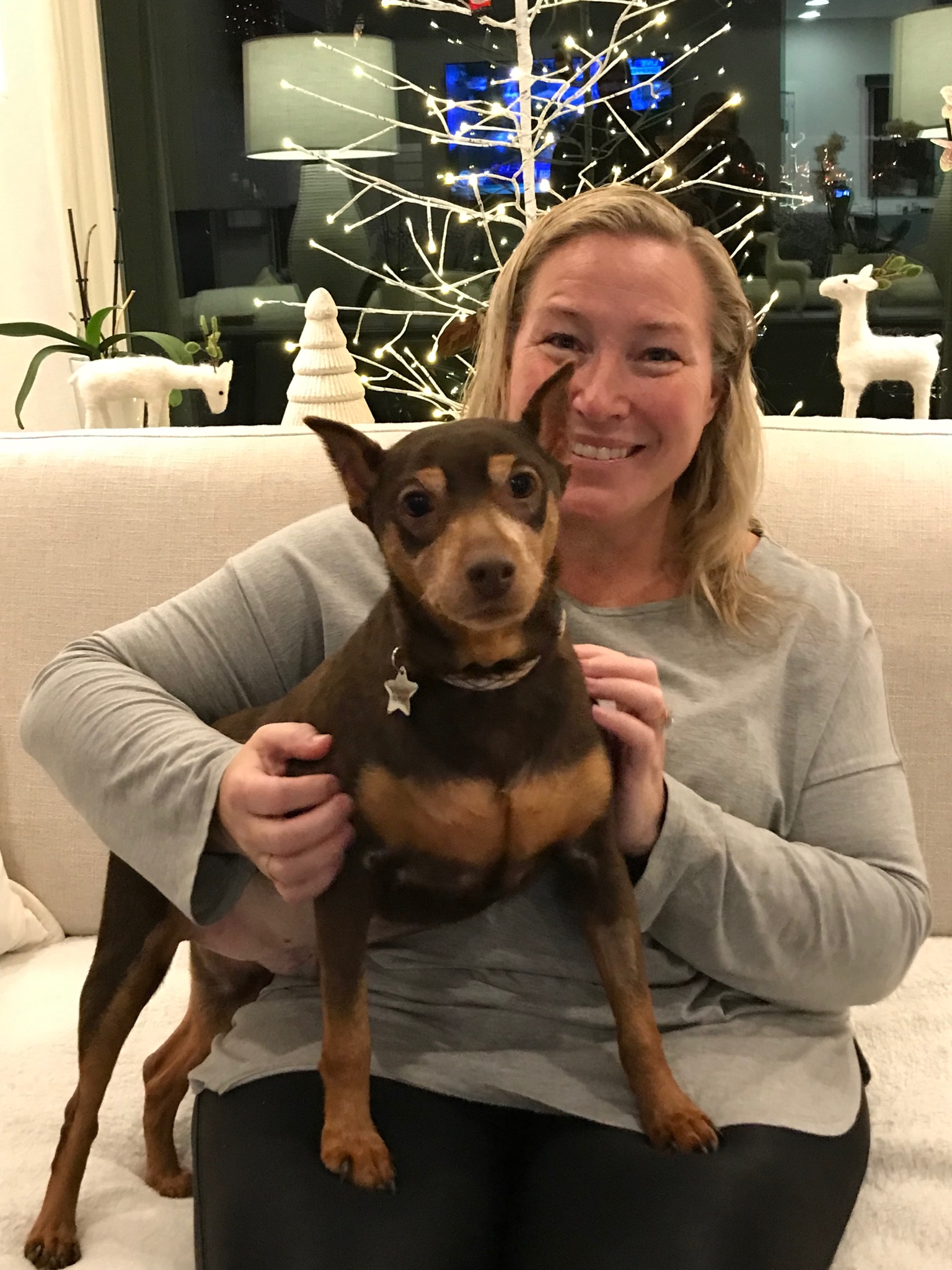 A big thank you to everyone that helped to sponsor Kingsley's medical bills. Also, to Dr. Moser at Companion Animal Hospital Wicker Park for taking Kingsley under her wing. If it wasn't for you trusting your gut and going above and beyond during surgery, Kingsley's outcome would be very different. TAF would also like to thank The Moon Dog Farm for fostering Kingsley and nursing him back to health. You always have our back and we really appreciate it. Finally, there really aren't any words that can accurately describe how grateful we are to Kinsley's new family. You have given hope to so many people and remind us all that there are still a whole lot of good people in this world.
Mugsy
This past summer, a senior pup named Mugsy came into our care. He was a snarky little fellow with a tough personality to read. At times Mugsy was bossy, pushy and a bit of a bully with dogs. Other times, he was right in step with his dog friends and happy to be in their company. He was a confused little man with a lot of nervous energy. Mugsy had been in a shelter environment for so long that he didn't know if he was coming or going… so long in a cage that Mugsy simply forgot what it meant to be happy, loved and safe.

It has been a while since Mugsy had a staycation with TAF'S rescue dogs so some of the specific details are a bit fuzzy. However, this I can tell you.When the day came to meet Mugsy possible adopters, we knew that it was a long shot. With his personality quirks, he was a hard sell. We knew that his forever family had to be the unicorn adopters that all people in animal rescues wish for. Luckily for Mugsy, all of the planets aligned, a rainbow appeared, a bed of four leafed clovers sprouted up and the mother of all mother unicorns appeared. The most perfect family in the whole world stepped up and welcomed Mugsy into their home with open arms.

Mugsy's new moms not only understood that he was a work in progress but were so forgiving of some naughty behavior. They let him learn how to be a dog, again, and held his paw through the process.

Just in case, we held off on posting Mugsy's adoption. Knowing that social media can be pretty brutal, we wanted to make sure that everything worked out.

This post is long overdo but we are thrilled to officially announce that Mugsy has found his forever home! I cannot reiterate enough how blessed this senior dog is finding his new family. To say that his moms, and new brother, are beyond amazing would be the understatement of the year. Side note, can you just look at the happy smiles on their faces? Even Mugsy's new brother is smiling. (His new brother might actually be one of the cutest dogs that we have ever seen… that smile!)

Cheers to Mugsy and his new family this New Year's Eve. We raise our glasses to honor a truly stellar couple that has given a once forgotten dog a second chance. What a great way to ring in the new year!

TAF would like to thank our generous supporters for making stories like Mugsy's possible. This does not just include financial support. For a dog like Mugsy, social media shares plays an integral part in raising awareness and finding forever homes. In addition to this, we have to thank The Moon Dog Farm for helping to foster Mugsy when he first came into our care. Once Mugsy went through isolation at MDF, he was able to make his way to be with TAF'S therapy dogs. After some much needed socialization, our boy was ready for adoption.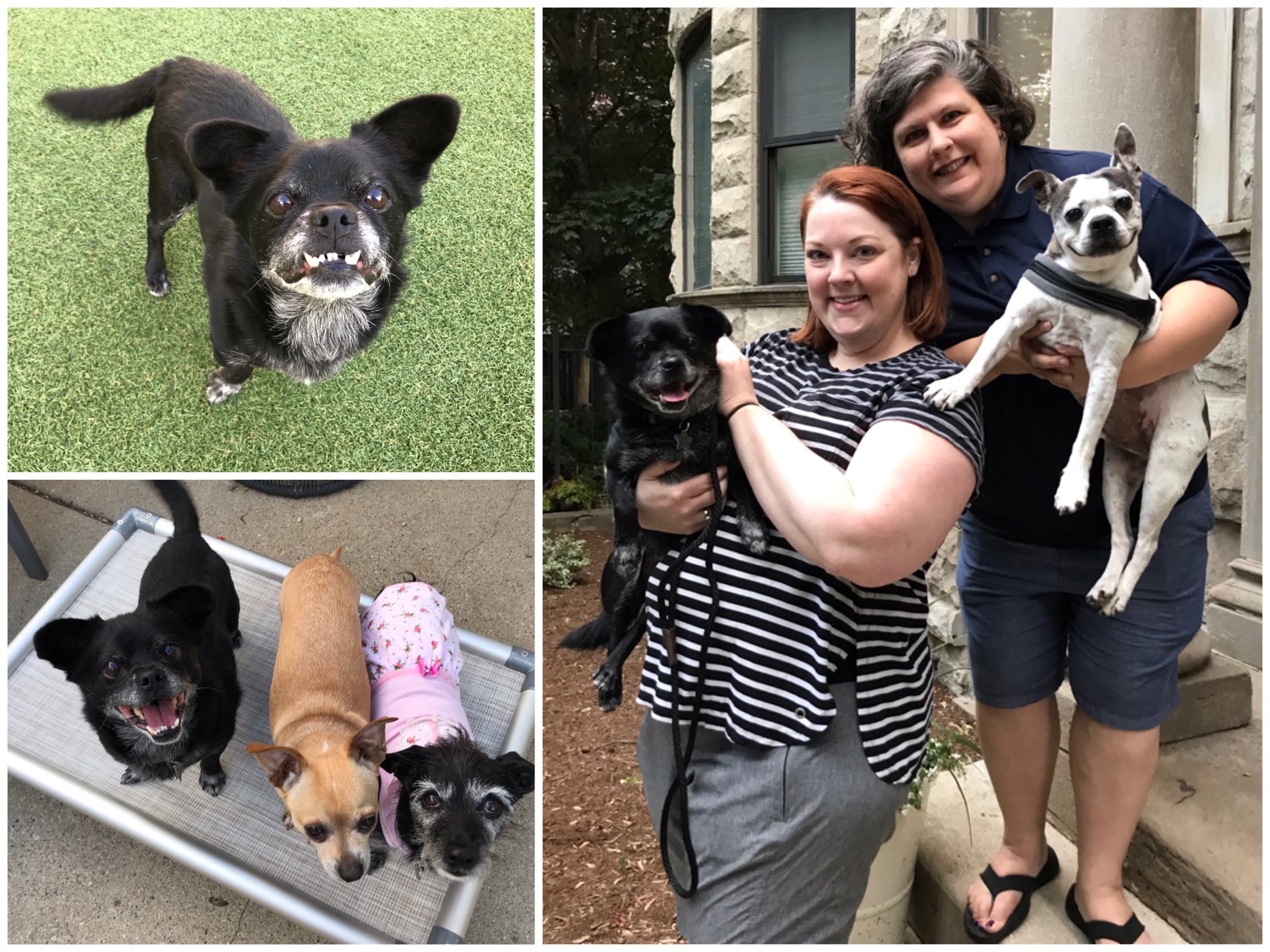 Snuffy
Over the past week, TAF has been working with Animal Control to get this 13 year old dog help.

We are unable to disclose all of the information, due to legal reasons, but here is a brief synopsis.

Snuffy, as named on his microchip, was taken from a crime scene. After the water company alerted authorities that an inhabited residence did not have running water in over a year, police were sent for a welfare check. Upon arriving at the home, police would uncover one of the worst hoarding cases to date.
With garbage piled up to the ceiling, and blocking the doors, the only way to enter the home was through a window.

Once in, amongst some pretty unimaginable things, the officers saw Snuffy. A senior dog encased in his own urine-soaked fur. With puss filled eyes and matted fur obstructing his view, Snuffy had little to no vision.

Jumping forward to when Animal Control reached out for help, TAF went to meet him. With a microchip dating Snuffy back to 2008, we knew that there might be years of neglect underneath all that matted fur. We hoped for the best but expected the worst.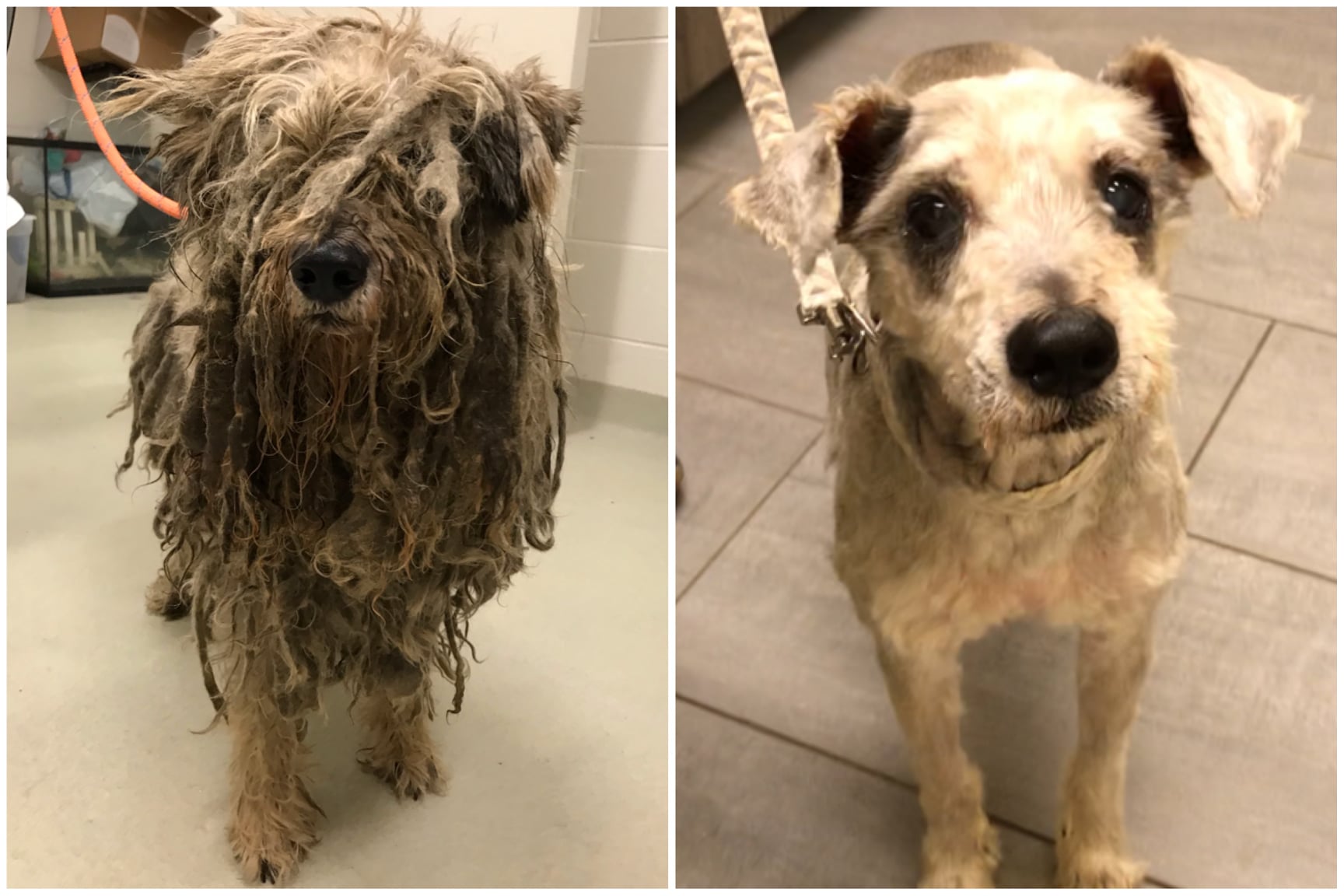 The car ride to the vet was one of the worst ones to date. Even though Snuffy was in a crate, the smell coming from his body was atrocious. There could be no relief by opening the windows because we were driving though unsafe areas. Instead, you were forced to have the smell of ammonia burn your eyes, nose and throat. Knowing that the urine on his body might not be limited to that of a dog… you gagged just a little bit more.

Snuffy has already been to TAF's vet. He was sedated to have his matted fur shaved off. He also started treatment to address his eye infections and urine burns. Since one can only guess how long it has been since Snuffy left the inside of his home, we had an extensive senior blood panel performed and vaccinations.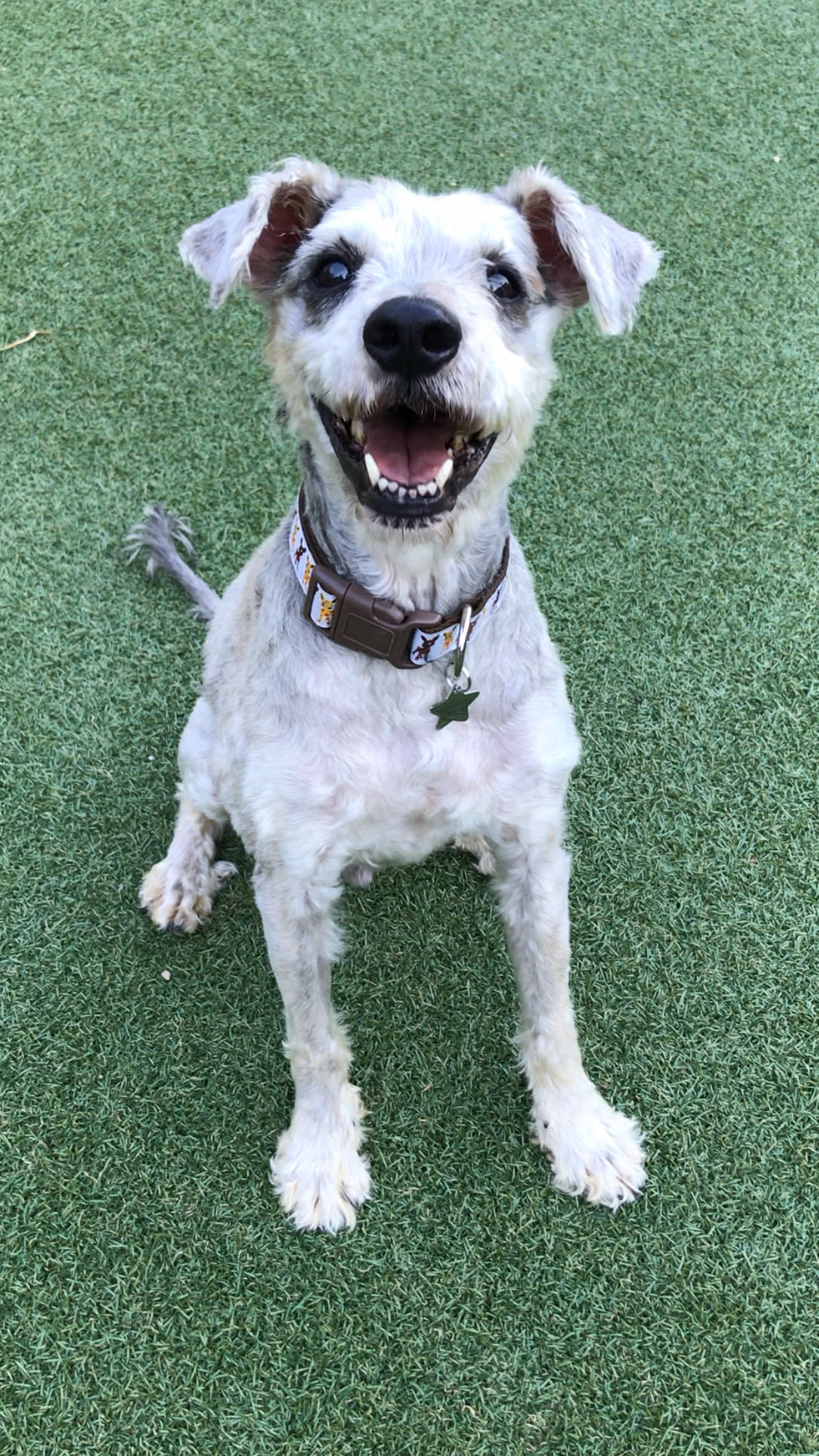 A big thank you to Dr. Moser at Companion Animal Hospital Wicker Park for dropping everything to provide Snuffy with emergency medical care. Once again, you stepped up when we needed help and we cannot thank you enough.
Snuffy met his new sister and mom and is on to his happily ever after!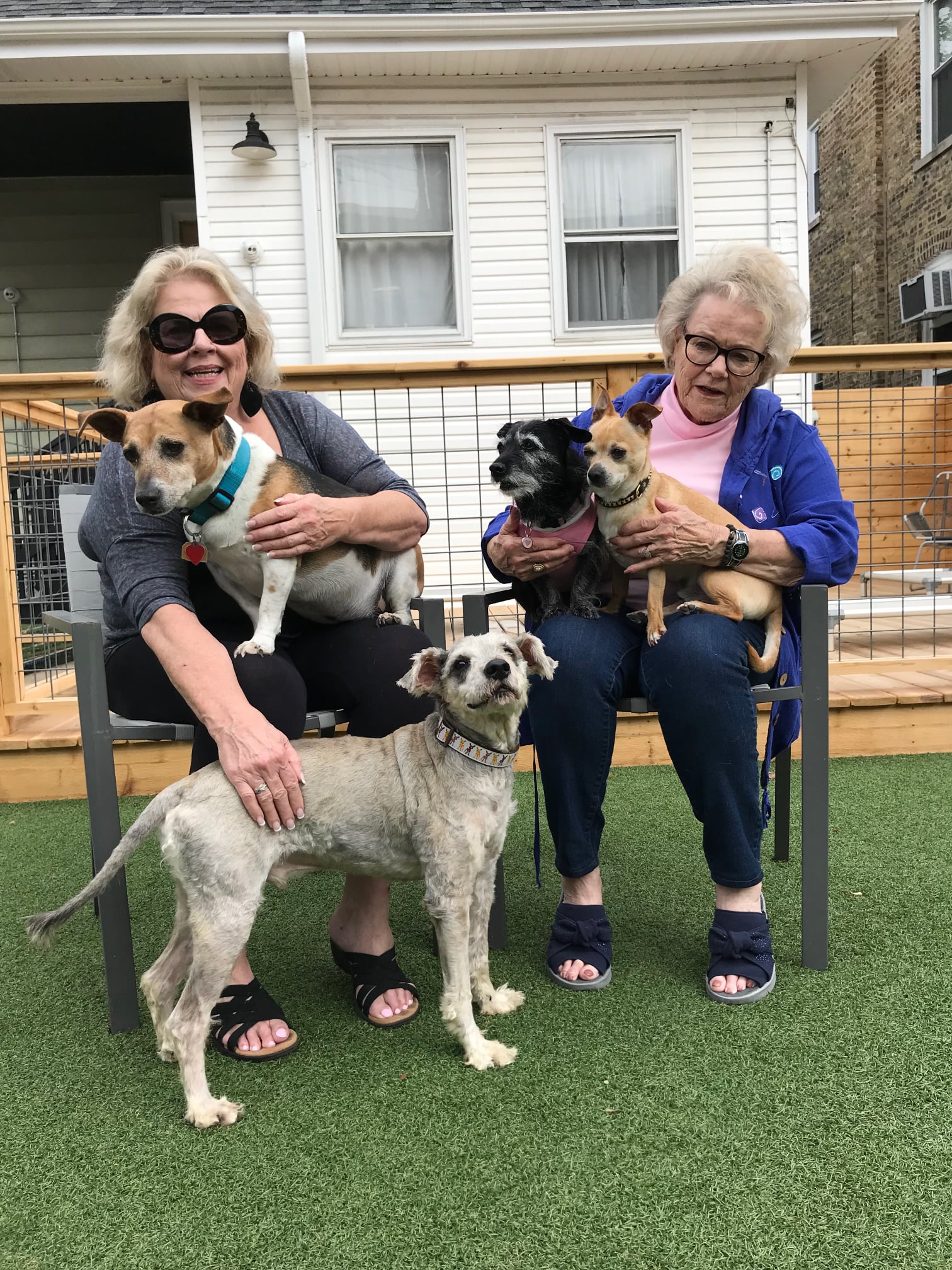 Mayor
Once in a while on social media you hear about a dog at an open access shelter or Animal Control that has been there for over 365 days... a year where the cage they are kept is what they call home.

On April 22, 2021, TAF was asked if we could help a dog that had been in a shelter since 2019. For 490 days, while the other dogs around him were being adopted, Mayor sat and waited for someone to pick him. The days turned into weeks, turned into months, then a year… still no one came. Mayor was all alone in his cage and it took a toll on him.

By the time TAF met Mayor, he had a horrible cage presence and acted like a confused, scared, little jerk with a big attitude. Mayor was emotionally broken and the 490 days behind bars had taken so much away from him. Quite simply, Mayor forgot what it meant to be a dog. He needed to build up his confidence and learn to trust people, once more.

Knowing that TAF's therapy dogs could help Mayor with his emotional recovery, we agreed to take him into our program. We also knew that we were, most likely, his last chance to leave the building.

For the next 7 weeks, Mayor went on to work with all 5 of TAF's therapy dogs. Between positive corrections, companionship, play time and being positive role models, Antler, Eeyore, Fiona, Hazel Grace and Bentley all played their part in making Mayor whole again. He was part of their pack and he thrived. Mayor was officially ready for adoption.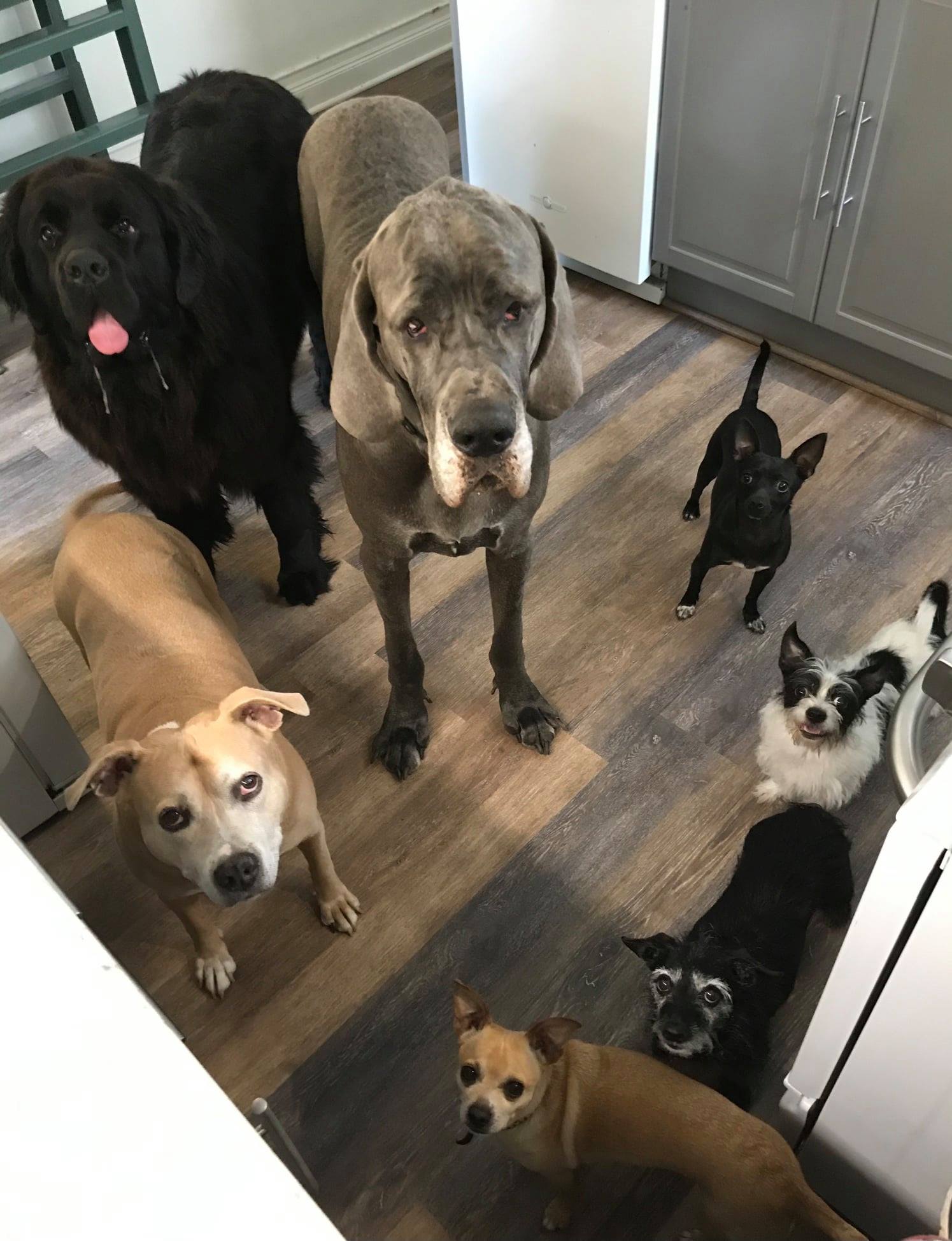 Now for the REALLY GOOD NEWS…

We are so happy to announce that after being homeless for 540 days, Mayor has found his forever home!!!!

When TAF received the adoption application from Mayor's new mom and dad, we were floored. It was absolutely perfect… seriously perfect. When we saw that they had had been/are the proud parents to a chihuahua like Mayor, a rat terrier and a min pin, we knew that they were the ones! Those breeds have a lot of "personality" and Mayor's new mom and dad understood that and loved them unconditionally. That was exactly what our Mayor needed.

With three fur siblings awaiting his arrival, Mayor left Chicago and headed to the suburbs. With his past life in the rearview mirror, Mayor never looked back.

When Mayor was introduced to his new family, everything went very smoothly. TAF's therapy dogs had given him all of the tools that he needed to succeed and socially acclimate. Within 30 minutes of arriving, I was an afterthought and Mayor's new life had begun. Mayor had found his forever home.

Cheers to Mayor's new dad on this Father's Day. Your selfless act of kindness has made a misunderstood dog's dream come true.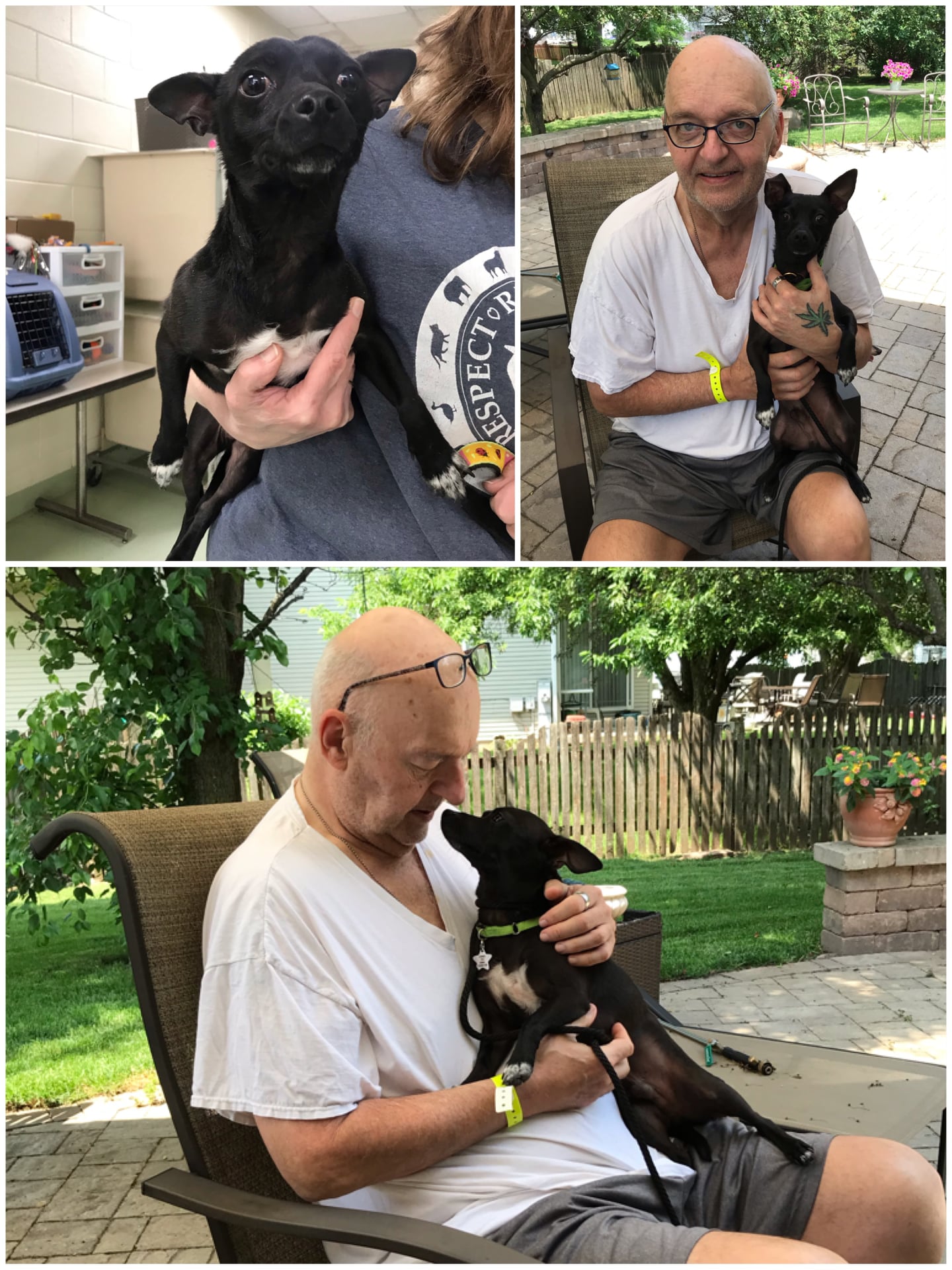 Marcus
Marcus's story was a very sad one. Unbeknownst to anyone, Marcus's senior dad was sick with COVID and died in his apartment alone and with his pups by his side. It was only when the man's nephew contacted the police for a welfare check that Marcus's dad was found. With no family members wanting Marcus or his friend Benjamin, Animal Control was called and they were taken away.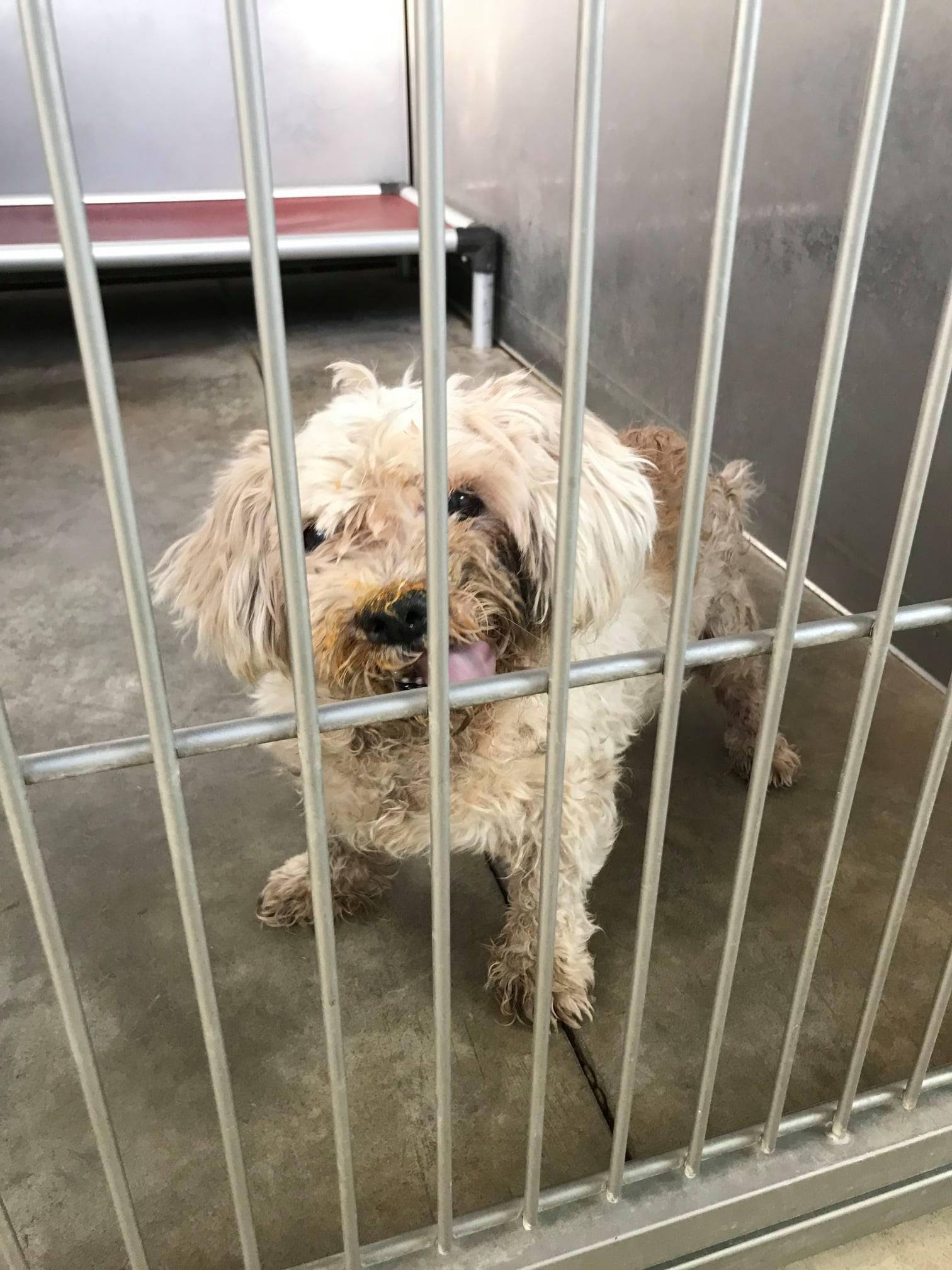 Once at Animal Control, TAF was contacted to see if we could help. Even though Marcus was 13+ years old and had some pretty serious health issues, we took him in. After witnessing how feisty he was, we knew that he had a whole lot of life left in him.

The few remaining teeth that Marcus had were infected and puss was pooling up by around his nose. Having never been neutered, x-rays would go on the show that Marcus's prostate was huge and was hindering his ability to fully empty his bladder. Even though we knew that Marcus had an enlarged heart, his medical team was pretty confident that he would do well during surgery. He was showing no signs of coughing or any other kind of distress.

Just like we thought, Marcus did fantastic and was already eating full meals, waddling around and fully able to empty his bladder when he urinated. In the matter of a week we were able to significantly improve his health and quality of life. Than came the part that we couldn't fix... his sadness. It was becoming painfully obvious that Marcus missed his dad. At one point I stretched out on the floor next to Marcus. He got so nervous and instantly jumped right up on my chest. He looked so deeply into my eyes as if he was expecting the worst. One can only imagine that is what Marcus did with his dad.

Now this is the part of Marcus's story where hope is restored in the human race… a truly remarkable family has adopted Marcus. Looking past his age and years left on this earth, they have wholeheartedly embraced Marcus and made him part of their family. They are selfless people who just wanted to help a senior dog in his twilight years.

When Marcus took the road trip to Michigan to meet his new family, it was quite the adventure. When Marcus got out of the car he met his future family around the other side in the parking lot. I wish that you all could have seen it. You could already see the love in their eyes and their faces lit up with joy. Marcus's new mom came over to give him a kiss and his new dad picked him up and hugged him. It was absolutely beautiful... Marcus's dad must have been smiling down from heaven.

Thank you to everyone that donated towards Marcus's medical care and shared his post. You helped to save a senior dog that would have been euthanized had we not stepped up.

If they can have a good quality of life, we just cannot give up on these seniors… they have all earned every grey hair on their face and deserve their happily ever after.
Mabel
TAF received a call from Animal Control about 3 dogs that had been dropped off, crammed into one very small cage, neglected and in need of medical attention.

The pups were two males and one female. The female's back was stained yellow from being repeatedly urinated on by the males in such tight quarters. This must have been going on for weeks.

Mabel's mouth was in pretty bad shape and her tongue was already hanging out. Mabel's rotted teeth had caused a fistula (hole in her mouth) that needed to be sutured back together. Her body was frail and she was terrified. It was quite obvious that Mabel had known nothing but abuse for a very long time.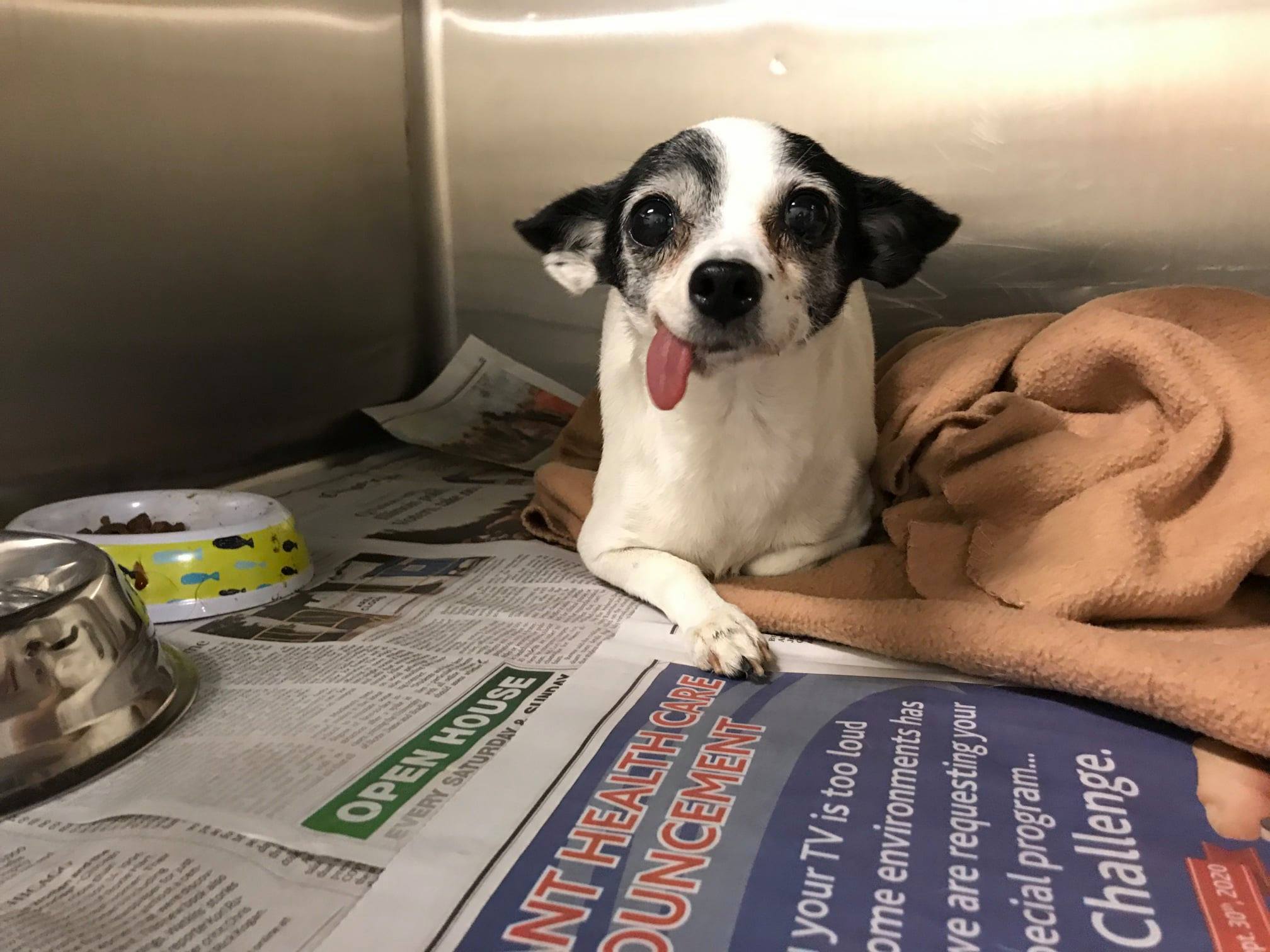 After her surgery, Mabel went to The Moon Dog Farm for her initial recovery and then made her way to be with TAF's therapy dogs. She sat next to her foster mom while she worked and she learned what it felt like to be loved and taken care of.

Pretty soon, an amazing adoption application came through for Mabel. A wonderful family stepped forward and asked if they could give our wonderful senior a forever home... that is not common for a 14 year old dog. This incredibly kind family wanted to give Mabel a second chance.

When Mabel went to meet her new mom and dad, they were waiting outside with her new fur brother and sister. Mabel had an instant connection with her big sister and they were quite sweet together. When it came time for Mabel to meet the new little in the household, it took her a little time to win him over. Before long, she had won her brother over. In fact, if you look at the photos, you can see her spooning him while they took a nap together.

TAF would like to thank Mabel's new family for taking a chance on her. They saw that beauty in adopting a senior and knew that they could give Mabel her happily ever after.

TAF would also like to thank everyone that donated towards Mabel's medical care and rooted for her all of the way. We couldn't do what we do without all of you!

Lastly, thank you to The Moon Dog Farm for watching over Mabel until she could move in with her buddies and work with the therapy dogs. There were a whole lot of happy puppies over here!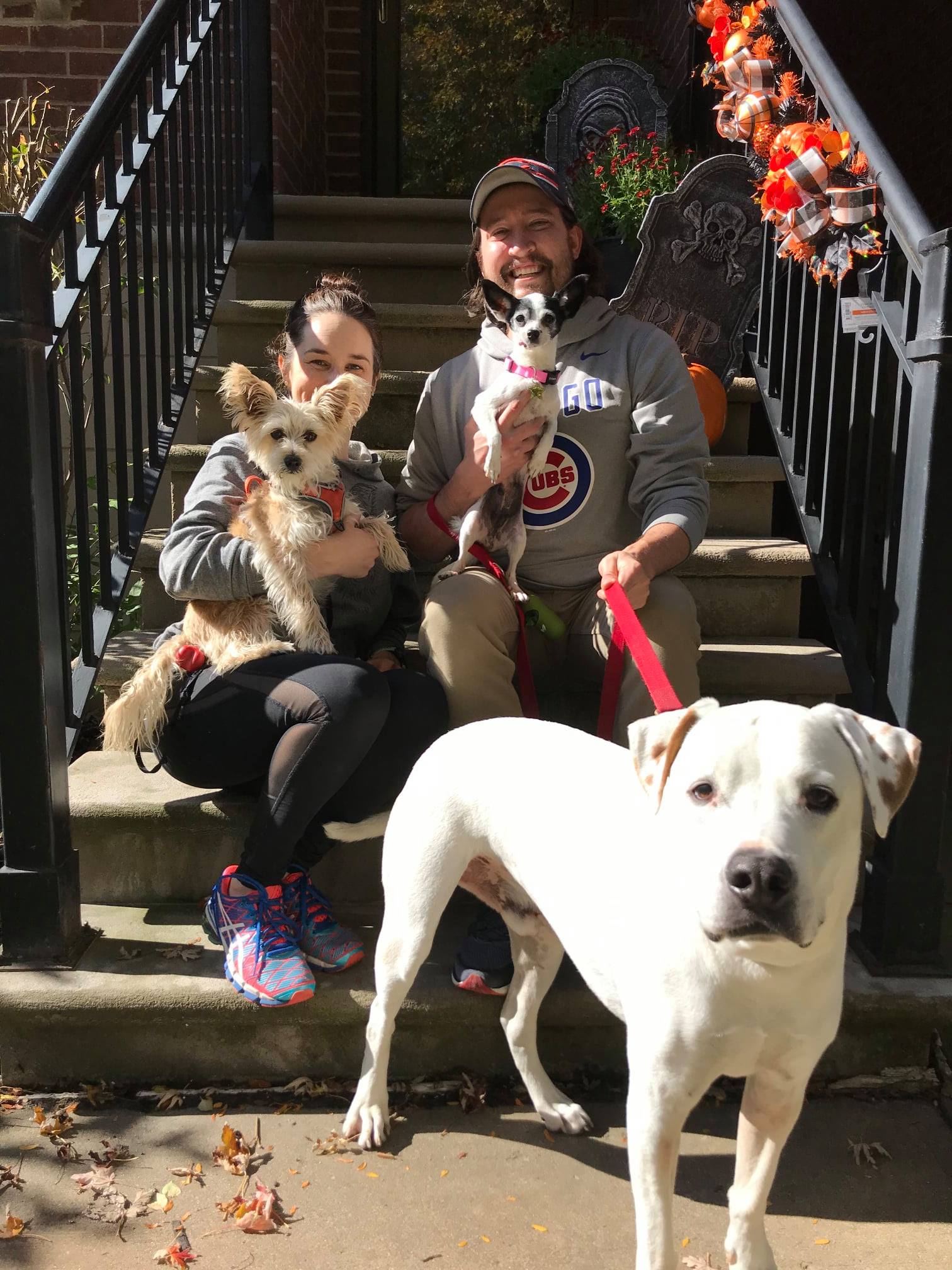 Bert and Ernie
This past September, TAF received a call from Animal Control asking for help. Crammed into a small crate, three senior dogs had been brought in by their owner. Two of the dogs were under socialized senior males and the other a senior female. They were stained with urine, needed medical attention and were scared to death. They needed TAF to save them.

Mabel, Bert (brown pup) and Ernie (black pup) needed to have extensive dental surgery. All of their medical issues had been ignored for well over a year and they were in an extreme amount of pain because of it. They had been suffering for so long and you could see it in their eyes.

When it came to the boys, their mouths were full of rotted teeth. Many of their decaying teeth were encased in thick grey plaque with dead hair wrapped around them. Ernie's mouth was full of 20 rotten teeth. When the teeth wrapped in hair were removed, puss oozed from the surface of his gums. During Bert's surgery, 9 teeth needed to be removed as well as a growth on his leg.

Even with all of their medical issues, Bert & Ernie's emotional anguish was far worse. Their spirits had been broken and no amount of medication was going to fix it. Their sadness was palpable and we knew that with the help of our therapy dogs and positive human contact, we just might be able to help bring joy back into their lives.

The boys would go into foster at The Moon Dog Farm to recover from their surgeries and then made their way to TAF. Once in our care, we worked on building their confidence and focused on their individual emotional issues. You see Ernie and Bert are an extremely bonded pair the likes that we have never seen before. At times they fed off of each other's fears and this hindered their recovery.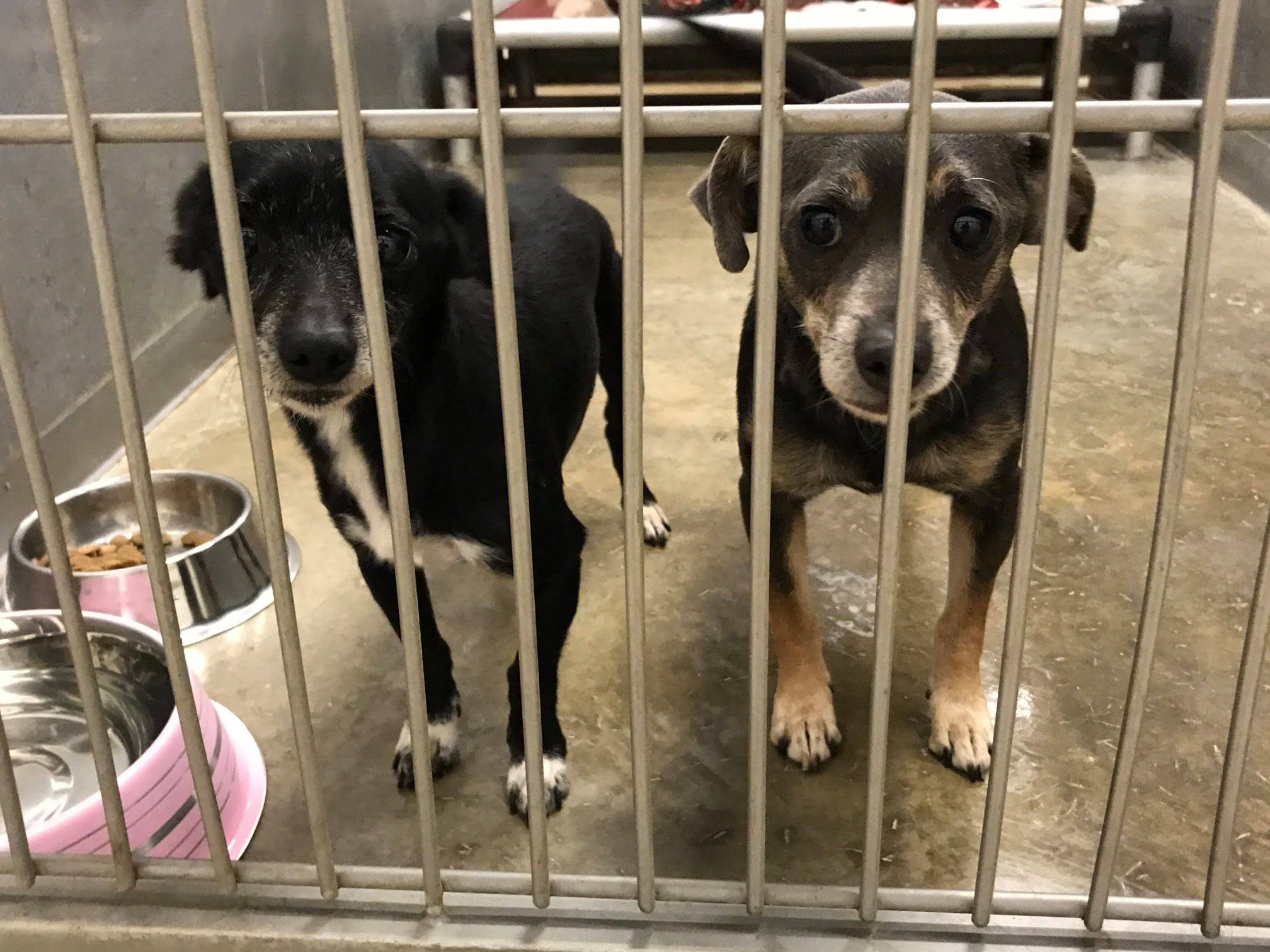 First we slowly introduced TAF's lead therapy dog Antler to the boys. Antler knows that she is not allowed to approach the new shelter dogs until she is given permission. In this case, Antler and I sat down in the backyard and let the boys come up to sniff us. The two darted around us and would run up to sniff Antler. Bert was quite protective of Ernie and did not like if she showed any sort of interest in Ernie. After a brief introduction, the boys were praised for being so brave and repeated this a few more times. Once the boys were open to meeting new friends we brought in TAF's littlest therapy dogs Hazel Grace and Bentley. Since the two had just been neutered, they were definitely more accepting of Hazel Grace. Before long, though, they trusted all of the therapy dogs and we had finally made some real progress.

Knowing that the boys could go into a home with other dogs exponentially increased their adoptability. Finding a home that is open to adopting a bonded pair of seniors is a pretty challenging feat and often darn near impossible. This is why many rescues do not pull a bonded pair from a shelter. It is extremely stressful and with the judgment of some folks on social media can be quite brutal.

Well, as fate would have it, a very special woman's whole world was rocked when both of her beloved dogs passed away within months of each other. Her girls were her everything and the pain that she felt from their loss was debilitating. Most of us are very familiar with that feeling. At times it is hard to breathe because the pain is so raw and cuts right through you.

Trying to find light through such a dark time, the woman decided to open her heart up once more and help a senior pair that needed a second chance. Kelly's girls (both doxi-mixes) must have been watching over her because they sent Bert and Ernie her way. Two doxi-mix boys that needed someone to take a chance on them and continue in their emotional healing… really everyone's healing.

When we took a road trip to meet Kelly, to say that we were all nervous would be the understatement of the year. I knew that the boys were afraid of new people that they met and I feared that they might not show well… I was wrong… so so wrong.

We met in Kelly's back yard and to my surprise the boys started running around exploring. They were so happy. I didn't think that anything could top that until the boys ran over to Kelly. They actually knocked her over and started to climb into her arms. It was absolutely beautiful and brought tears to my eyes. It was at that very moment that they had chosen their mom. They had found their forever home. In an instant, sadness had turned to happiness and the healing had begun… it was an instant family and it was wonderful.

TAF would like to thank Kelly for opening her heart and home to two senior dogs that have only know pain and fear. Your kindness will surely inspire more people to do the same.

TAF would also like to thank all of the donors that helped to sponsor Ernie and Bert's medical care, shared their posts and rallied behind them. You are all good people and we appreciate you.

One last thank you is The Moon Dog Farm for once again stepping up to help us. You are really good friends.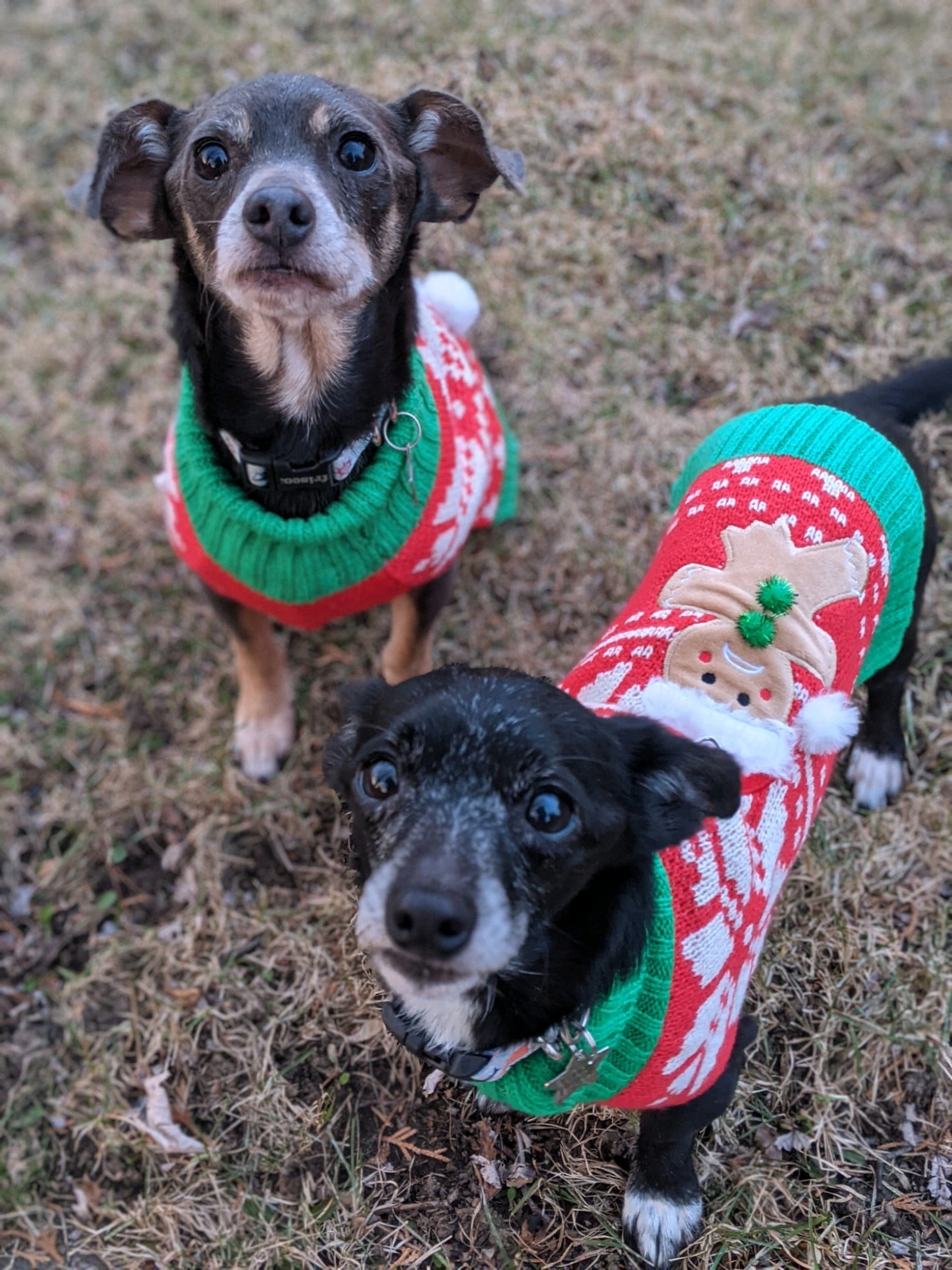 Anna
TAF is officially announcing the Anna has found her forever home!

When Anna was impounded at Animal Control, her left eye was completely crusted over and she had no vision. Taken over by infection, Anna's right eye was soon to follow suit. Adding insult to injury, Anna also had a severe double ear infection that caused her ear canals to swell.

Being in such bad shape, TAF was contacted by Animal Control to see if we could help get Anna medical attention. Knowing thar we could do right by her, we agreed to take Anna into our care.

Once at the vet, Anna's medical team swooped in and took over. Once sedated, the process started to help free Anna's infected eye from the encrusted puss-soaked fur on her face. At that point, we didn't even know if she had a viable eye to save. When all was said and done, Anna was able to leave the vet with her eyesight and a whole lot of medications.

As often happens with extreme neglect cases, we would come to find out that Anna had other undiagnosed medical issues. X-rays and an ultrasound would go on to show that Anna had a large bladder stone and kidney stone. Anna's bladder stone was removed during her spay and dental surgery. As far as her kidney stone, we chose to address it non-surgically and switch her over to a prescription diet. If all worked as planned, the stone would break down on its own.
After all was said and done, it was determined that Anna had been suffering from chronic dry eye and would need medication for the rest of her life. She would also need to be kept on a special diet. This new information definitely made it a bit more complicated when trying to find her a forever home. Between her medical and emotional trauma, we did not want to set Anna up for failure. It was obvious that she had been beaten in the past and at times was emotionally fragile. We really wanted to find her a quiet home where she could flourish and find her happy place.

This is where the good stuff starts…

A lovely woman contacted TAF wanting to adopt Anna. She was fully aware of Anna's medical issues and that it might take some time for Anna to emotionally come out of her shell. By that time the medical part of Anna's recovery was easy… it was her emotional scars that ran deep.

Soon thereafter, Anna would take a little trek to go visit her future home. The pandemic made things a bit more challenging but we managed to make our way downtown to the beautiful highrise where Anna's future mom lived. Anna loved all of the parks around the building and the lakefront which was not the far away. Anna walked on leash like she had lived there all of her life and she owned the place. She had so much confidence and essentially chose her new home, and home, all in one swoop… it was time for her happily ever after to start that very day.

TAF would like to thank everyone that donated towards Anna's medical bills and those that cheered her on. None of this would have been possible without you! TAF would also like to thank The Moon Dog Farm for helping to foster Anna when we needed extra help. Also, a big thank you to Dr. Moser (Companion Animal Hospital, Wicker Park) for coming to the aid of Anna with little to no notice. In a matter of hours, you were able to change her life forever. Lastly, thank you to Anna's new mom for taking her in and giving her the loving home that she always deserved. You are the best!