Cleo
TAF pulled Cleo from Animal Control after she had been impounded. We knew that she was a diamond in the rough and just needed a chance to prove herself. After some time to chill out, get a bath and play, Cleo's true colors shined through and she was absolutely amazing. It was time for her to find her forever home!
When Cleo's future family inquired about her, there was an unusual twist… they had just adopted a puppy! They knew that a confident girl like Cleo would be an excellent role model for a puppy that had a tough start at life. We all knew that Cleo would not only be a great big sis but a loyal guardian to the littles of the family, too. Quite simply, Cleo's adoption would make a family a whole and bring joy to so many people… this is the power of a dog.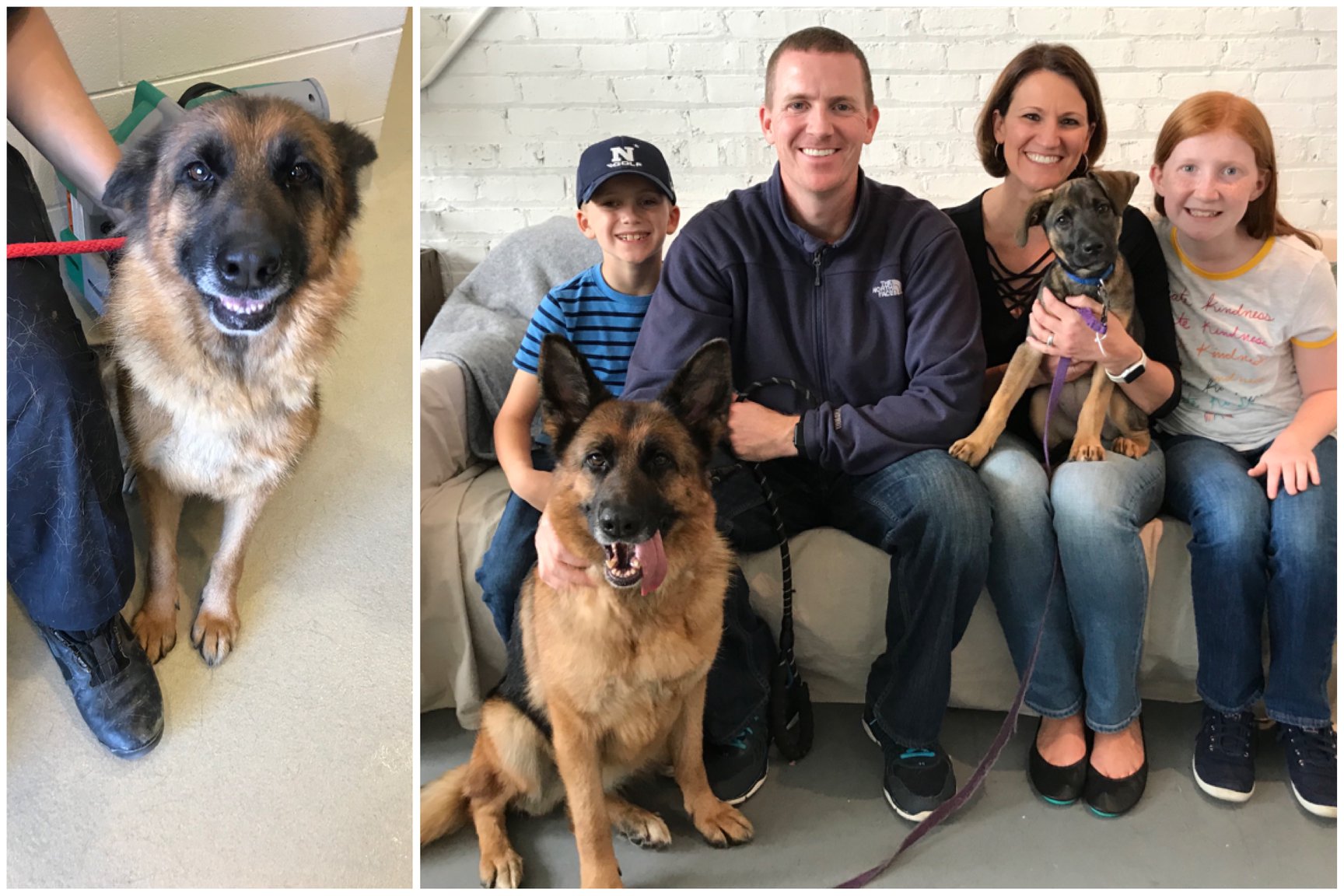 With that being said, TAF would like to officially announce that Cleo has found her forever home! She has landed herself one of the most open hearted and caring families that we have ever had the pleasure of meeting. To adopt 2 shelter dogs and give them time to adjust and thrive is simply spectacular! What a great example of humanity mom and dad are showing their children… the ripple effect of their kindness will most assuredly have an influence on generations to come. BRAVO!!!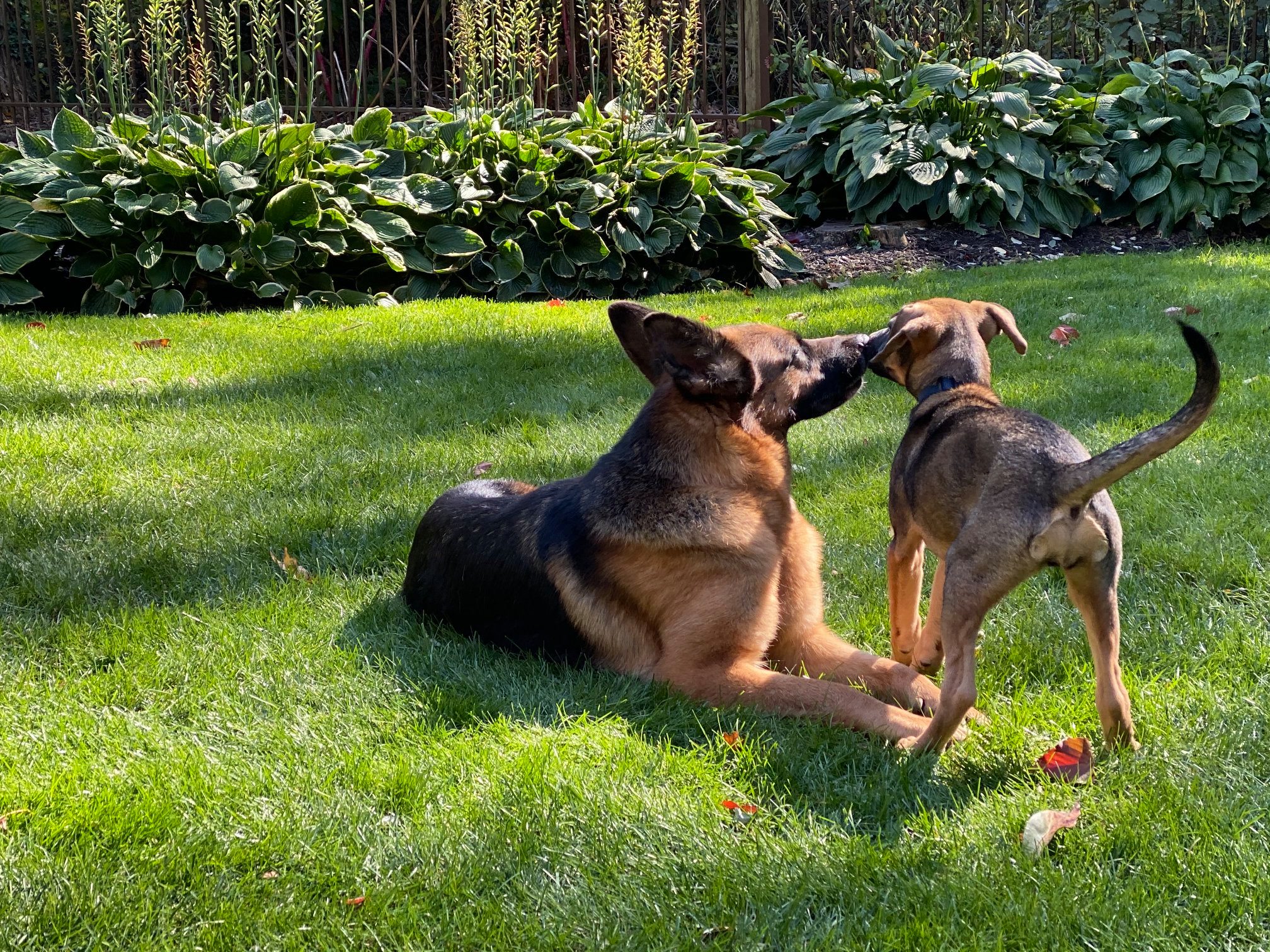 Blossom
When TAF first came across Blossom, she had just been impounded at Animal Control. Her face was encrusted with discharge from bilateral cherry eye and she had an upper respiratory infection. To say that she was miserable would be an understatement. However, we did receive one smile that day… it was when we pulled Blossom from her cage. She knew that we were there to save her. Once in our care, Blossom would be treated for an upper respiratory infection and then underwent surgery to correct her bilateral cherry eye. We knew that there was a chance that the cherry eye may come back but we wanted to give her a chance.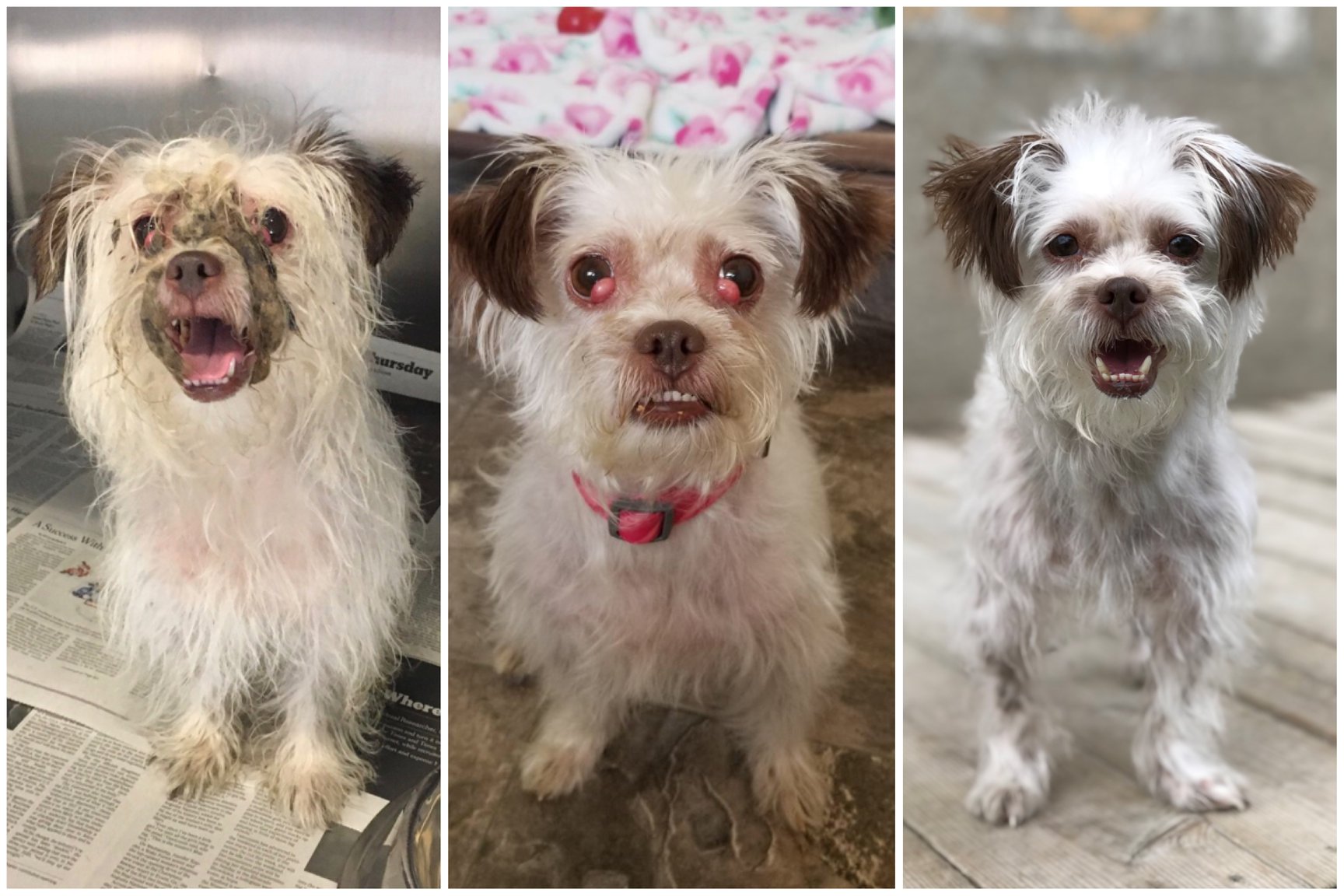 When Blossom was ready for adoption, she was so fortunate to have many people that wanted to adopt her. However, one couple in particular was the one meant to be Blossom's forever family. Even with knowing that Blossom had potty accidents inside and might forever have issues with her eyes, they welcomed her with open arms. They even had a furry brother for Blossom that was a TAF alumnus. The whole situation was perfect. With that we are so happy to officially announce that Blossom has found her forever home! Her happily ever after could not be more amazing and we feel blessed having been able to play a part in it. TAF would like to thank Blossom's family for being open to adopting a not so medically perfect shelter dog and loving her unconditionally. As fate would have it, one of Blossom's cherry eyes did return… and not too long after she was adopted. Some might have returned Blossom but her new family chose to stand by her and work with their vet. We offered to cover the cost of treatment but they saw it through. TAF would also like to thank everyone that donated towards Blossom's medical care. We couldn't have done it without your support. Lastly, we want to send a big thank you to The Moon Dog Farm for fostering Blossom and making sure that she made it to all of her vet appointments. Your kindness makes it a whole lot easier for us to save more dogs and we are grateful.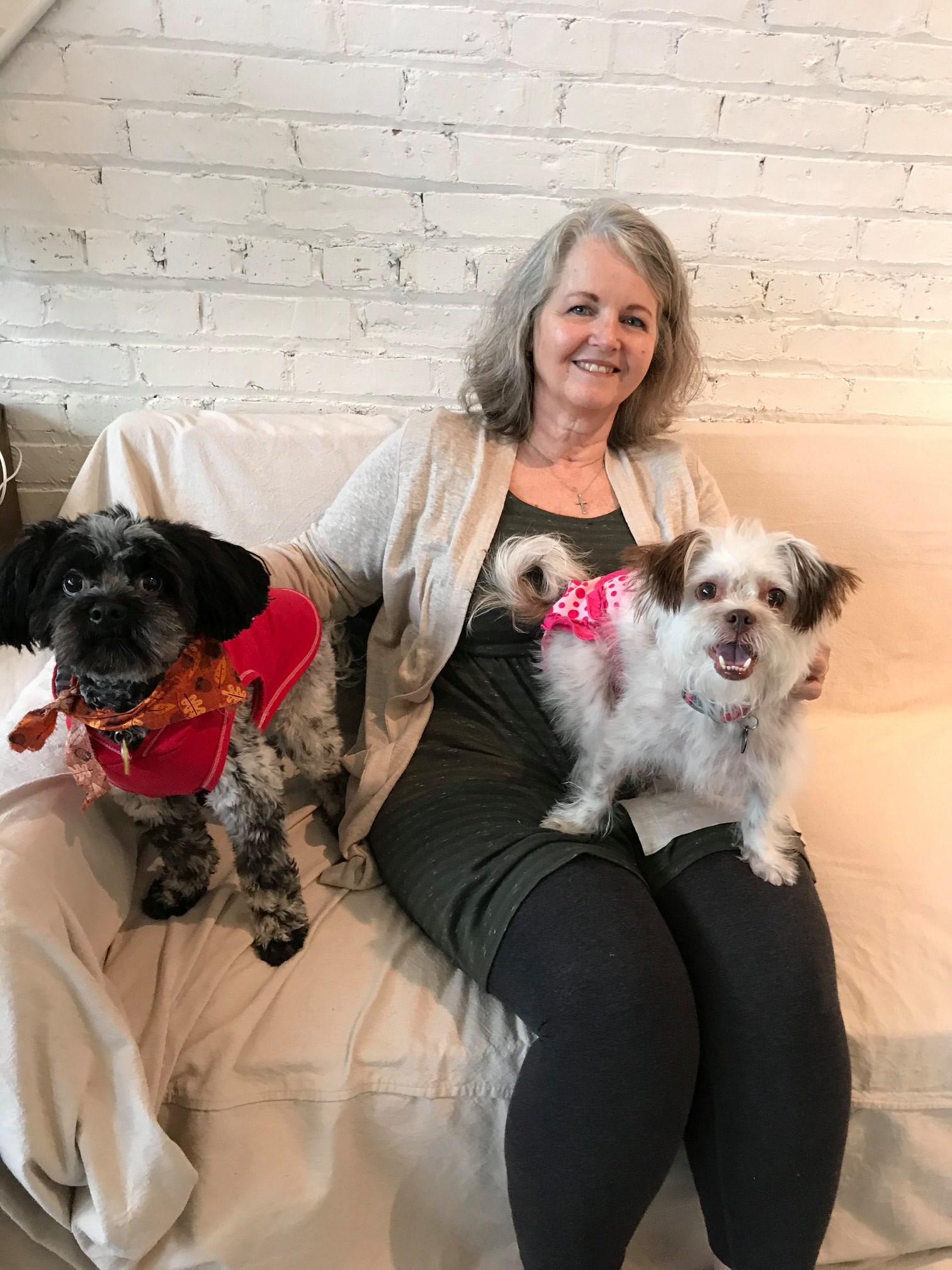 Jiffy
Just in case haven't reached your maximum cuteness quota today! TAF would like to officially announce that Jiffy found his forever home!!! We never got a chance to show what a special journey this little guy made with his new mom so here goes… these pictures say it all! Jiffy's mom has fully nursed him back to health and he looks amazing! This cute little guy hit the jackpot when his mom came along and we are so grateful for all that she has done for him. Such a happy ending for all involved!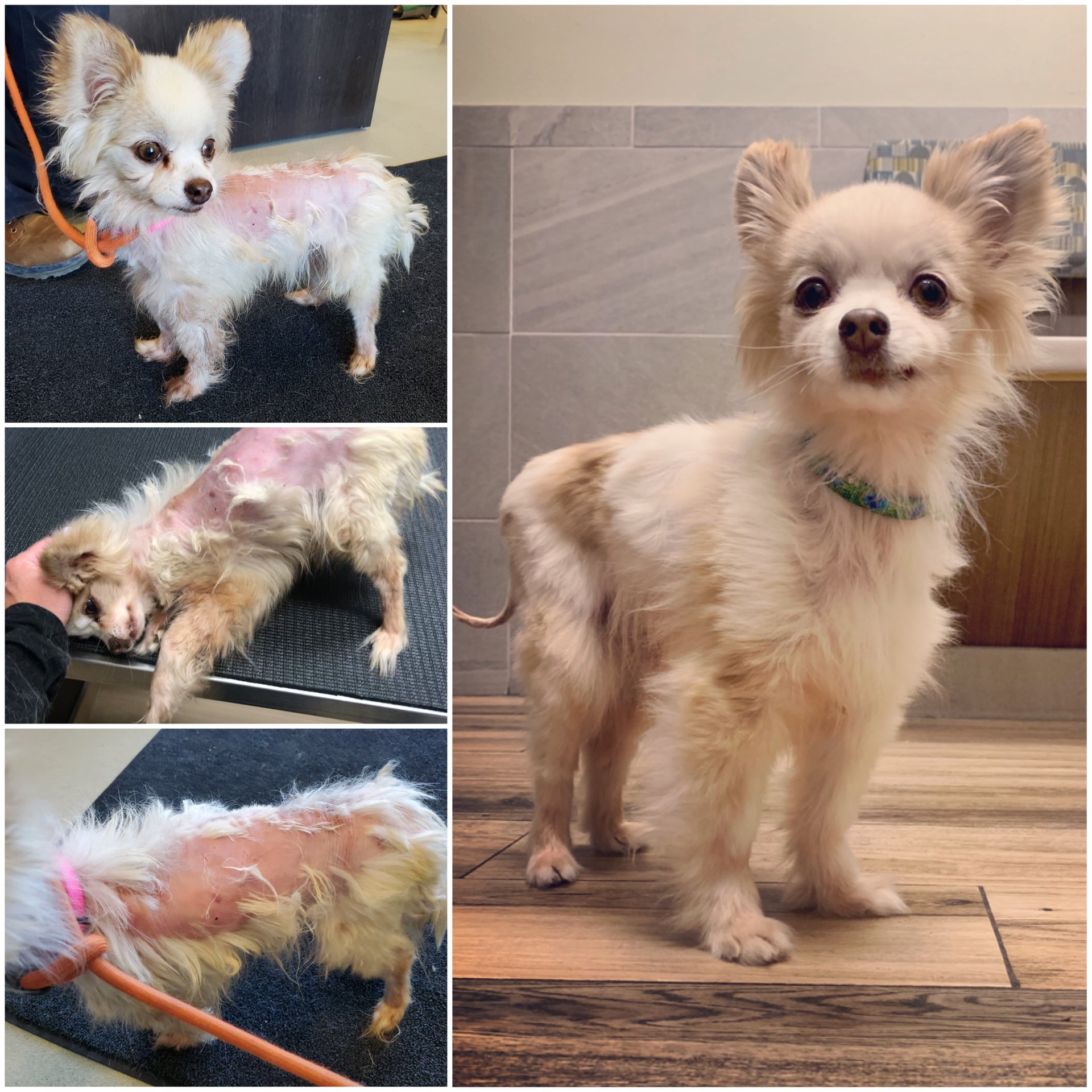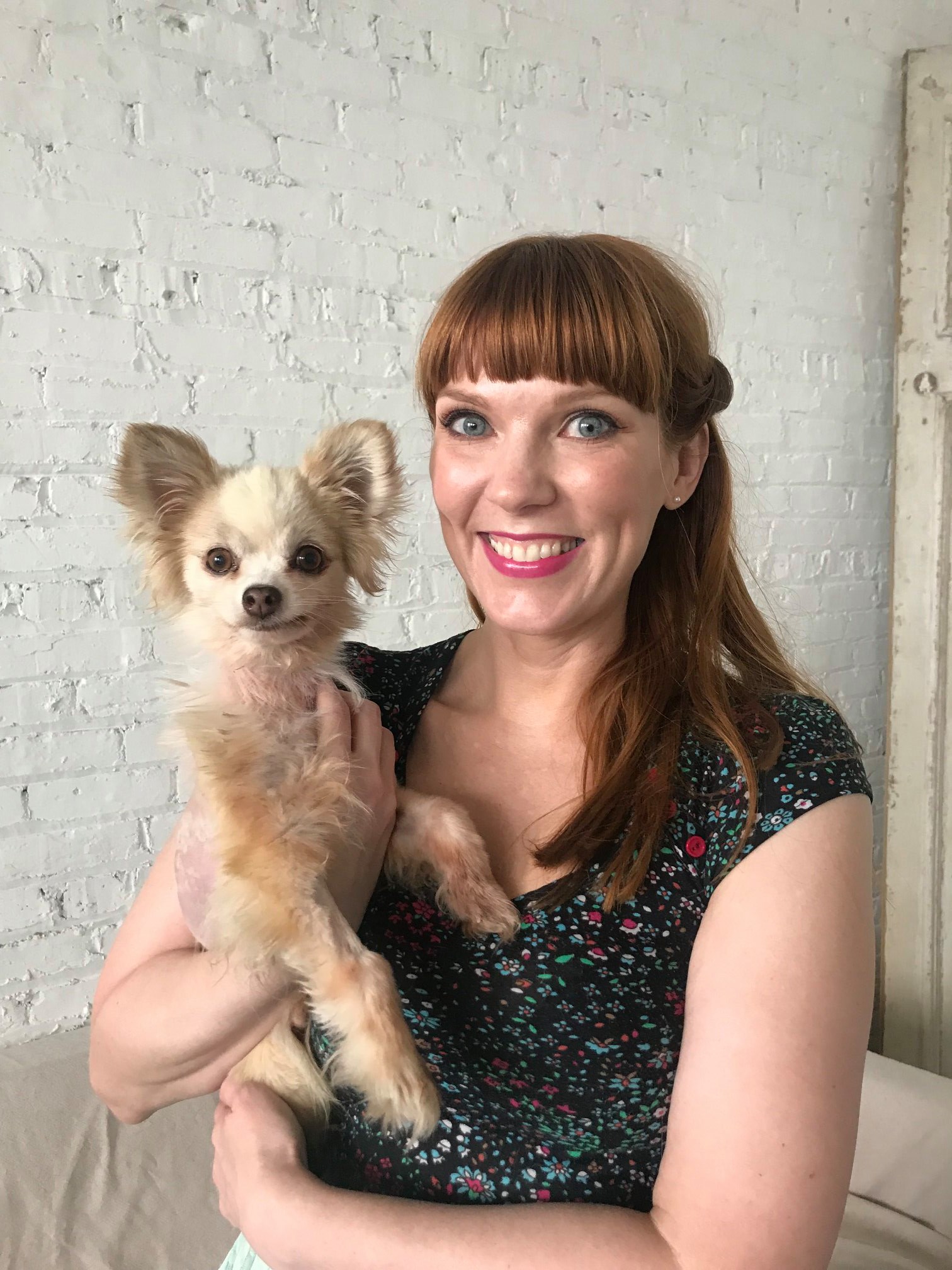 Grace
It was late in the evening on July 20th that TAF answered a call for help. After evading Animal Control for most of the day, Grace finally tired out and was caught. At that point, she was dangerously dehydrated and starving. When TAF got to Grace it was about 10:30pm and Animal Control was keeping her cool in the back of their van. Instead of impounding Grace, they made sure that she wasn't exposed to anything at the shelter and tried to decrease her stress level. She had no teeth in the front of her mouth and couldn't eat because of the matted tendrils that hung from her face. The fur on the rest of her body was like thick matted wet wool and reeked of mildew.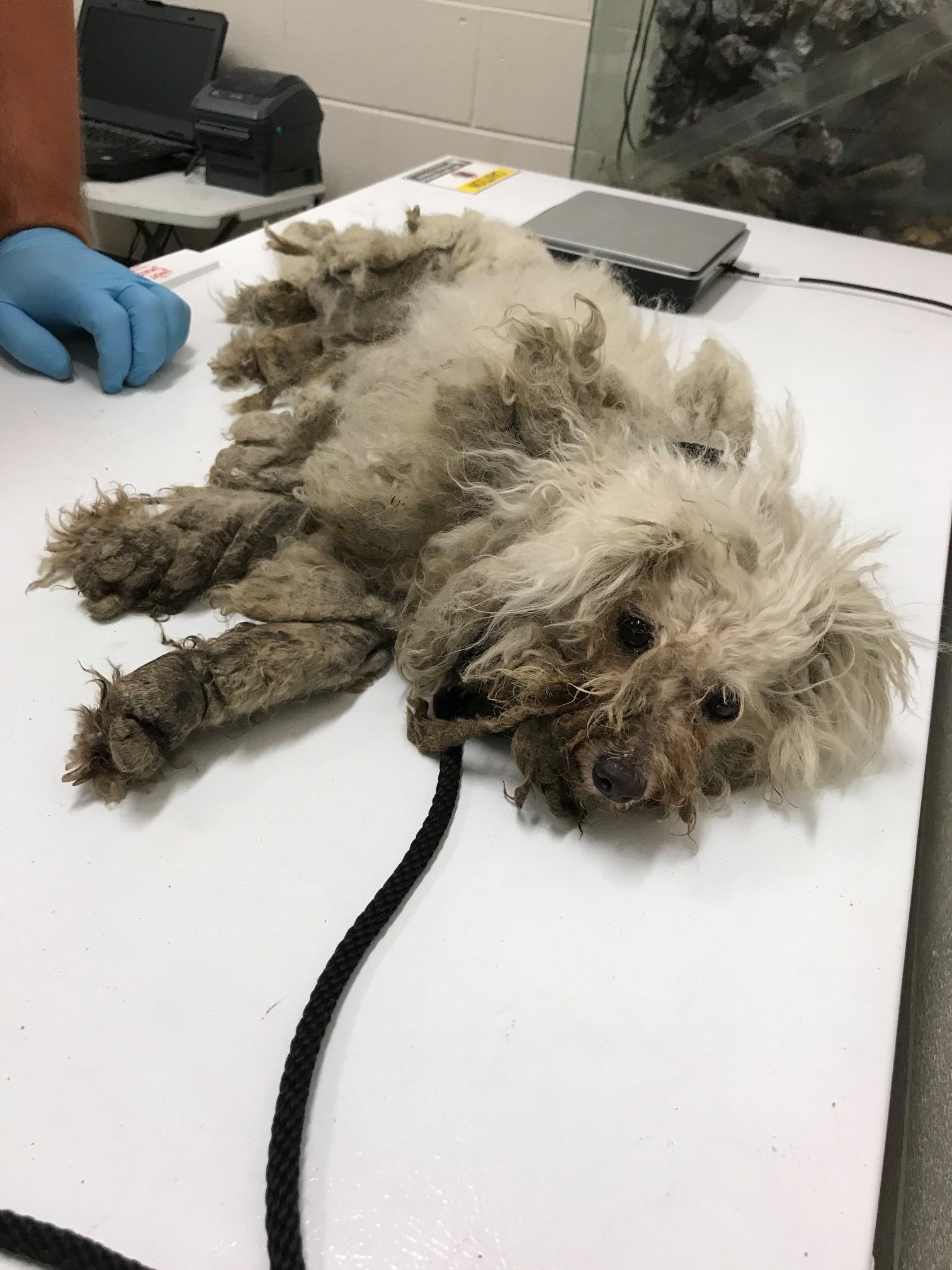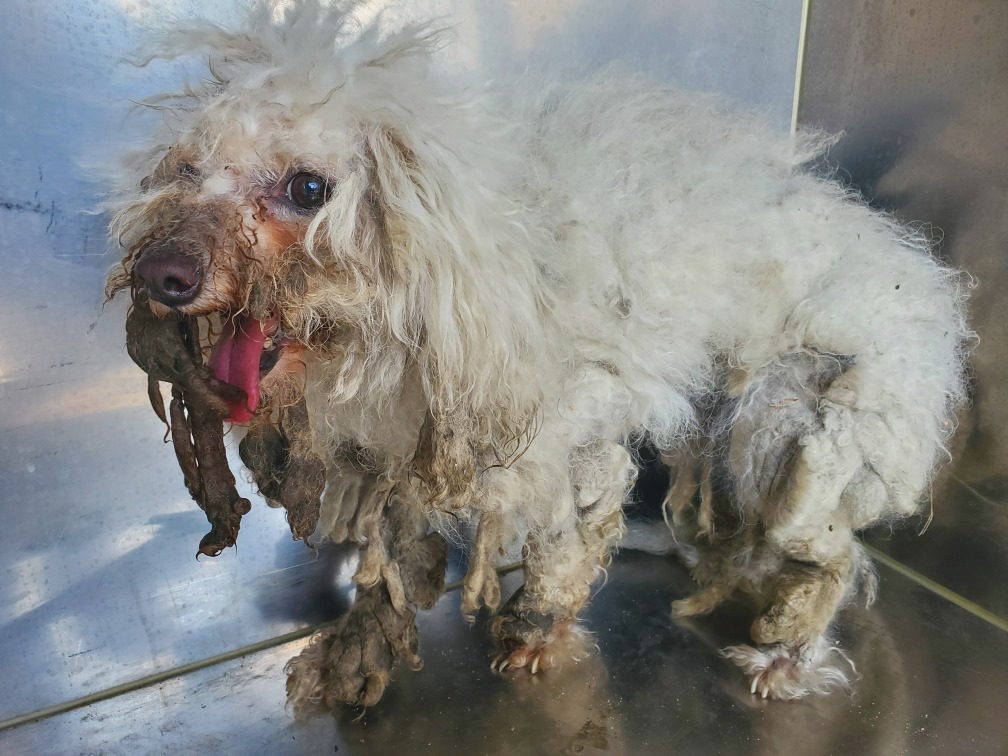 With a couple hours wait at the ER, Grace wouldn't have been seen until 3am. Since Grace was so dehydrated and needed to eat, we choose to take Grace to TAF's office and start cutting the matted fur away from her face. As scared as she was, Grace let us push her comfort zone in order to help. Once Grace was freed from the matted fur that was pulling into her mouth, her quality of life immediately changed. At that moment she went over to the water bowl and drank until her belly could not take anymore. I happened to have some ground up beef in the refrigerator and crumbled it up on a paper towel. Even though the few rotted teeth in Grace's mouth were moving, Grace ravenously ate up the food. Her hunger pains outweighed the pain in her mouth. Due to her extreme dehydration, and the infection in her mouth, Grace had to hold off on surgery. In fact, the poor girl was so dehydrated that sub q fluids didn't even raise her skin. It was nothing short of a miracle that Grace's body did not shut down. She was a true fighter.Once Grace went under for surgery, she was like a new dog. She was happy as could be and ready for her glow up. This is when the amazing women at Furtastik volunteered their services and gave Grace a spa day. They made a homeless dog's day and Grace held her head just a little higher for the first time in a very long time. Grace knew she looked pretty and she was proud.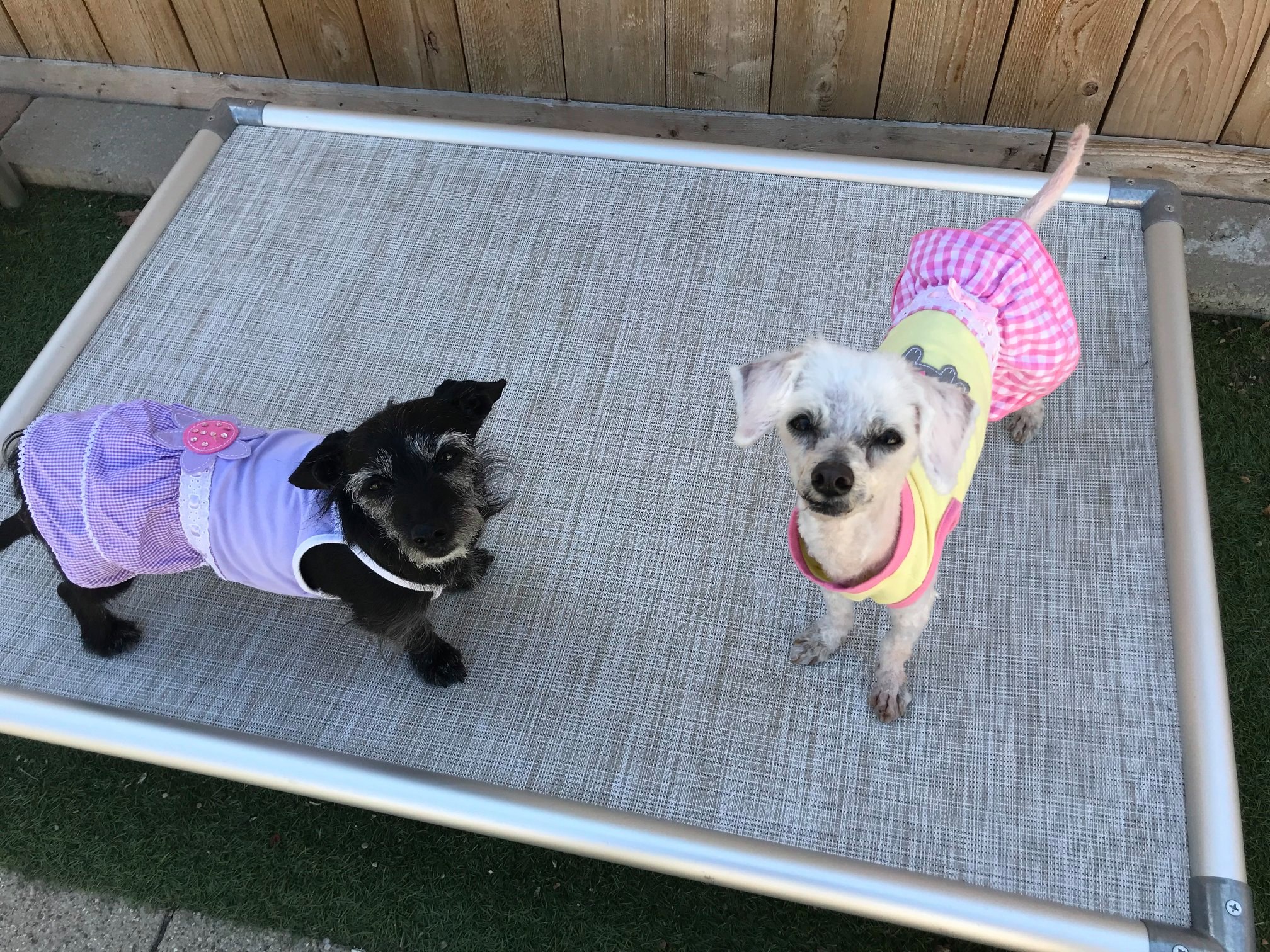 Now it was time for Grace to find her forever home. It was time for her happily ever after... Before long, there were up to 100 people interested in adopting Grace. Her story had touched their hearts and everyone knew that she was special. With that being said, we are so happy to finally announce that Grace has found her forever home! She has a mom that adores her and fur siblings that will make this Christmas truly unforgettable... such an uplifting story of perseverance, the will to live and second chances. Grace might be in her twilight years but she has a lot of life left in her. Never underestimate the spirit and strength of a senior dog. TAF would like to thank everyone that has rooted for Grace and those that helped sponsor her medical bills. We could not have done it without you. Everyone of you are amazing human beings. You have given an abused dog the best gift of all... the gift of life. *A big shout out to the owner of Furtastik. When called out for help on facebook, Gulia reached out and volunteered her services to groom Grace. It was an absolute blessing and we are so thankful for her kindness.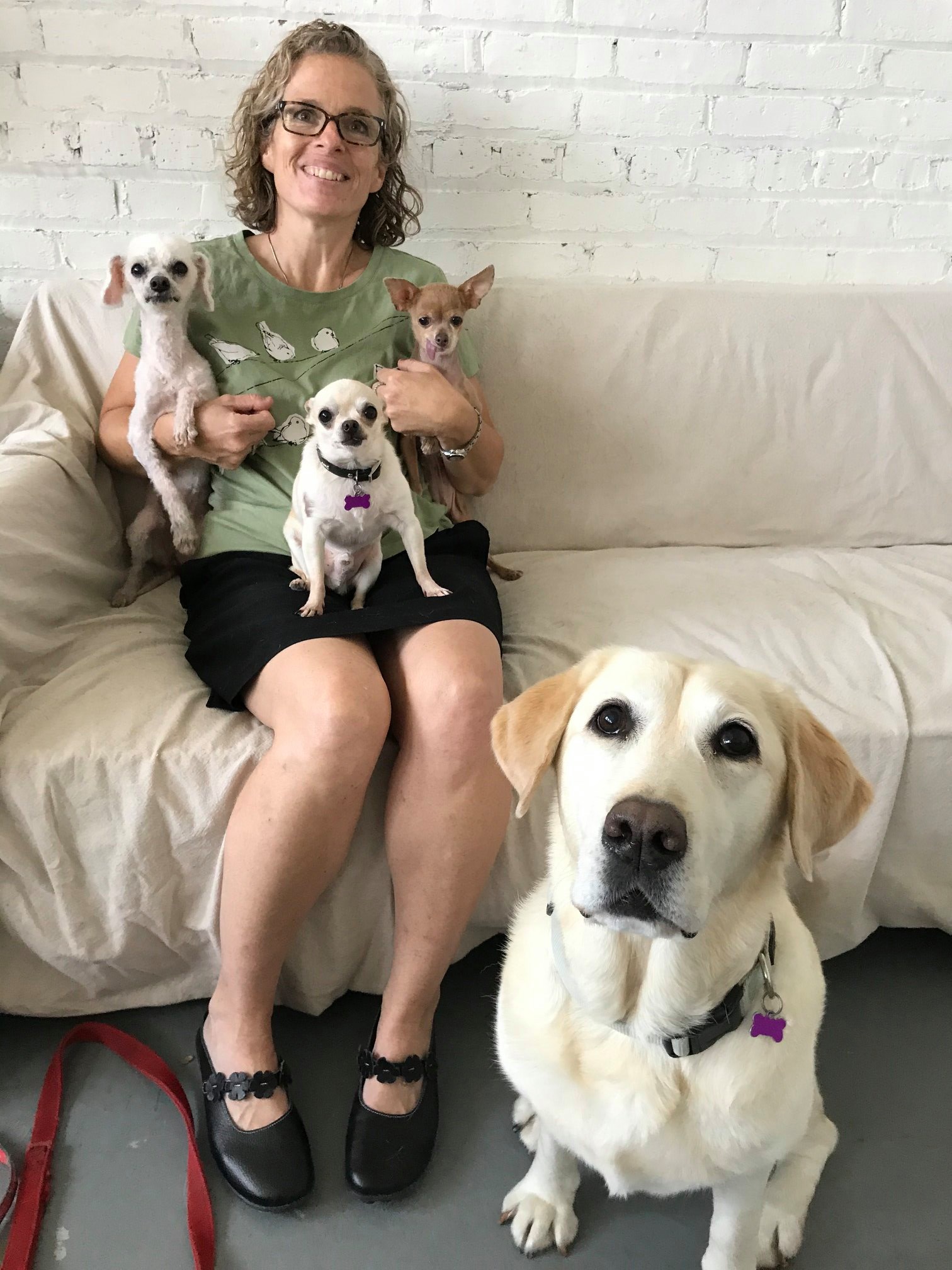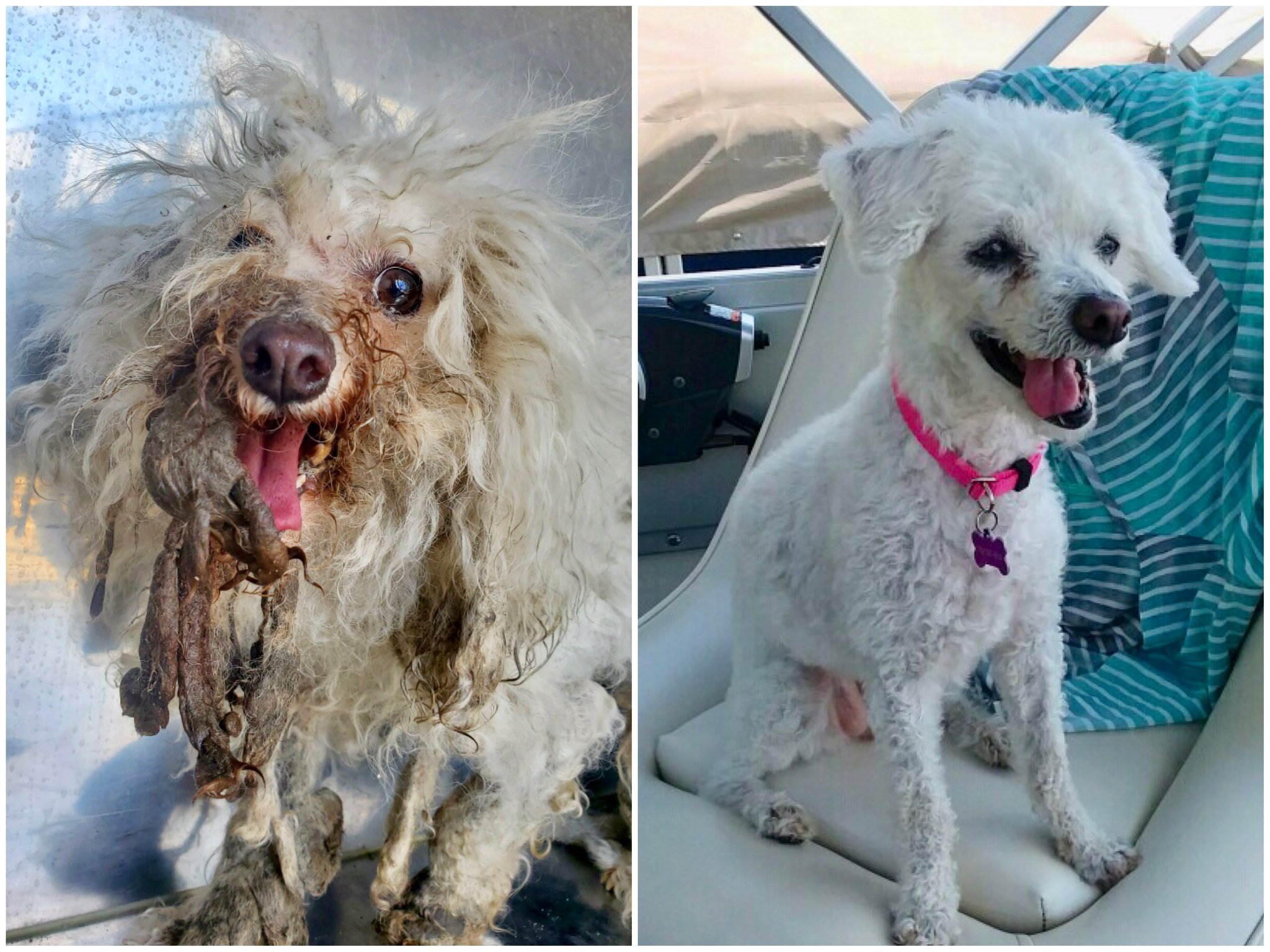 Brena
On September 5th, TAF was called by the Chicago Police Department asking for immediate help for a trauma case. One of their officers had found a critically injured Shih Tzu in a highly coyote populated area. The bottom of the dog's leg had been bitten off. Brena's bones were exposed, the tissue had been torn away and she was suffering. Knowing that Brena was critically injured and needed to have her leg amputated to survive, we brought her to the ER vet where she was stabilized before surgery. In less than 24 hours, Brena had her mutilated leg removed and was given a second chance at life. Almost immediately, Brena was back up on all 3 and running around like a champ.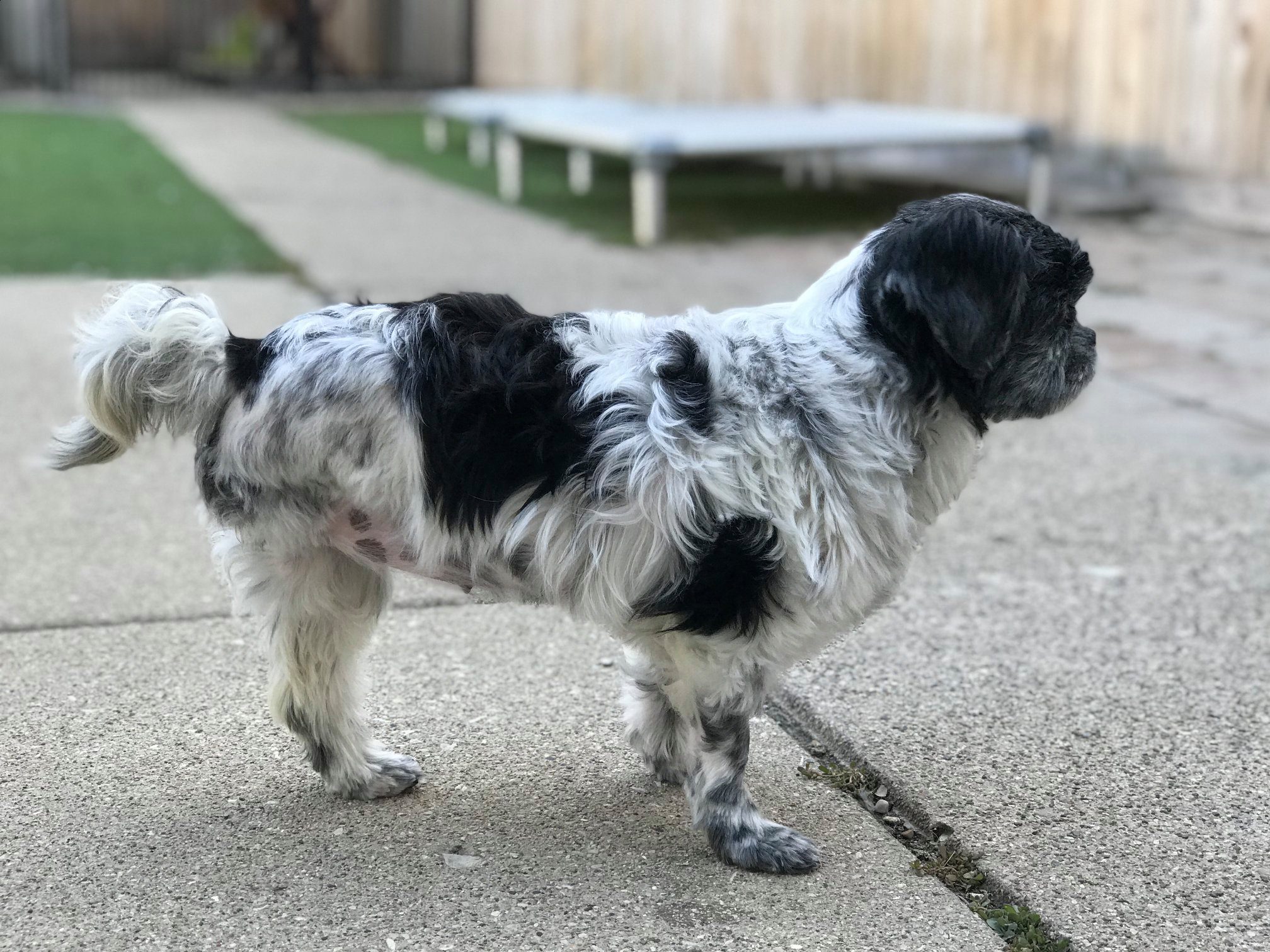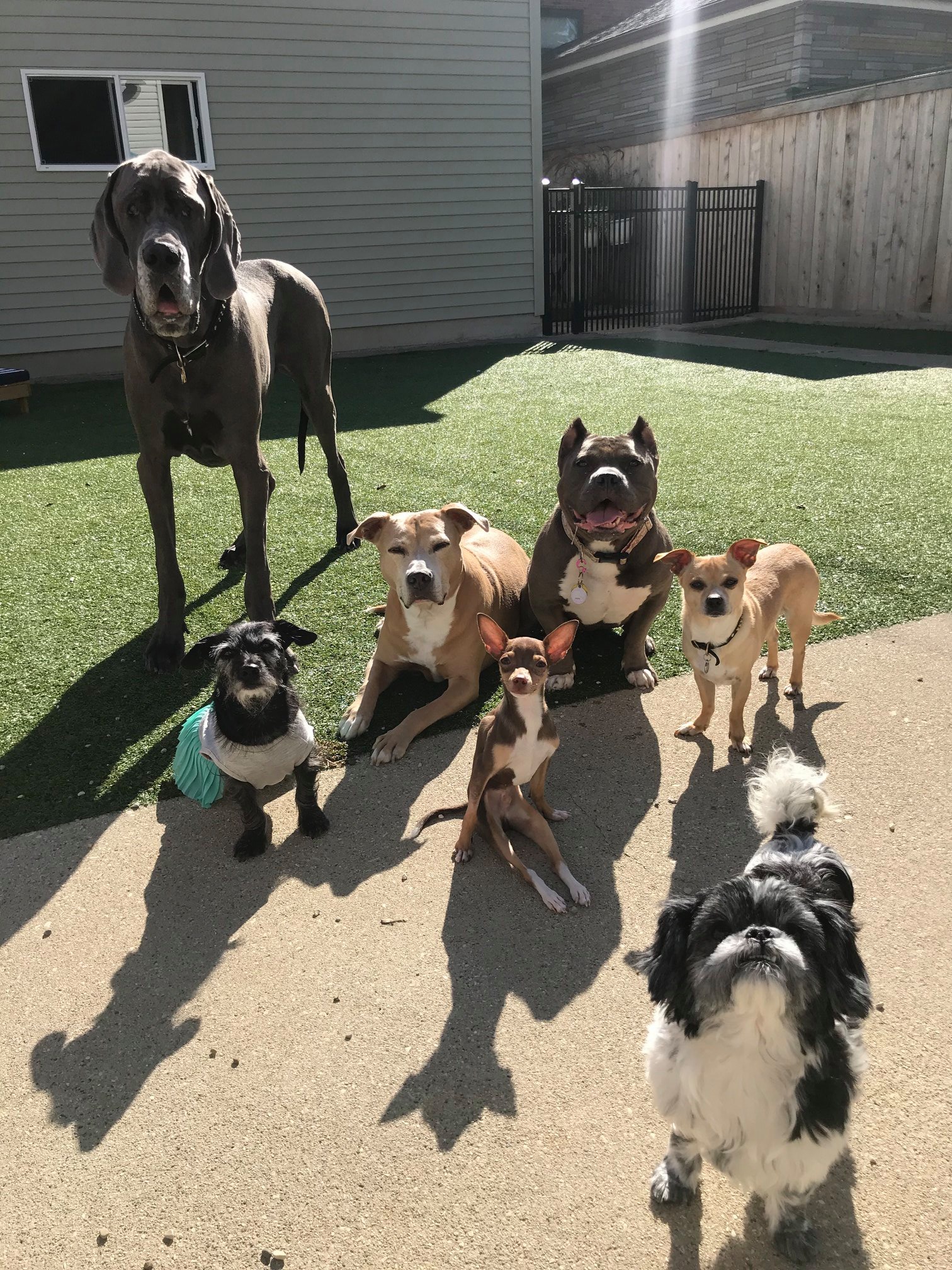 When the time came for Brena to find her forever home, she was so incredibly lucky because so many amazing people wanted to adopt her. In the end, there was one family in particular that was the perfect fit for Brena. Her future mom's story of survival rallied that of Brena's. It was meant to be that these two be together and continue in their healing. With that being said, we are thrilled to announce that Brena has found her forever home! She has left the busy city life behind and now lives in a quiet suburb of Indiana. Brena has a yard to play in and a family that lives and breathes by her. Quite simply, she has received her happily ever after. TAF would like to thank everyone that donated towards Brena's medical care. She owes her life to you and that is the best gift one can give. To say that you are all appreciated would be the understatement of the year. You are absolutely the best!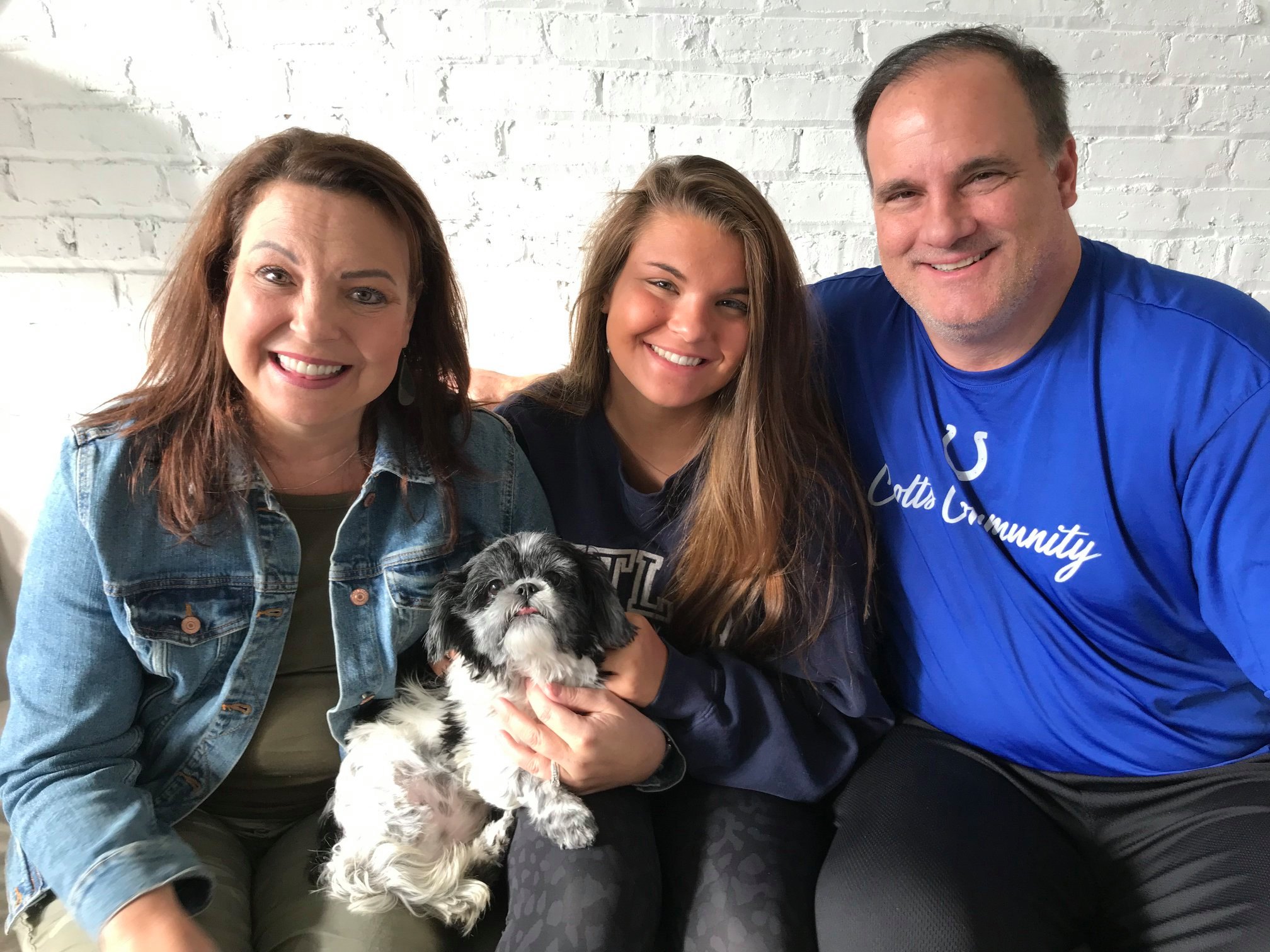 Gwen
spending Christmas in her new forever home!

When TAF first met Gwen at Animal Control, we were told that she had been impounded in a deplorable state. Gwen was so infested with fleas that she was actually bleeding. She was dangerously close to being emaciated and she was terrified. We were actually called to help because the shelter environment was getting the best of Gwen and she had stopped eating.

Once we took Gwen into our care, she was taken to the vet by the next morning. After staying the day receiving medical treatment, Gwen went into foster care at The Moon Dog Farm. There she was nurtured, hand fed and given every opportunity to thrive. When she was feeling especially lonely, Gwen was able to score a place in the bed next to her foster dad.

Knowing that Gwen was bonding so quickly to her new foster family, we thought it best if we could find a forever home willing to continue with her medical care. This way Gwen could bond with them as she continued to healed.

Wouldn't you know it as soon as we posted about Gwen and her medical needs, a special family stepped up to adopt her. Even though they knew Gwen wasn't 100% they welcomed her with open arms. Their selfless act of kindness was going to forever change a homeless dog's life and give the ultimate gift of a forever home... what extraordinary people. Gwen is a very lucky little girl.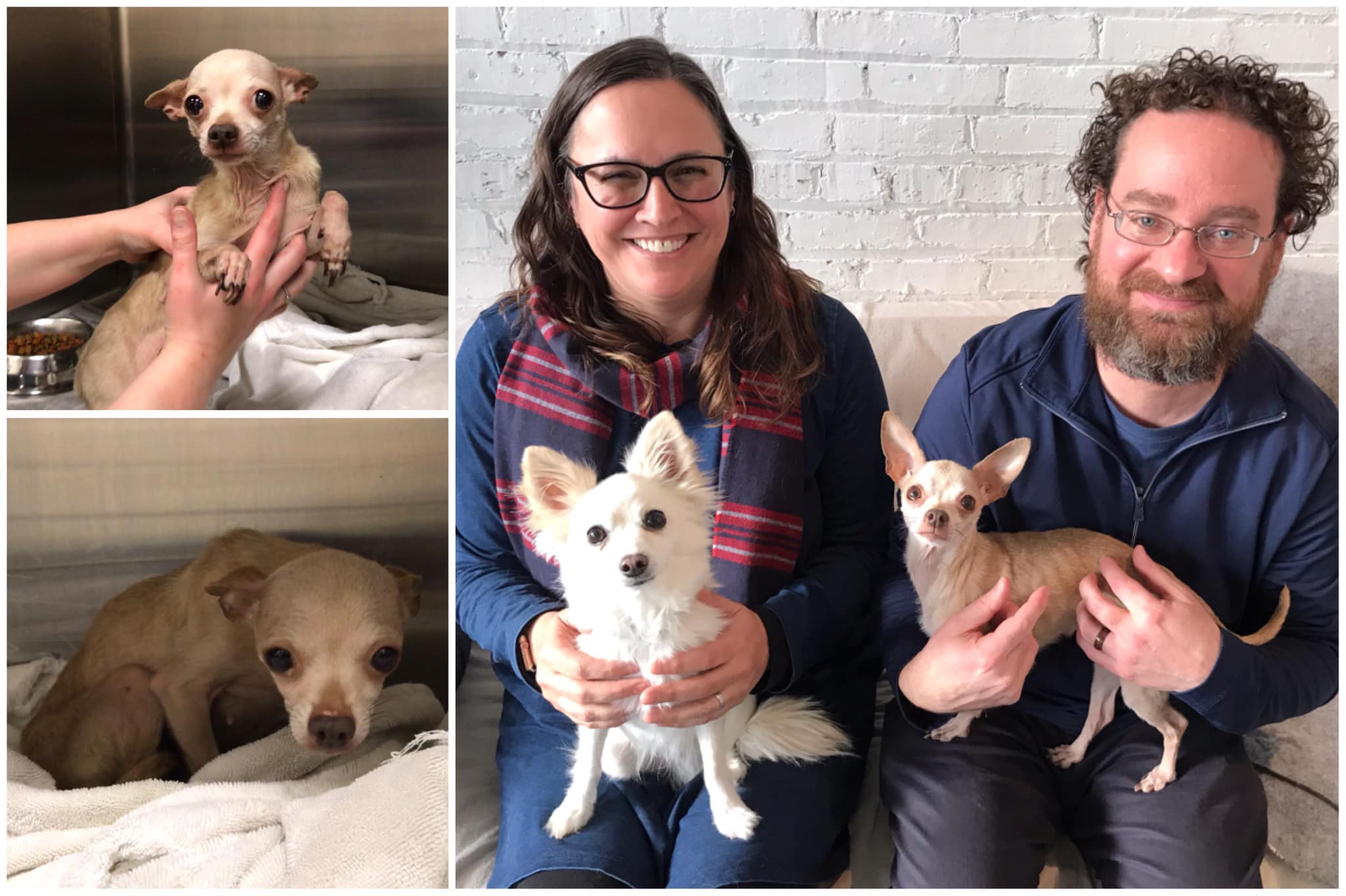 Binky
Remember Binky? We never got the chance to show you her amazing new dad. He fell in love with her the moment that he met her and the rest is history!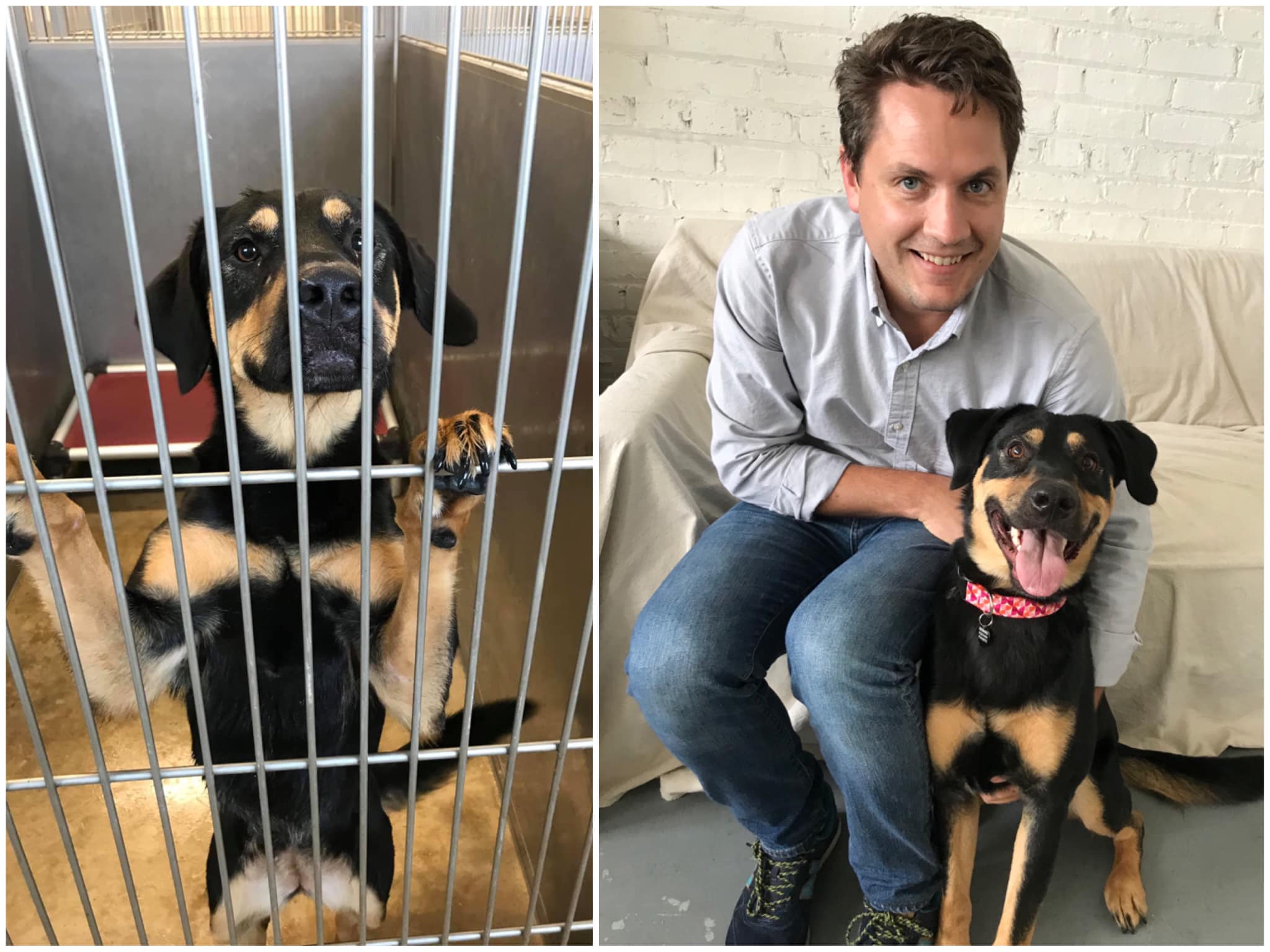 Violet
Violet never got the chance to tell you that she found her forever home! She is enjoying her second chance at a new life with her big sister, mom and dad this Christmas.
Violet's parents are pretty special people and we are so happy for all of them
!
Skeeter
Little Senior Skeeter Found His Forever Home!
Early in July, TAF came across a little senior pup while walking through Animal Control. Cowering in the corner of his cage, Skeeter was scared and confused. How could he even begin to comprehend how he ended up there? Due do his horrendous teeth, Skeeter was repeatedly passed up by potential adopters and rescues. Everyone knew that his dental alone would cost close to $800. This did not include vaccinations, senior blood panel, microchip and neuter. Skeeter was going to be a big financial undertaking that could put a lot of people/rescues in the red.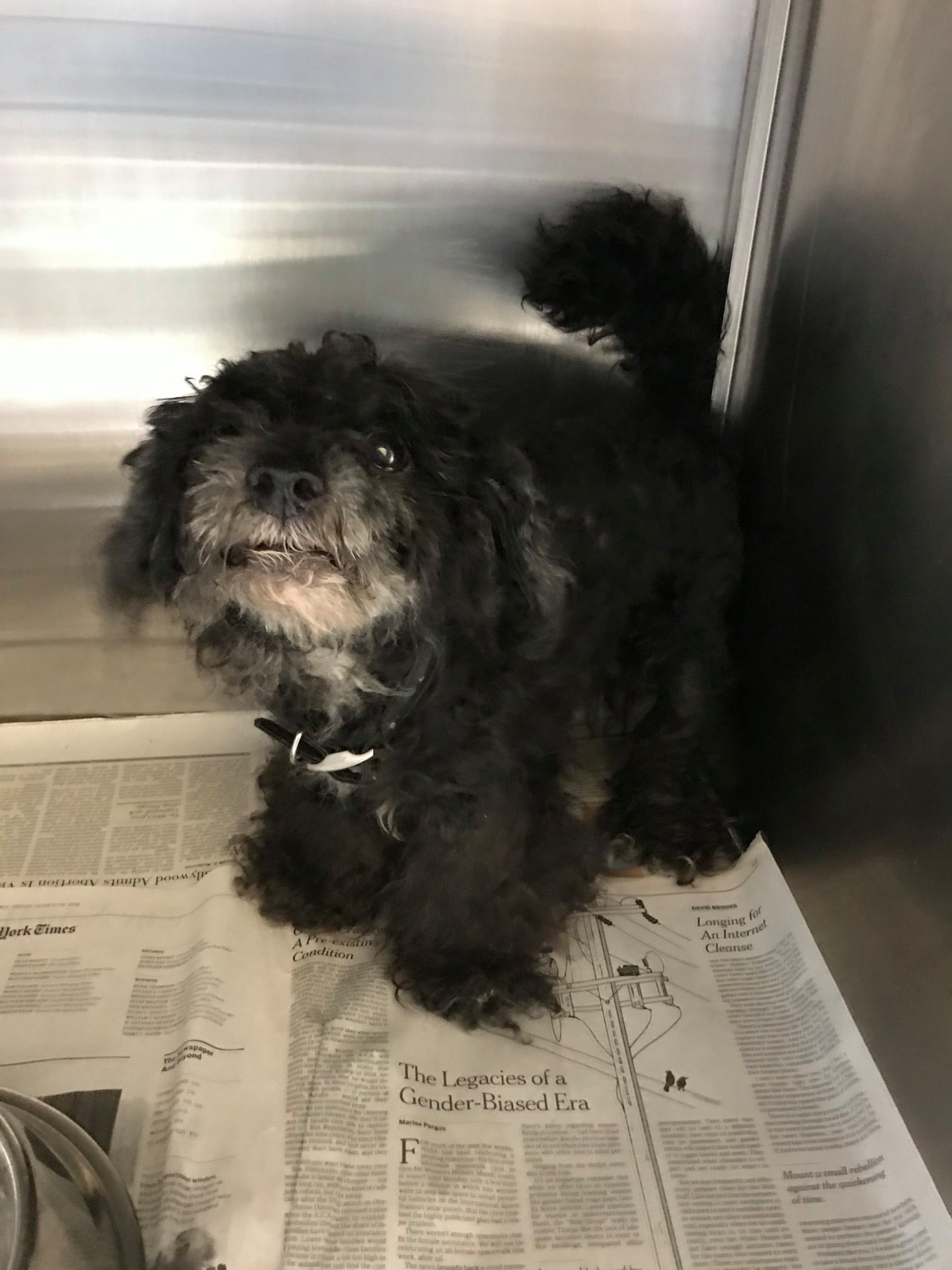 Knowing that TAF has some pretty amazing supporters, we saved him that very same day. Skeeter would go on to spend the next few weeks at the vet fighting off an upper respiratory infection and preparing for surgery. Once he was all fixed up, he came back to us and was officially ready for adoption.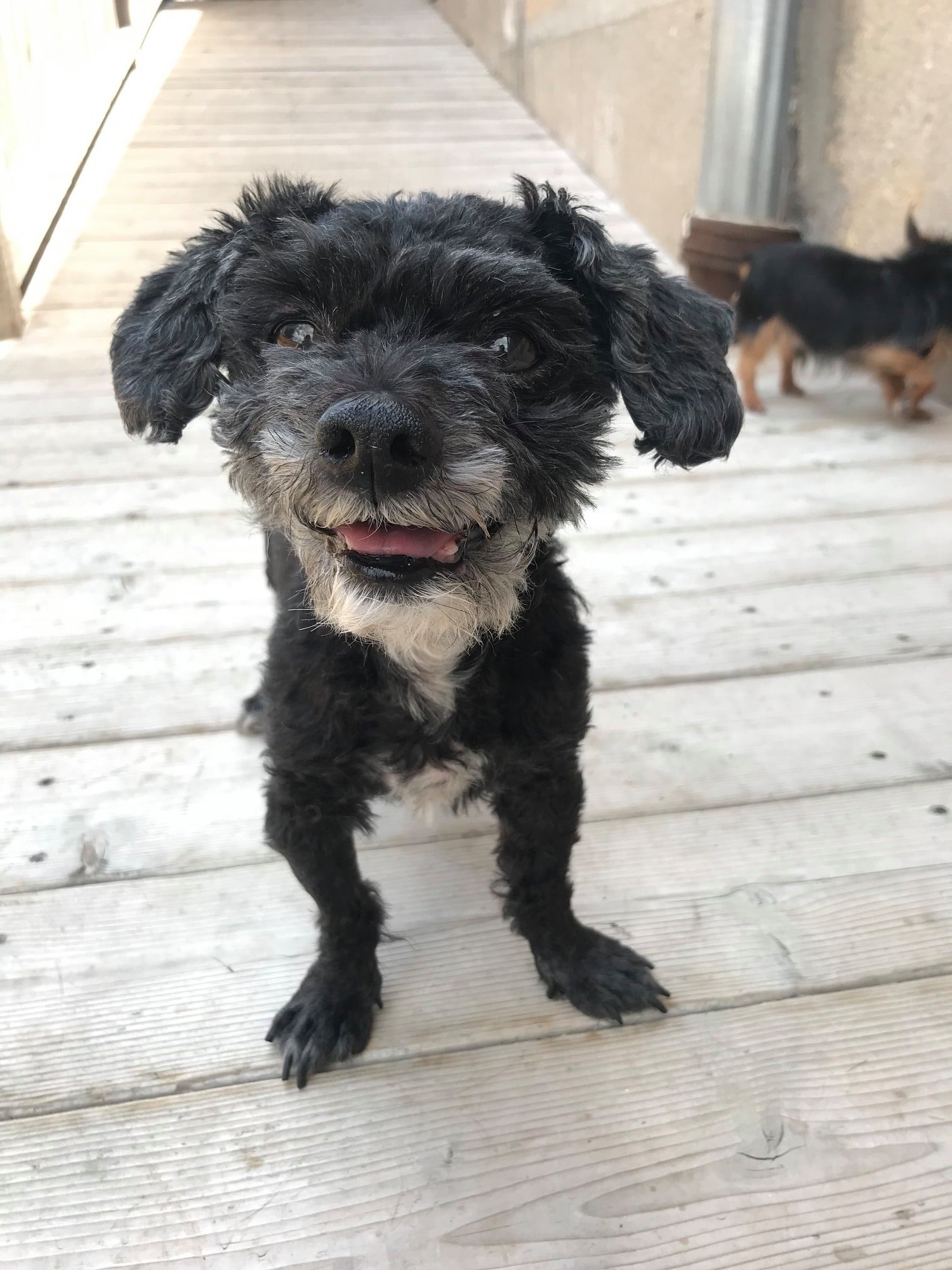 With that being said, we are so happy to announce that Skeeter has found his forever home! Skeeter has left the city for a quieter life in the suburbs. He is an only child and his new mom and dad adore him. Skeeter has yet to want for anything and is spoiled rotten. For a senior dog running out of time at Animal Control, you couldn't have asked for a happier ending. Skeeter's new mom and dad wanted to give a senior dog the best twilight years of their life and they are doing just that. Thanks to everyone that supported Skeeter and made it possible for us to give him a second chance!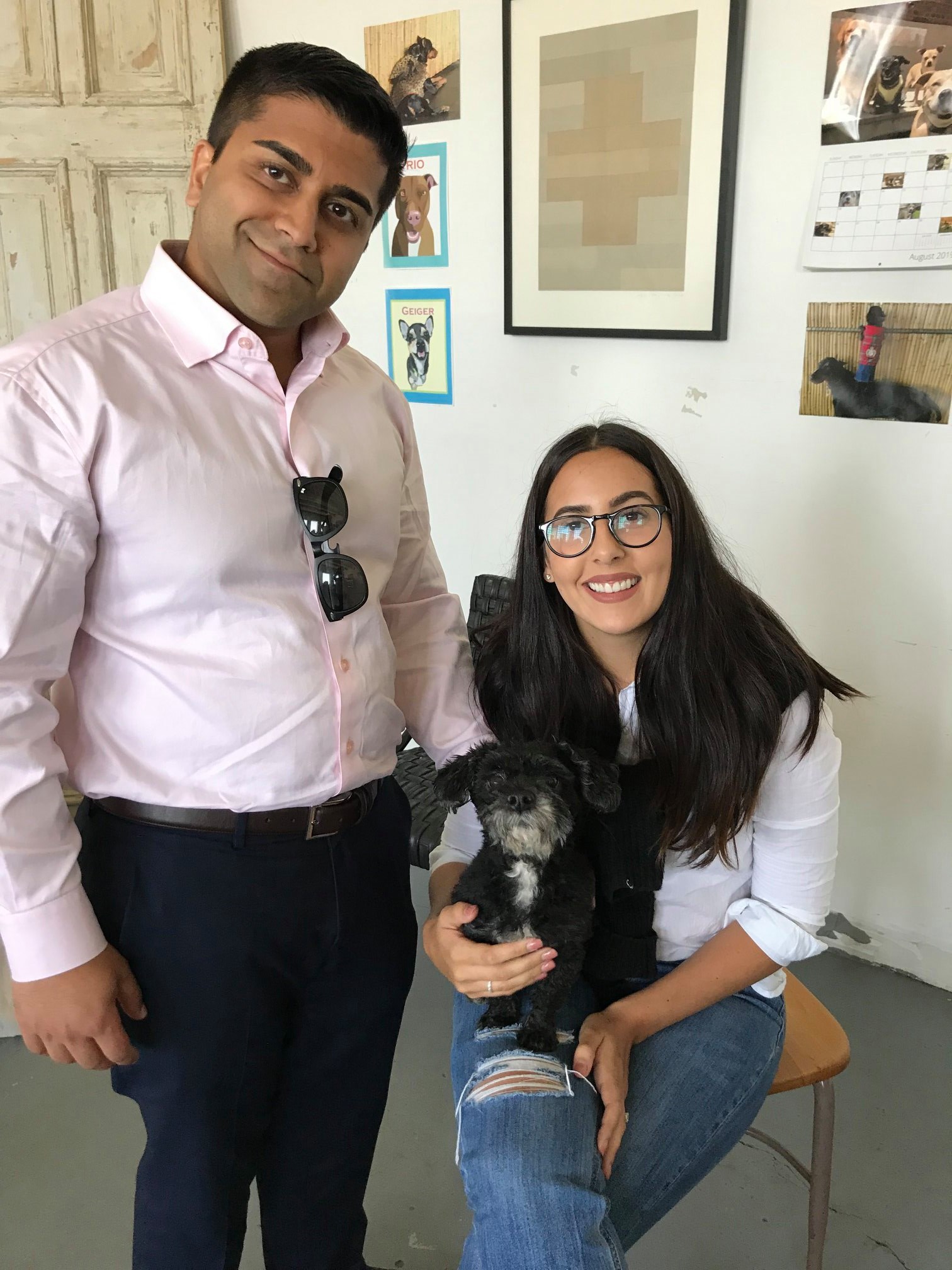 Winston
Imagine being at Animal Control and looking over to see Winston trembling through the bars of his cage in fear… With 80% of his teeth missing, Winston's tongue was hanging out of his mouth and his remaining teeth were as brown as his fur. Estimated to be 10-15 years old, Winston was believed to be totally blind at the time. With the deafening barks of the other shelter dogs, Winston did not know what was going on or where he was. Needless to say, we left with him that day.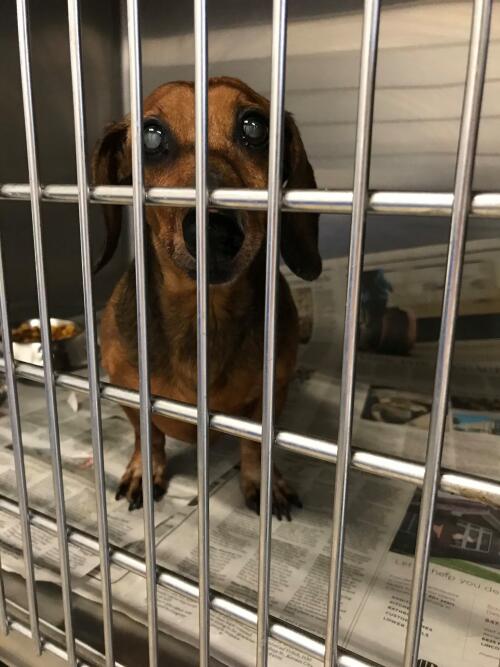 Once in our care, Winston immediately underwent extensive dental surgery. The condition of his mouth was so dire that the roots of 6 teeth were already abscessed. The abscessed roots were so severe that they almost fractured his jawbone. Winston was also diagnosed with severe cataracts but it was determined that he did have some vision. One more discovery was that Winston tested light positive for Lyme Disease. He has been started on Doxycycline and his medical team believes that he will be just fine.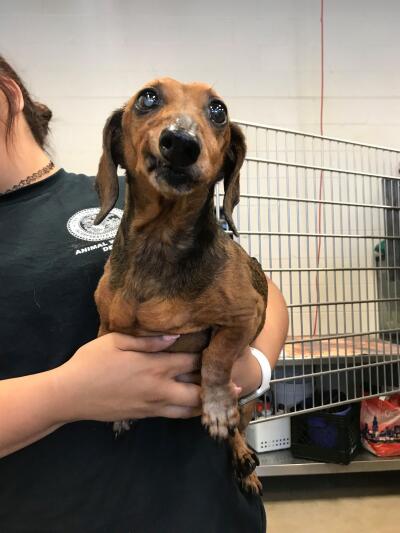 Once through the worst of it, Winston was ready for adoption. Little did any of us know that the perfect home was waiting for him! Winston's future mom was looking for a senior pup that needed a second chance. One that had been left behind and wanted nothing more than to be loved… for her, Winston was the one. When Winston met his future mom and brother, he walked right over and gave his mom a kiss on her hand. For him, she was the one. The rest is history. This beautiful family can now live happily ever after Winston can live out his twilight years with grace and dignity. TAF would thank to send out a big thank you to everyone that donated towards Winston's extensive medical care. We honestly could not have done it without you. Most of all, TAF would like to thank The Moon Dog Farm for fostering Winston and taking such great care of him. As always, you really did us a solid.