Arthur
Differently-Abled Underdog Finds His Forever Home!

On March 4th, TAF received a call from Animal Control asking if we could help with a 6 month old Shih Tzu puppy that needed immediate medical attention. The puppy could not use his rear legs properly and at times dragged them causing sores to form. Even though we knew that Arthur's medical condition was going to be complicated and expensive, we agreed to take him in and get him the medical attention that he needed.

Once at TAF's vet, x-rays would go on to show a much more complicated medical diagnosis than we had hoped. As it turned out, Arthur had been born with no hip joints and had bilateral hip dysplasia. He also had scoliosis of the spine and a rear right leg fracture that had already healed on its own.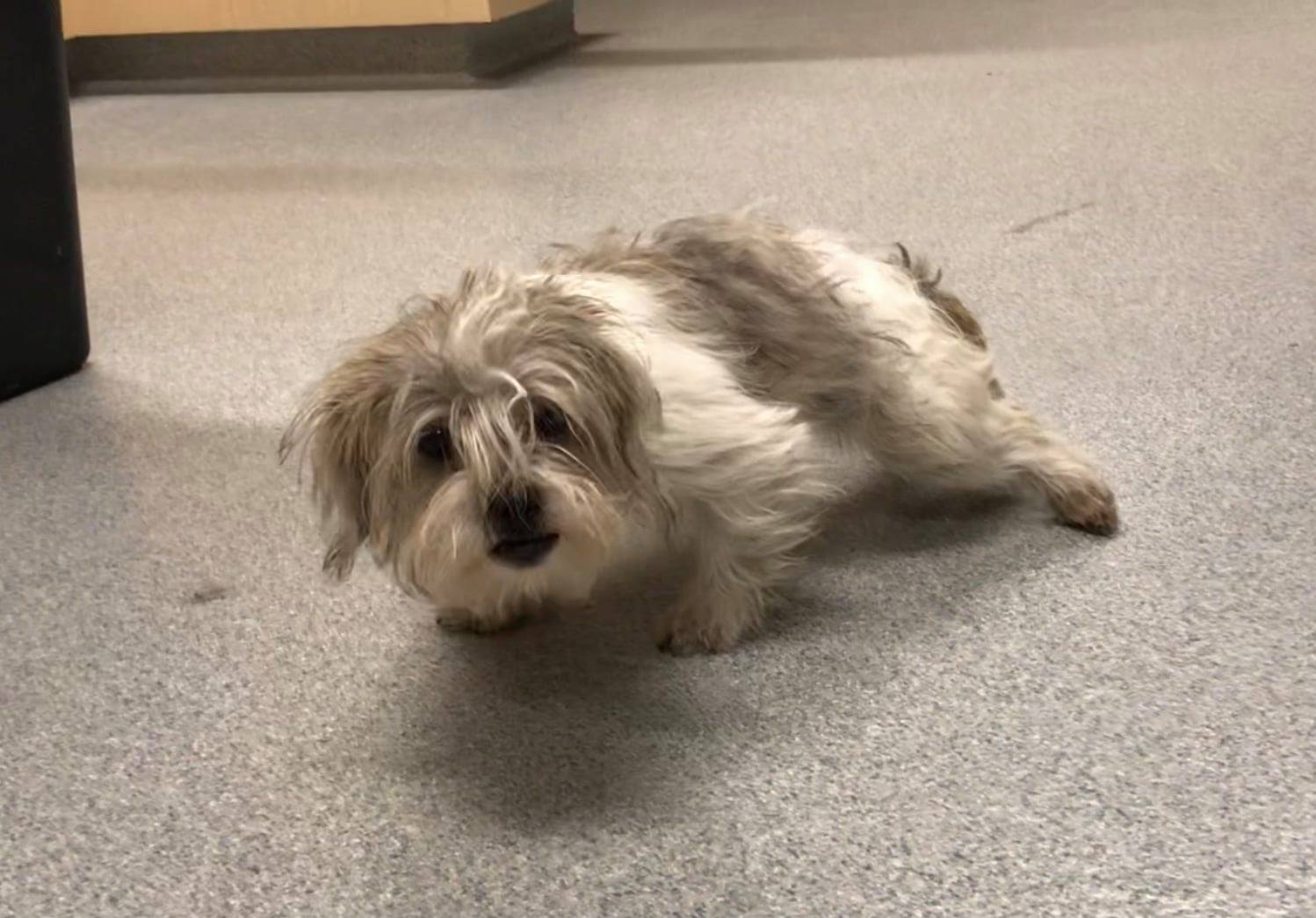 After talking with three different specialists, Arthur's medical team decided that he should see a Rehabilitation Specialist. At this point, Arthur was 7 months old. Since he was still growing, Arthur's Rehab Specialist decided that the best course of action were exercises that included stretching, strength training and ultimately a wheelchair/cart.

When Arthur first came to be with TAF, he was paired up with our mama therapy dog, Antler. All of the TAF therapy pups quickly chipped in to help. Once it was determined the extensive amount of physical therapy that he needed, Arthur went to stay with a new foster family. His new foster mom, Lisa, was well versed in physical therapy rehabilitation for specially challenged pups and took him under her wing. Lisa worked with Arthur's doctors to set up a realistic program for Arthur's future family and home. She also paired Arthur up with her own little pup Chloe. Just like TAF's therapy dogs made Arthur feel safe, Chloe did the same.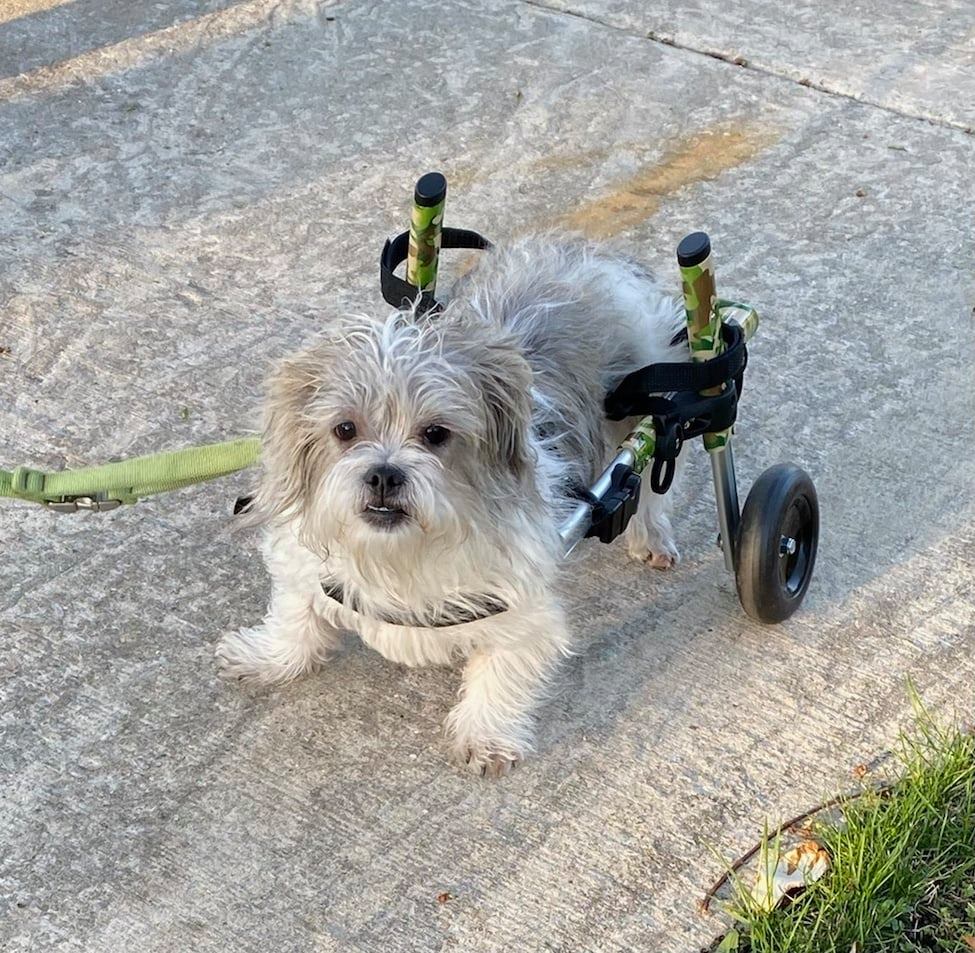 Before long, Arthur was running around the yard with his foster siblings or down the sidewalk with the help of his cart. When he became too tired, Arthur hitched a ride in the doggie stroller. Our adorable underdog Arthur was never left out of the fun or left behind.

Now for the truly happy ending…

We are so thrilled to announce that Arthur has found his forever home! Arthur now has 2 fur siblings, 2 boy siblings, a mom and grandma to call his own. From the moment that we first talked to Arthur's future family, we knew that he had hit the puppy jackpot!

Since Arthur's medical case is so special, he met with his future family on two separate occasions to make sure that everything went smoothly. Both meetings were amazing and on the second visit Arthur left in his very own brand new car seat! His new mom even bought Arthur his very own stroller, too! Between his wheelchair/cart, car seat and stroller, Arthur had some pretty sweet rides to impress all of his new friends.

TAF would like to thank everyone that donated towards Arthur's medical care and cheered him on. We couldn't have done it without you! We would also like to thank Arthur's medical teams, foster family and forever family for making such a big difference in his life. From the moment we first heard about Arthur, you never gave up on him. He has received a second chance at a new life because of all of you!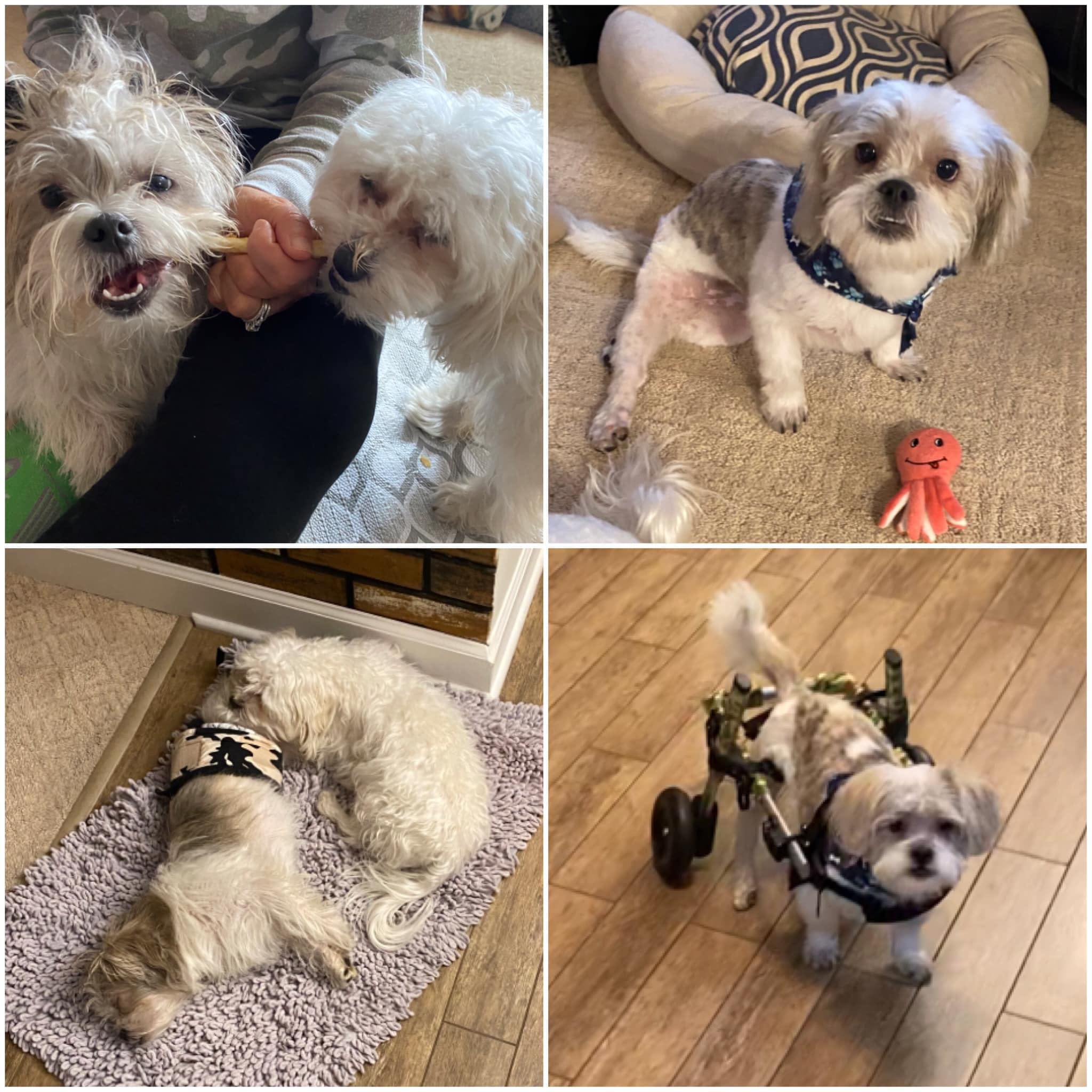 Madeline
THIS! THIS IS WHY TAF CHERISHES OUR THERAPY DOGS… MADELINE HAS FOUND HER FOREVER HOME!!!

When TAF was asked to help with some pretty advanced medical cases at an open access shelter we stepped up to help. We were actually able to do so because of the generosity of all of you.

Upon leaving, we were asked to look at a scared senior Chihuahua whose future did not look so good. When we were brought to Madeline, none of us tried to touch her. We knew that she was too stressed and to do so would set her up for failure. Instead, we worked with the shelter manager to come up with ways that would make it easier for the staff to handle Madeline and give her time to adjust. Finding a place for her was going to be a labor of love and in a shelter environment it might take months. We knew in our hearts that Madeline's chances of a happily ever after were very slim…

About to get into the car with our medical pups all loaded up in their kennels, a heaviness fell over us. We knew the reality of Madeline's situation and it didn't feel great. It was at that time that we agreed to take Madeline with us. We had no game plan only the knowledge that TAF's therapy dogs would take it from there and lead the way… and that is exactly what they did.

When Madeline arrived at her foster home, she was terrified and lashed out. However, when we brought in our littlest therapy dog Bentley Madeline's whole demeanor changed. She had found a friend to follow and show her the ropes. We slowly worked her up to the other therapy dogs. Hazel Grace and Antler were next to meet her. All of our dogs are trained to not approach a shelter dog until given permission. Once we knew that Madeline was up for meeting them, all of the littles and Antler hung out. Once Madeline was much more confident, we introduced her to our XXL pups. Eeyore was pretty impressed with this pint-sized dynamo. As for Fiona (still in training), she was literally and figuratively kept on a short leash. A 130(+) pound, 10-month-old puppy is a bit much for a 6 pound dog… at least at the beginning. By the end of Madeline's stay with us, she was hanging out with the whole pack and made herself quite comfortable.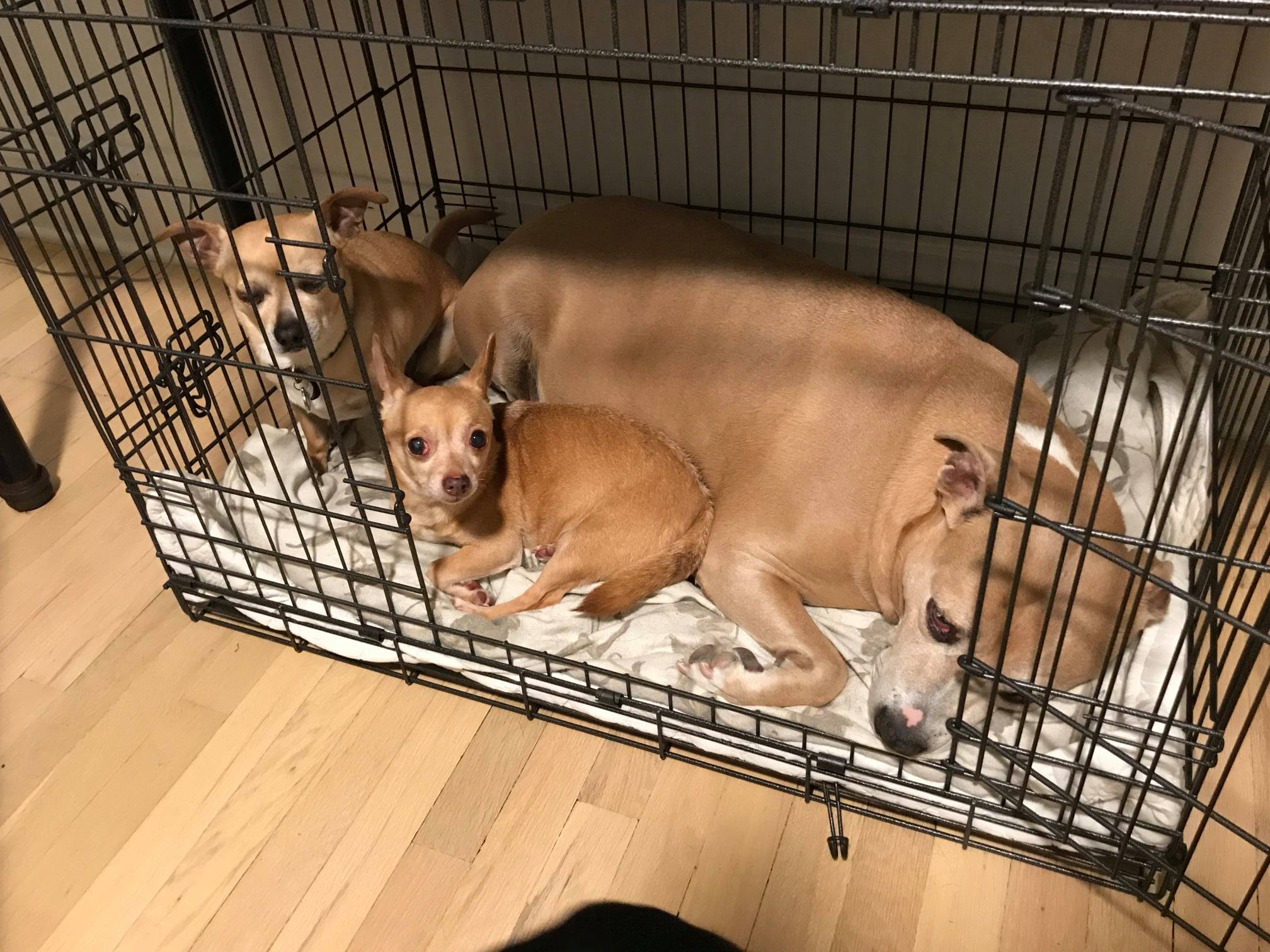 (During this time, Madeline underwent surgery to repair a cherry eye, had a dental with several extractions and was spayed.)

Even though Madeline had come such a long way, she still had quite the temper. We knew that she would need to find a forever home with people that were Chihuahua savvy. The type of people that appreciated a more "spirited" senior pup who was set in her ways and might not let them into her circle of trust for weeks. More importantly, a family with other pups to welcome her in. If there were other friendly littles in the picture, Madeline was destined to succeed.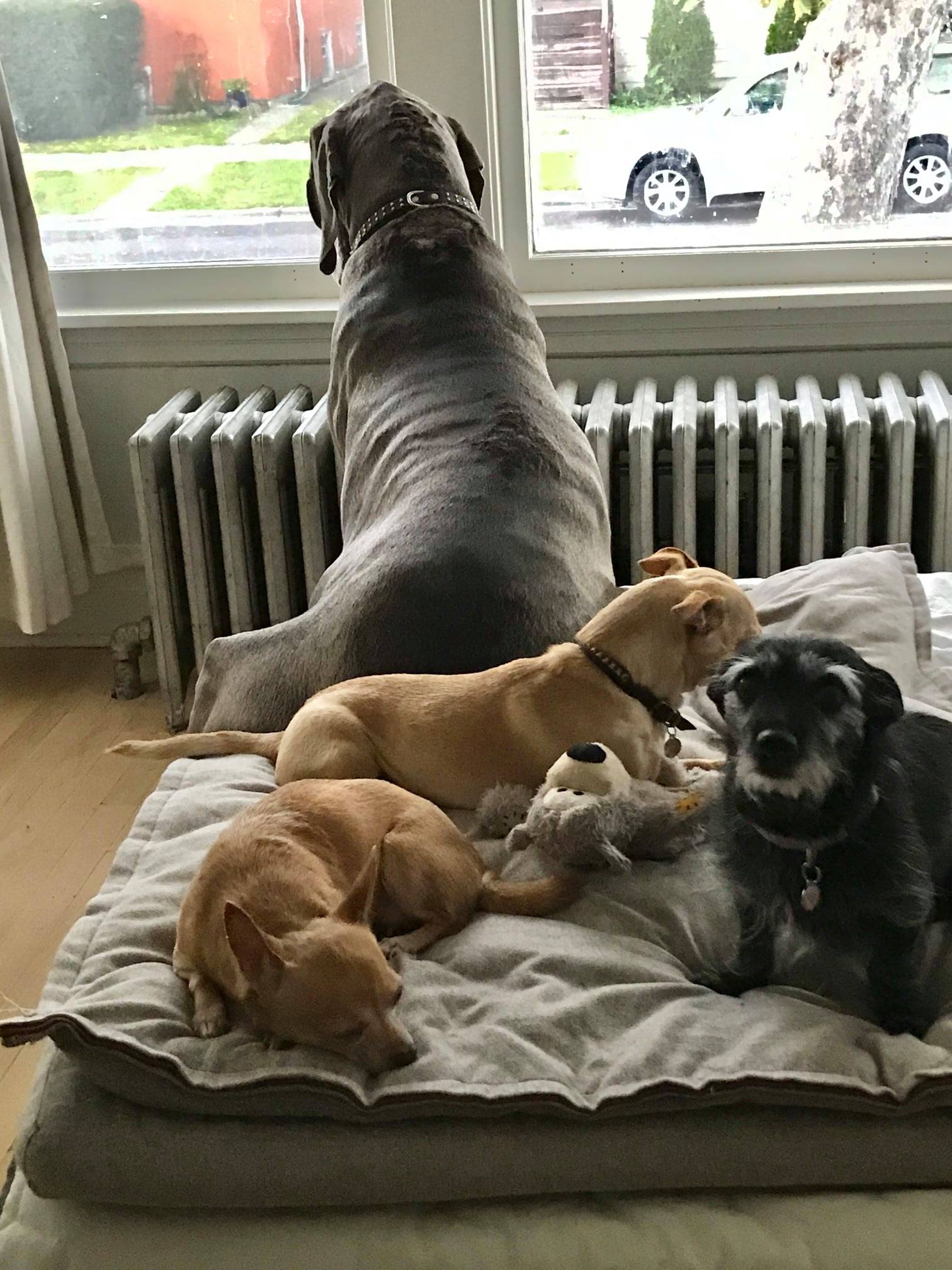 Well, how does the old saying go? From your lips to God's ears… that is basically how it went down. I can tell you that 2020 got a whole lot better when we received a special email regarding Madeline… a whole lot better.

When the time came to bring Madeline to her potential forever home, we had faith that she would work it out. If she followed the blueprint that we had set up for her in her foster home we knew that she could do it. Her future mom and dad already knew all of her quirks and were willing to give her as long as she needed to adjust. Even if they couldn't touch or hold her for weeks. They were Chihuahua lovers and have always focused on helping Chihuahuas who are misunderstood and left behind.

Let me tell you, when Madeline and I walked into this lovely couples home I think that both of our jaws dropped. The whole house and backyard was designed for Chihuahuas. There was even a wardrobe closet in the corner for all of the pups' clothes etc. (It definitely rallied that of Hazel Grace's closet). Once we went out to the backyard, there was a pack of brown Chihuahuas running in a herd and Madeline was one of them. It was a littles party and we were lucky enough to be a part of it.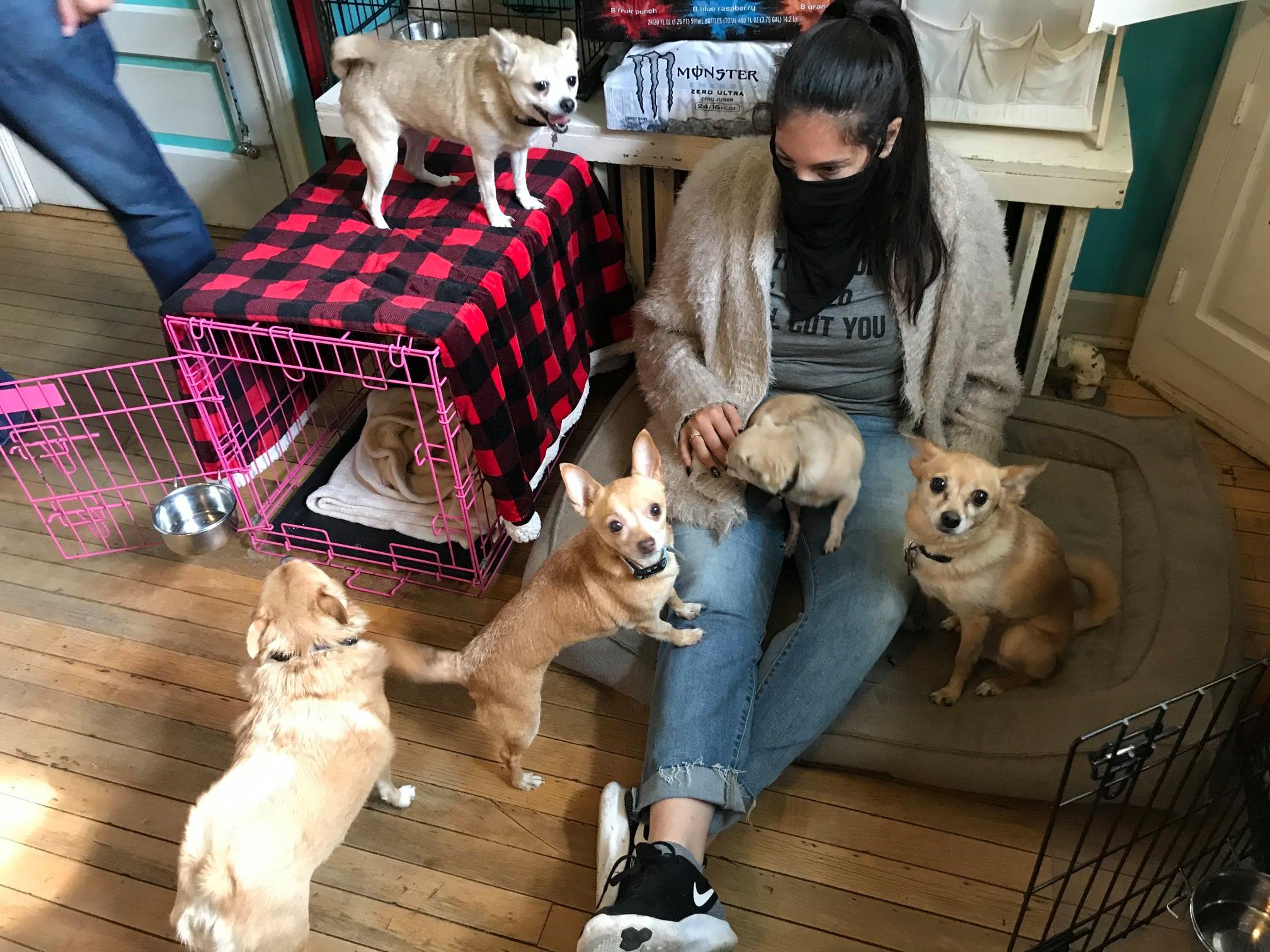 Once inside, it was now 100% up to Madeline. After playing this moment out in our heads over and over, we just had to step back and see how Madeline interacted with her potential adopters. As I stood there a bundle of nerves, and holding my breath, wouldn't you know it that Madeline went right over and sat on her mom's lap. To prove how cool she was, Madeline walked right over and sat on her dad's lap, too. If that doesn't tell you something about Madeline's new family I don't know what does. Madeline was not ready to be picked up yet but as nervous as she must have been, there was a calmness to her. She just looked up at me and was like, "This is them… this is my forever family".

With that, I am happy to officially announce that Madeline has found her forever home! She has got to be one of the luckiest dogs in the world to get a second chance like this. I can't even find words to accurately describe the kindness, joy, understanding, patience and love that you feel in Madeline's new home. Hands down, in the 10(+) years that TAF has been around one of our favorite happily ever after stories. This one was good for the soul.
Elton
ELTON HAS FOUND HIS FOREVER HOME!

On June 20th, TAF received a plea for help from Animal Control. A senior dog needing extensive medical care had just been impounded and would be euthanized if we couldn't save him.

Upon meeting Elton, it was quickly discovered that he had a severe hernia and needed emergency medical attention. Within 24 hours, TAF had Elton in for surgery to repair his perianal hernia that caused his intestine to go through the body wall. It looked like Elton had a tangerine underneath the skin next to his tail. In the weeks to come, Elton went in for a second surgery to tack his stomach and intestine to his body wall. This was to ensure that nothing like that ever happened again. To complete Elton's makeover, he underwent one last surgery to have a full dental and have any rotten teeth removed. Elton's surgeries were all spit up due to the amount of time he would need to be under anesthesia.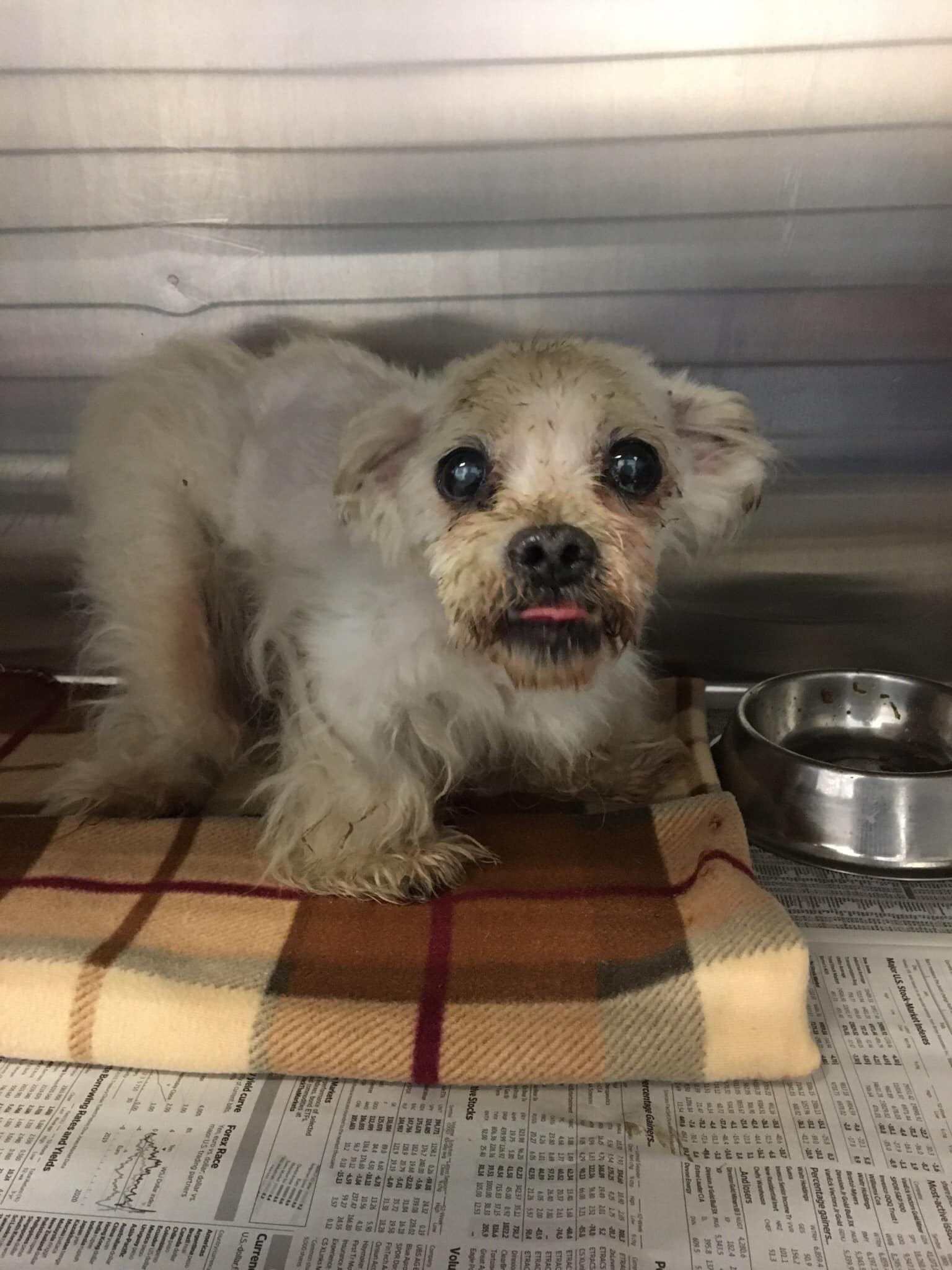 After months of extensive rehabilitation, Elton was finally ready to find his forever home. His journey was a long one but well worth the wait.

With that, we are so happy to announce that Elton has found his forever home! Elton's new mom and dad are over the moon for him. He is the light of their life and they absolutely adore him. Their updates are heartwarming and it is so wonderful to see our senior boy living his best life. A huge thank you to Elton's new mom and dad for adopting a senior dog that has had a hard long life. You are really good people.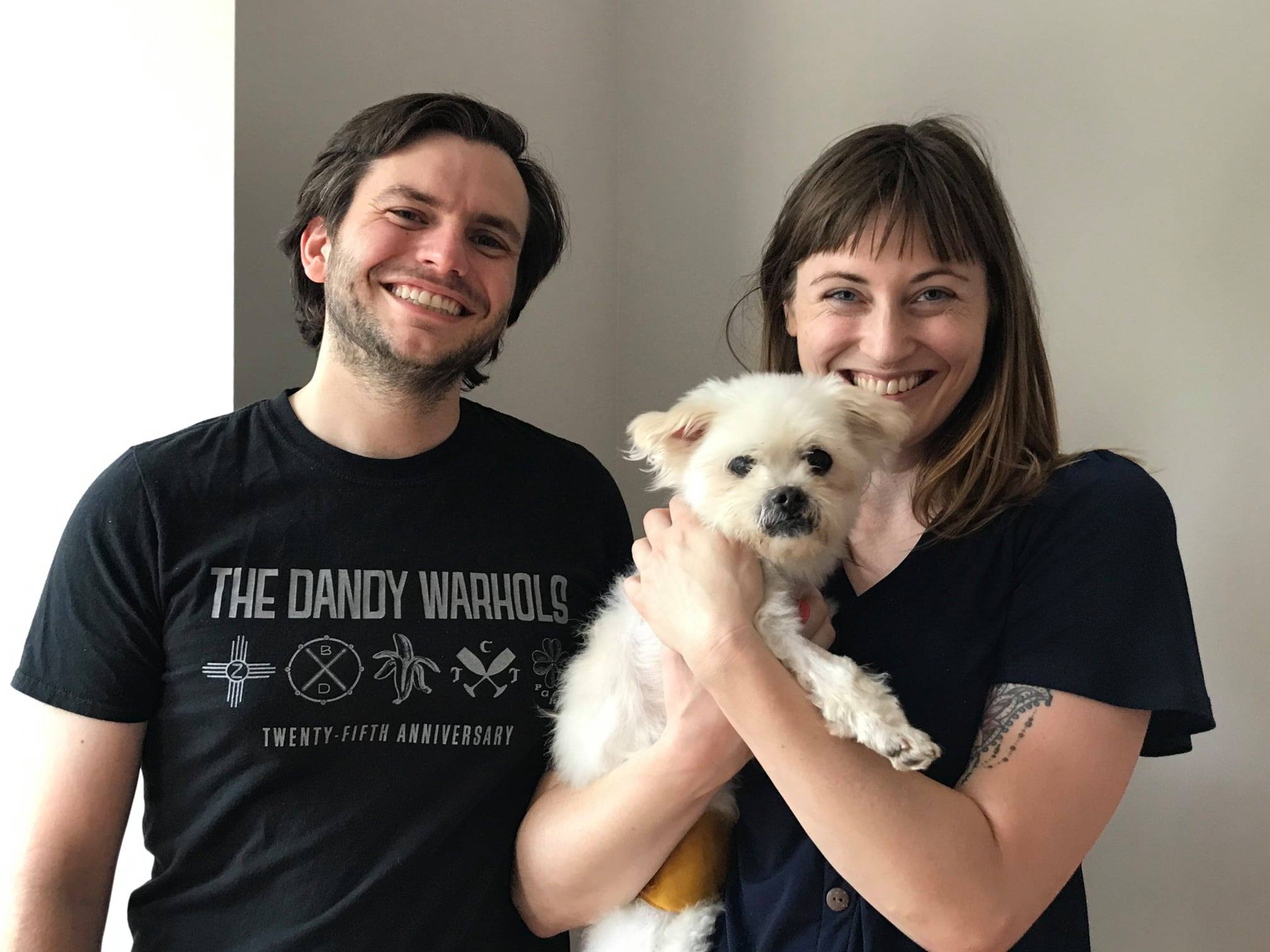 TAF would also like to thank everyone that donated towards Elton's medical care. Elton is alive because of you. Also, TAF would like to thank the Moon Dog Farm for fostering Elton and helping to get him through his recovery.

So many people played a part in giving Elton a second chance and we are grateful for all of you!
Kiki
On October 28th, TAF received a call from Animal Control asking to help save a female Shih Tzu suffering from a terrible injury. Ten pounds underweight and writhing in pain, 70% of Kiki's tail had been severed from her body. The tissue at the end of her tail was already necrotic and puss leaked through. In fact, the infection was so bad that the exposed bone was soft. Once in our care, Kiki would go on to have emergency surgery to have the necrotic tissue and the last bone of her tail amputated. With a very high white blood cell count, Kiki was started on antibiotics and it was now up to her immune system to kick in.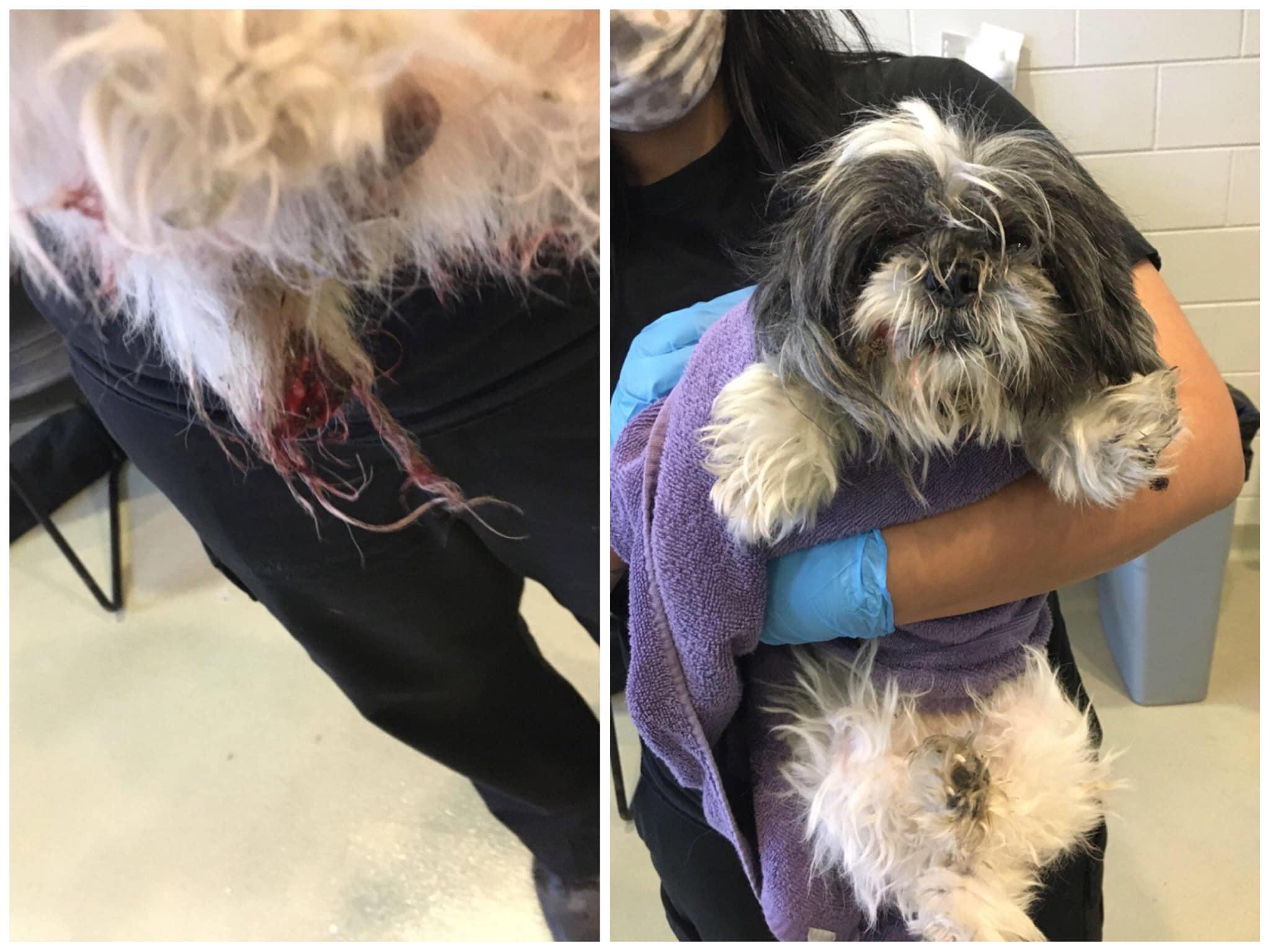 To all of our surprise, Kiki had a pep in her step almost immediately after her surgery. We were absolutely delighted. It was at this point that Kiki also found her voice and turned into a velcro dog. Kiki was not shy to let you know that she was not a fan of her kennel or your absence. Worried that the stress would affect her recovery, we thought it best that Kiki go straight into her forever home. Kiki was one of the lucky homeless pups that received many amazing adoption applications. Knowing that Kiki's emotional triggers might set her up for failure in an apartment or condo, we opted for homes where some barking would not disturb the neighbors. One application in particular really stood out. A home where Kiki would have 100% of her mom's attention during recovery all the while keeping her neighbors happy. With that being said, we are so happy to officially announce that Kiki has found her forever home! With her new mom by her side, Kiki is waggin' her new little nubbin tail all around her yard and into her happily ever after. Kiki's new mom loves her so much and we can't thank her enough for being so understanding of Kiki's emotional needs and taking such amazing care of her. That is one lucky little pup! TAF would like to thank the people that donated towards Kiki's medical care. We really appreciate it! Also, to The Moon Dog Farm for making sure that Kiki was good to go before going to her new mom's house. As always, we think that you are great!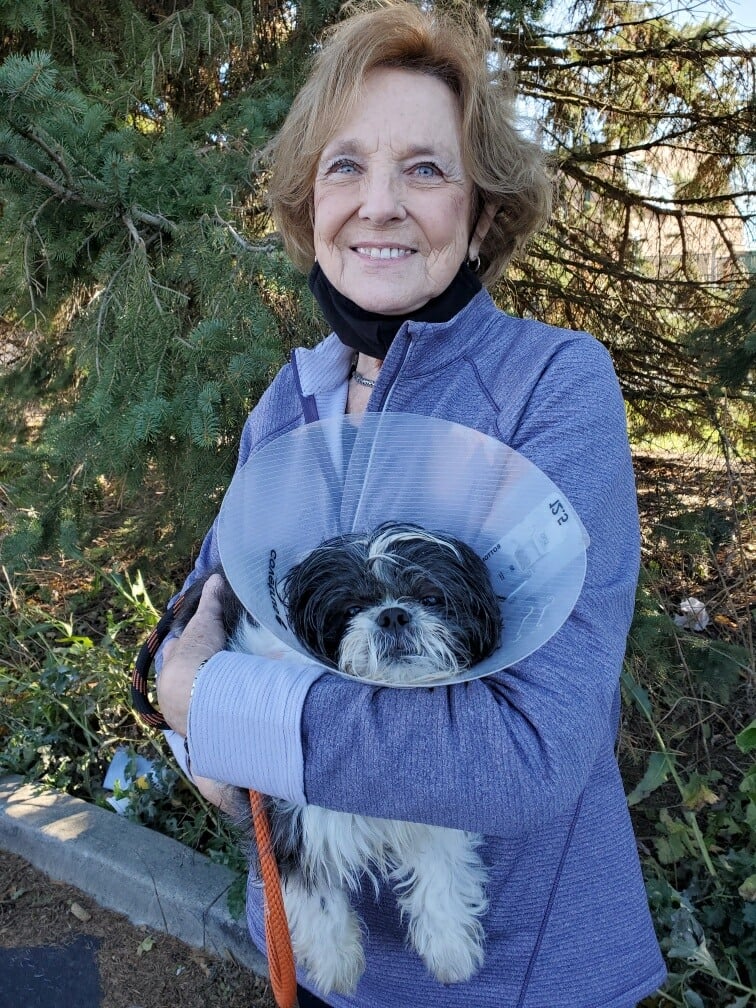 Randolph
We have some great news… Randolph has found his forever home!
This super sweet boy had a rough time of it from the get-go. When Randolph came into our care he had a double ear infection, parasites, and a painful sore on his head. In addition to this, an ultrasound would show that the walls of Randolph's bladder had thickened due to a terrible bladder infection. Needless to say that even with all of these painful ailments, Randolph was still sweet as could be. He was stoic and held his own until help came along.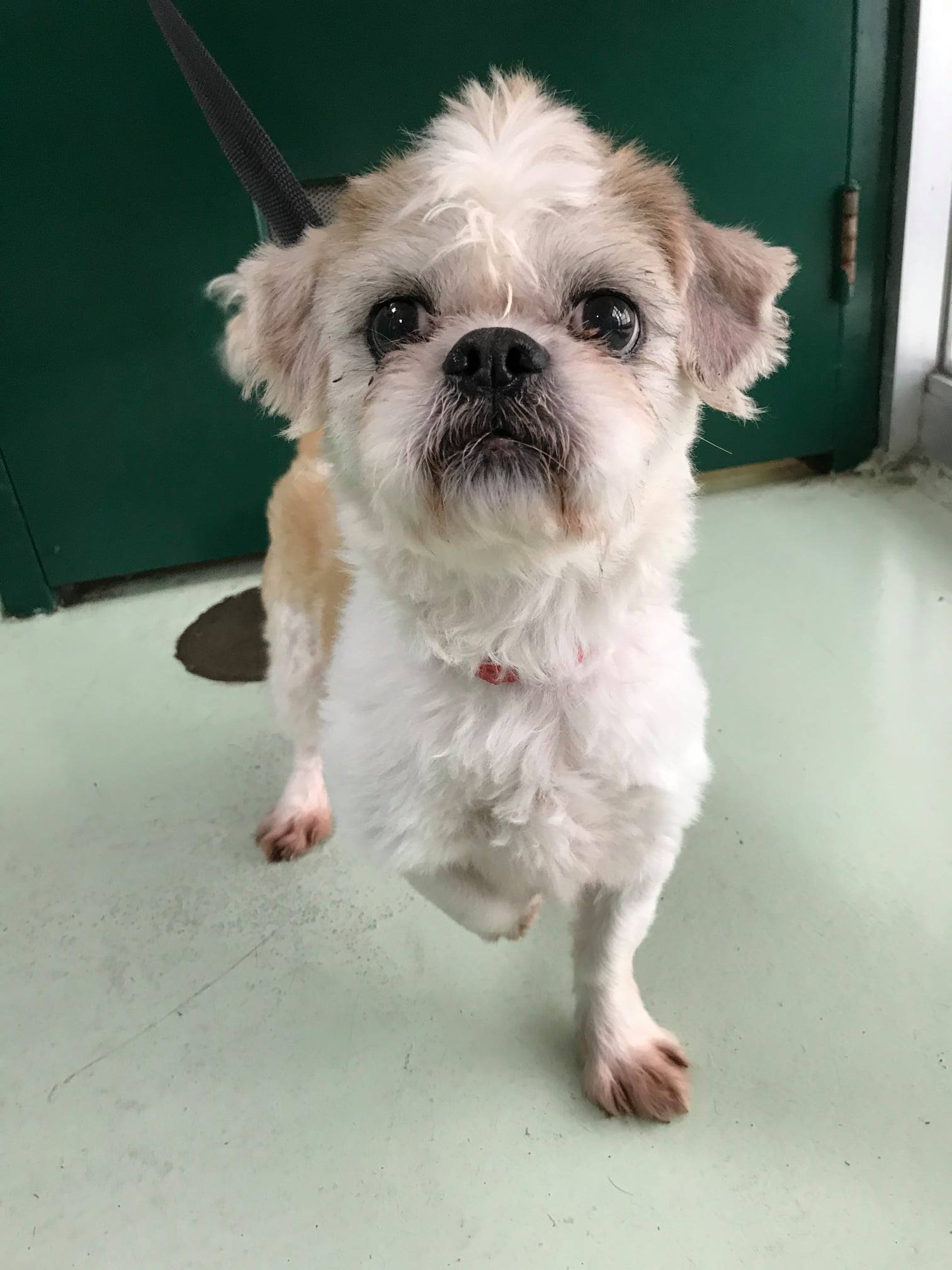 Once Randolph was on the mend, he left his foster home at The Moon Dog Farm to stay with TAF's therapy dogs. To get a true read on his temperament, we knew that he needed some extra socialization. If he were proven to be dog friendly Randolph's adoptability options would exponentially increase. In Randolph's case, this was even more important because he was a senior with a grade 5 heart murmur. As many of you already know, seniors with pre-existing medical conditions are often passed over for adoption. When Randolph was in his new foster home, it was determined that he was dog friendly. Even though this was the case, Randolph was shy and preferred to be quitter setting with his foster mom. With this information, we made a valiant effort to find a quiet household where Randolph could be the center of attention with his forever family.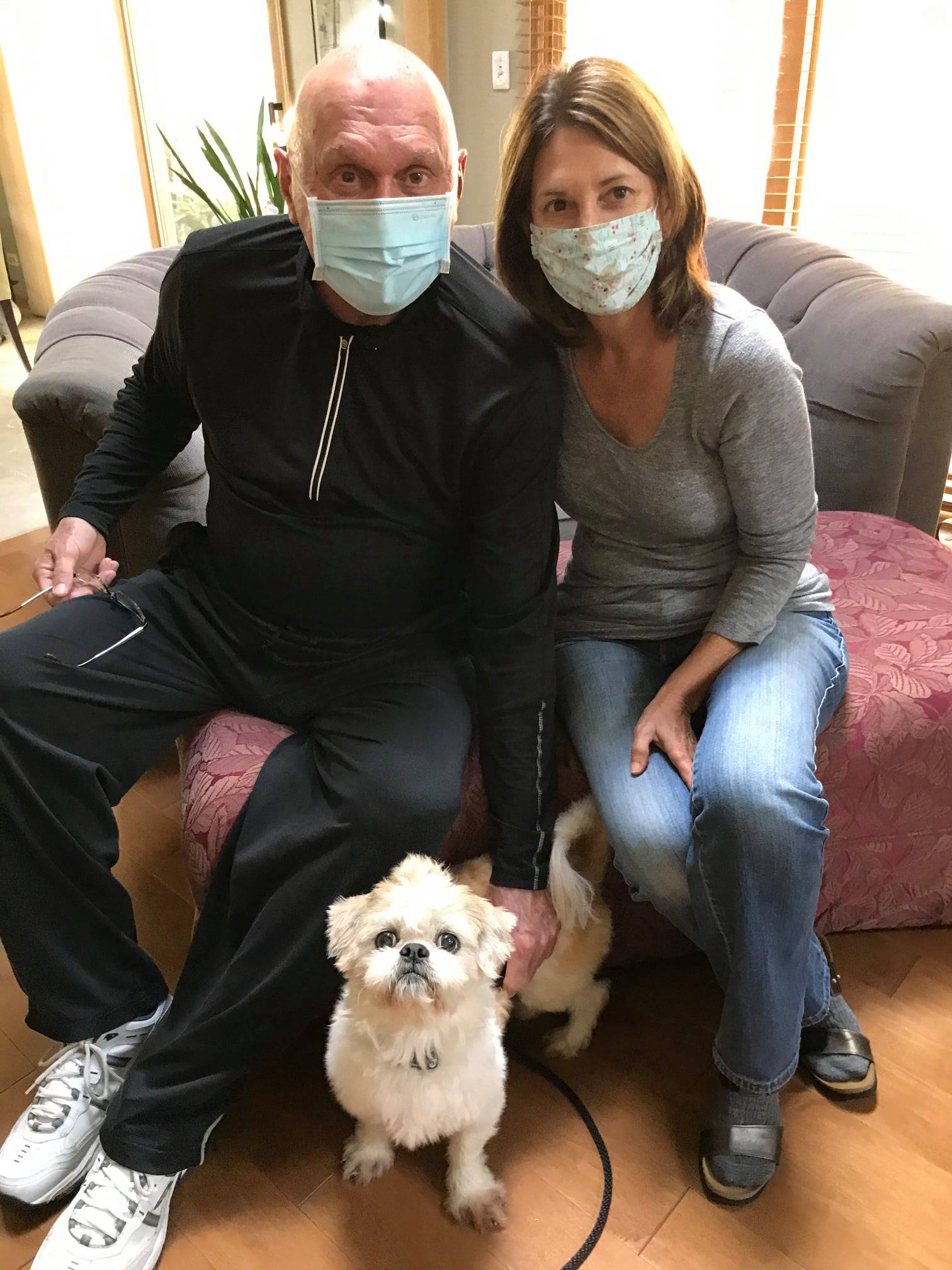 Well, wouldn't you know it… there was a wonderful family that instantly gravitated towards Randolph's story and filled out an adoption application. It was almost too good to be true. Randolph was not only going to get a second chance at a new life but one with a mom and dad that would love him unconditionally.Randolph's new forever family are truly good people and Randolph could sense it when he met them. He started to wag his tail and ran right over to grab a toy to play with. We had never seen him perk up like that and he essentially looked back at us like see you later… Have a safe trip back home!TAF is so grateful for the support that Randolph received from TAF's supporters, from Randolph's new mom and dad to the people that donated to his medical care. You help to give Randolph the life that every dog deserves. TAF would also like to thank The Moon Dog Farm for helping Randolph in his journey to find his forever home. To everyone that shared Randolph's posts and rooted for him, we send a big thank you to you! Randolph is proof that you never given up on the senior dogs in shelters. There is a special family waiting to give them their happily ever after!
Abby
Obesity is not slowing Abby down… she just found her forever home! On June 26th, TAF was asked to help a morbidly obese senior that had been given up by her owners weeks earlier. The weight of her body made her legs shake and she need medical attention to have some suspect growths removed.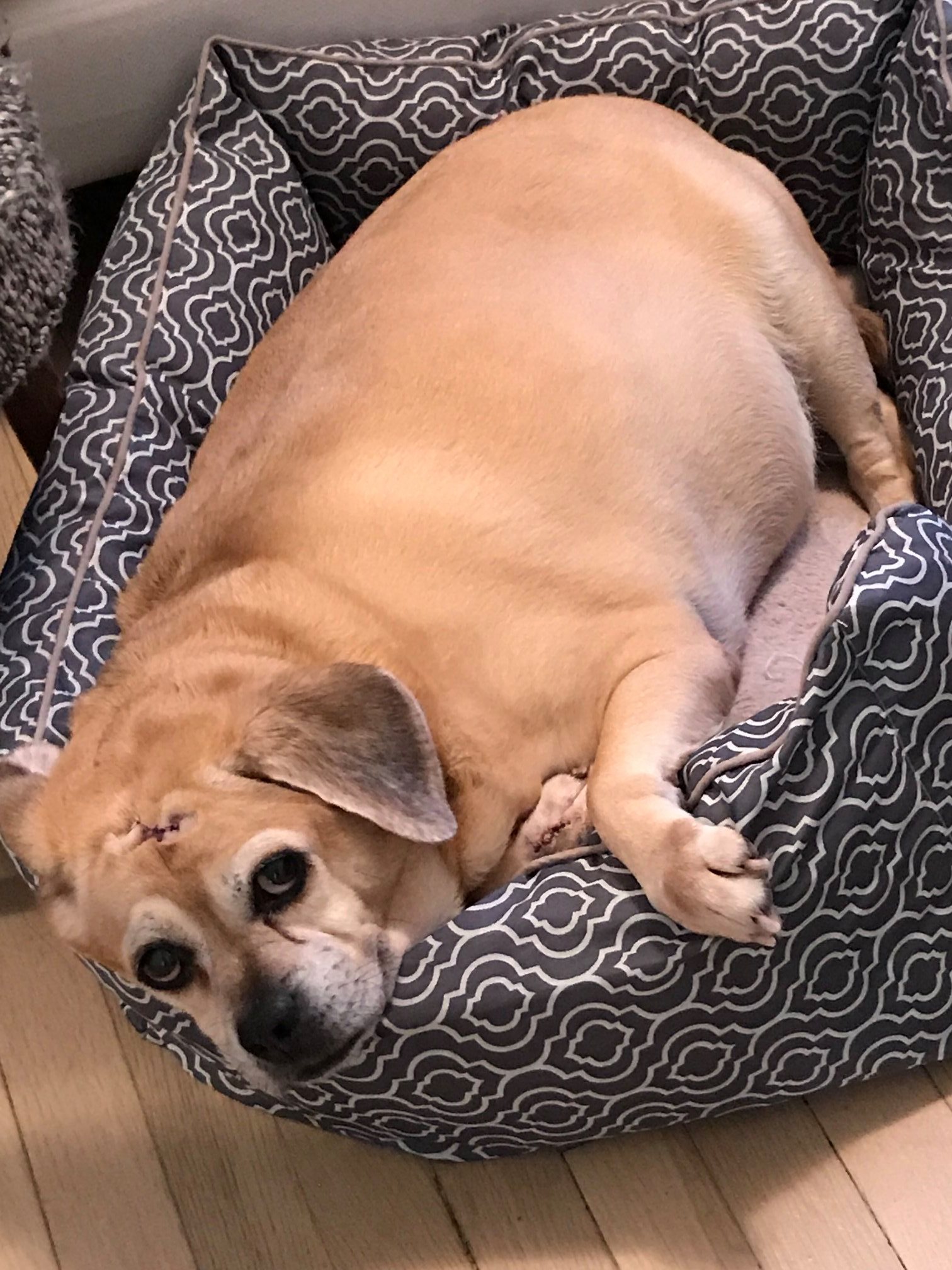 Once in our care, Abby was able to get in for surgery that very next week. Besides being 20 lbs. overweight, Abby's test results were good and she was ready for adoption. She just needed to find a home that was knowledgeable and help her to safely lose the weight. The night that we picked Abby up from the vet, we posted a photo that received a lot of attention and shared over 1,000 times. Abby was very lucky to have so many people rooting for her. After a few great applications came in, one in particular seemed the best fit for Abby. It was a home that had taken in beagle mixes for years and specialized in the abused and neglected… especially the seniors. This past Saturday the 11th, Abby made her way up to Wisconsin to meet her potential family. Upon arrival, Abby was met by a lovely family, 4 adorable pups and acres of land that were flush against the surrounding woods… the scenery was breathtaking and the family could not have been nicer or more accepting of their new fur guest. After an hour of socializing the pups it was official… Abby had found her forever home!!! We knew that Abby had hit the jackpot when we left that day but after getting updates throughout the week she actually hit the lottery! Thank you to Abby's new family for taking in the rescue dogs that have needed it most. You are all exemplary examples of the good in the world!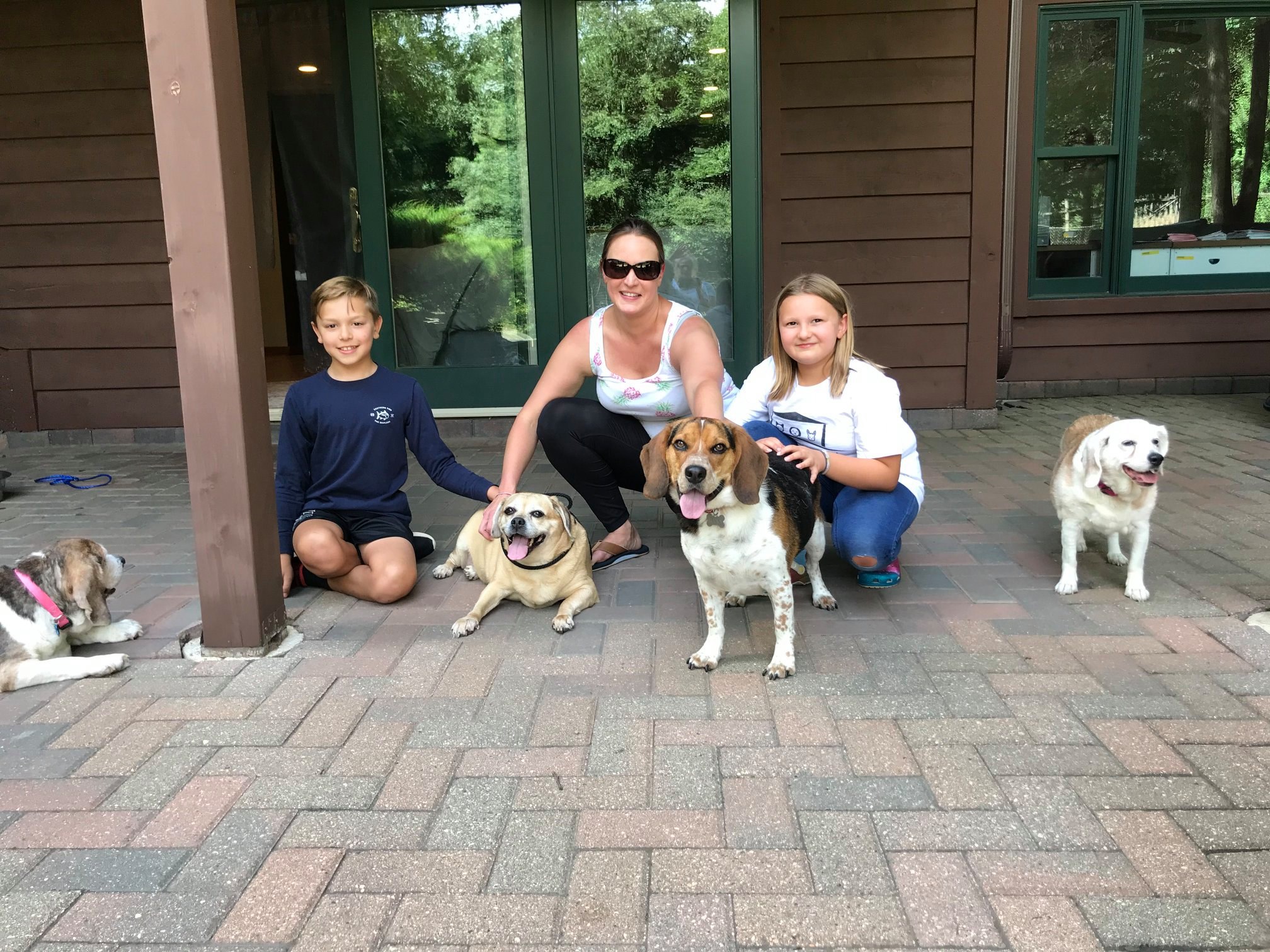 Lady and Rosie
On May 27th, TAF received a plea for help from Animal Control. In critical condition, three emaciated Cocker Spaniels had just been dropped off at their facility and were in dire need of emergency medical care. When the photos of the three emotionally and physically beaten down dogs came through in a text, I was aghast. One dog looked like a matted, urine soaked carcass that was left to rot in the sun. The other two dogs looked vacantly into the camera, holding on to whatever life they had left in them. It would not be long before they succumb to starvation. Upon arrival at the shelter, Animal Control was waiting for us.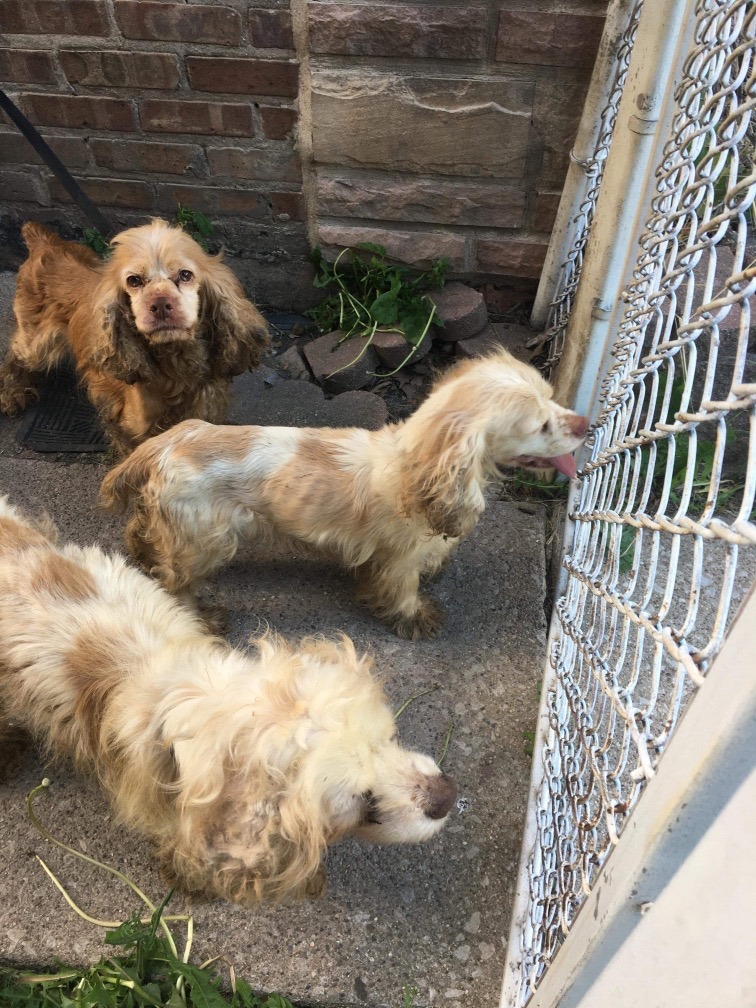 The compelling photos that had brought us there in no way prepared us for what was to follow… such an act of moral turpitude is hard to fathom. The first thing to hit you was the smell of urine. It was pungent and burned the inside of your nose. The next was the outline of their skeletons and matted urine stained fur that wrapped around their legs and ears. Lady and Rosies' eyes were lifeless, glazed over and they looked like they were about to fall over. When it came time for the third dog to come out, Chomper could no longer stand. At that point, his life depended on the amount of time it took to drive to the ER. When Chomper (13 years old), Lady (11 years old) and Rosie (5 years old) were put in the car, their last bit of energy seemed to leave their bodies with a big exhale. They all were limp in their crates and didn't make a sound. Once at the ER, the critical care team was waiting for us. Upon opening Chomper's crate, we thought that he had already passed. Once we saw his eyes open, he was put on a cart and rushed inside. One by one all three pups were brought in and life-saving measures were put into play. As long as we knew they could have a good quality of life, we were willing to do whatever it took to give them a second chance. All three dogs were in the critical care unit for days. Starvation and severe dehydration had wreaked havoc on their bodies and at times their prognosis was bleak. A dog Chomper's size should have weighed between 29-35lbs. Chomper weighed in at 11 pounds. For the girls, they should have weighed between 26-33lbs. Lady would go on to weigh 14 lbs. and Rosie only 10 lbs. As a point of reference, TAF's therapy dogs Bentley (Chihuahua) and Hazel Grace both weigh 11 pounds.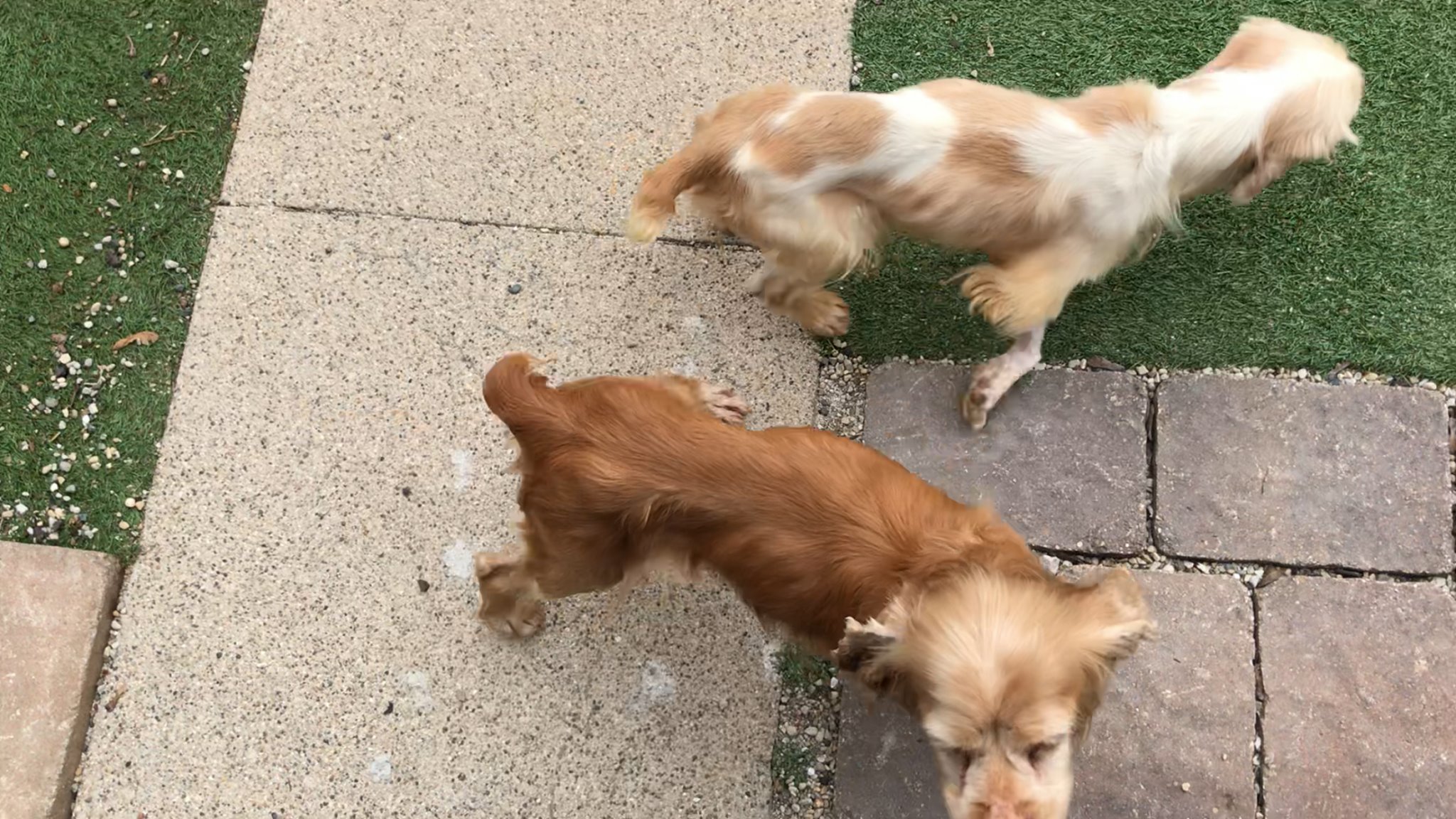 Once Lady and Rosie started to show signs of improvement, they were both transferred to a different floor at the ER. Chomper was not so lucky and would have to stay in the ICU much longer. We knew that realistically the odds were against him and that we could lose him at any time. Even so, we wanted to give him a fighting chance and we were fortunate enough to have donors who helped make that possible. When the time came for the girls to be discharged from the ER, we had two foster homes ready for them. However, once the two were picked up it was apparent that the two depended on one another and separating them would cause distress. Lady was like a mama bear to Rosie and kept her close. Rosie was a scared little girl and looked for her mom in almost every situation. Before coming into our care, their world must have been very small and the abuse that they endured brought them even closer together. Defying all odds, Chomper's condition started to move in a positive direction. Before long, he was on his way to be reunited with Lady and Rosie in their foster home. That was not the original plan but what we quickly learned that sometimes you just don't have control over what the universe has planned for you.
When the girls started putting on weight and becoming stronger, it became quite clear that Lady was now the alpha dog. She had become very pushy when it came to Chomper. Multiple times their previous owner had bred the two and needless to say Lady was over it. After witnessing this behavior, we felt comfortable making the decision to split them up. There was no question that Lady and Rosie needed to be adopted together. Breaking up the two would have caused serious emotional distress. When it came to Chomper, we knew that it would be an adjustment without the girls but that was not necessarily a bad thing. On his own, Chomper would be able to get the extra attention that he needed to thrive both emotionally and physically.
With that being said, we are so happy to announce that Lady and Rosie have found a forever home TOGETHER!!! The girls have moved to a quiet suburb outside of Chicago. With a big fenced in yard to run and explore, they are over the moon happy! Even more important to these two abuse survivors, they now have a mom and dad that love them. They will never go without for as long as they live. Every morning they will be met with a kiss, a bowl full of food and endless possibilities of what the day will bring. In short, Lady and Rosie have been given the gift of a happily ever… a gift made possible by an amazing couple that wanted to give two rescue dogs a second chance. TAF would like to thank everyone that played a part in saving the lives of Chomper, Lady and Rosie. You are proof that there are truly selfless people in the world that are willing to go out on a limb to help the weak and forgotten. Thank you from the bottom of our hearts. Now we continue to help Chomper through his recovery and we look forward to sharing his journey with all of you! *We have posted video of Lady and Rosie on their adoption day!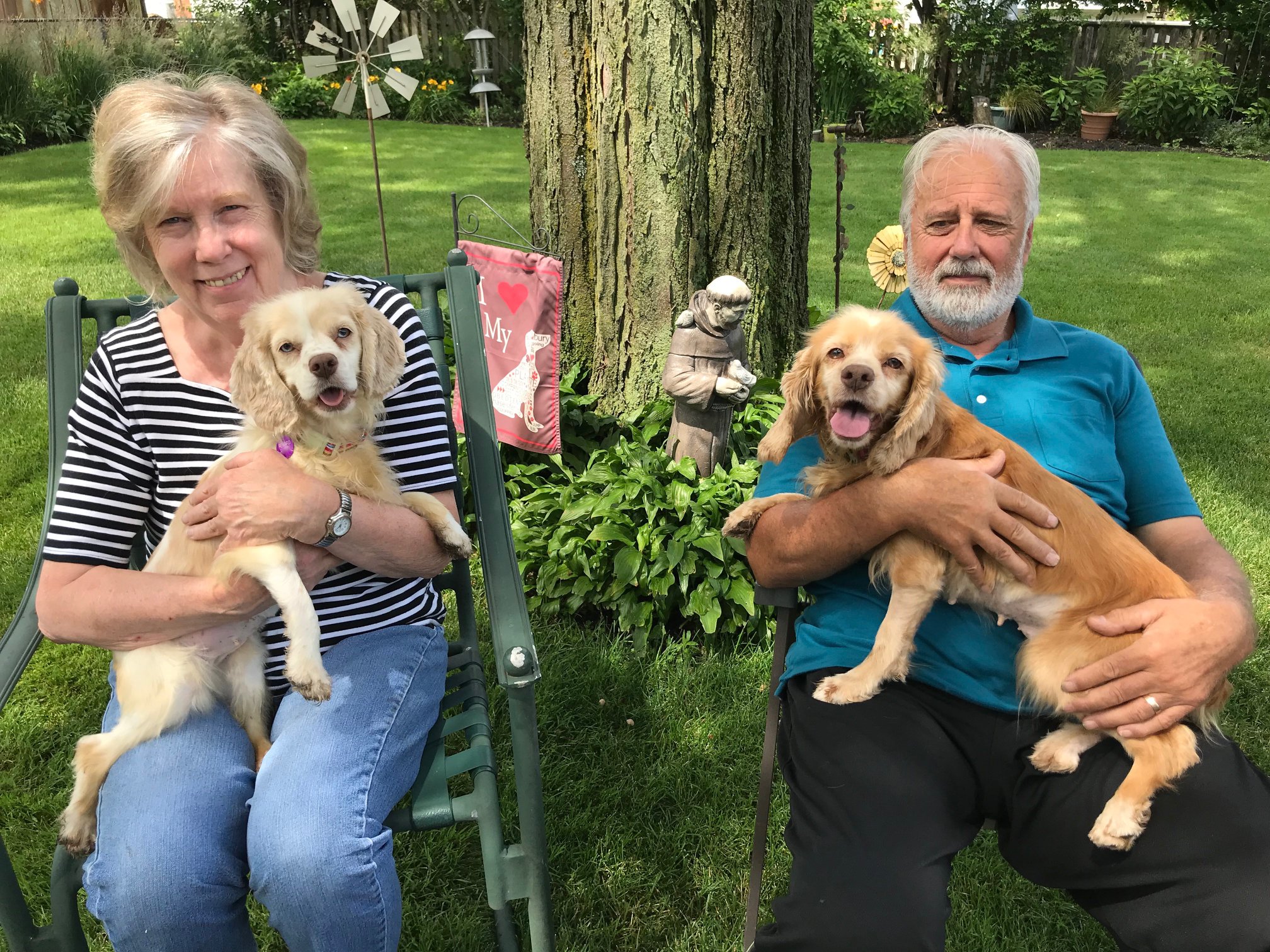 Cosette
On January 31st, TAF was contacted about an emaciated dog that was densely matted, assumed blind, and had severe lacerations and sores on her face. The level of this dog's pain was exorbitant and it was paramount that she received medical care immediately. Once TAF arrived to pick up the dog from the open access shelter, it was hard to believe what were seeing. In a cage sat Cosette. She was quiet and shook in fear. Cosette could not see and it was abundantly clear that she was suffering. Upon further inspection, it was discovered that the matted fur on her face was acting like a mask covering something much more gruesome. We were only given a small glimpse of the carnage that lay beneath but it was enough to know that we had a critical case on our hands.
Once at the vet, Cosette was immediately sedated so that the matted fur on her face could be cut and slowly pulled away. The first thing to hit you was the smell. The sores around her eyes and the deep lacerations on her face had festered and created a thick pussy residue. The infection that set in was so bad that it had damaged both of her eyes and left ear canal. How could a one-year-old 8-pound dog have survived such abuse and neglect?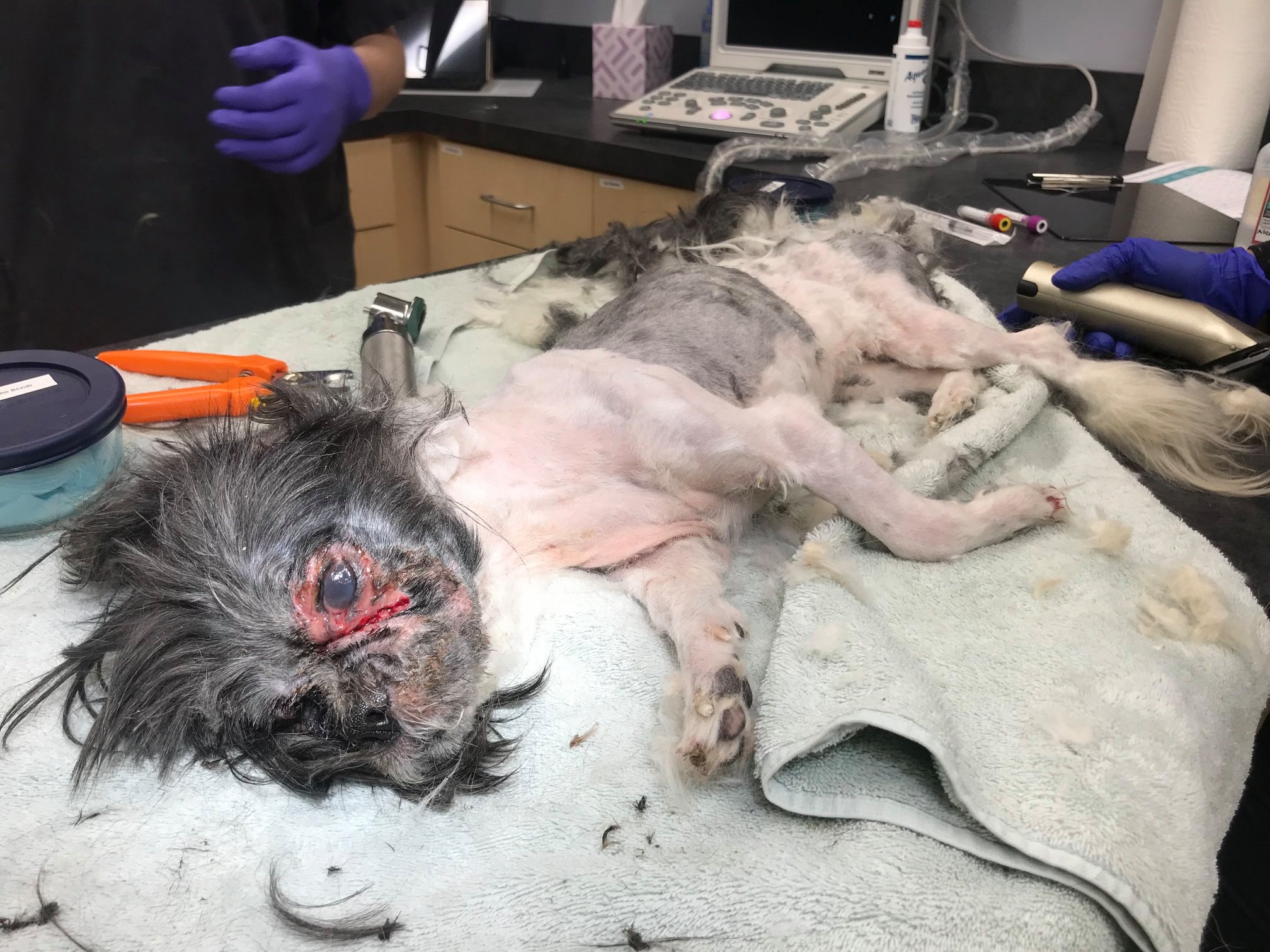 When Cosette was released from the hospital, she was still blind in her left eye and had limited visibility in her right eye. Ulcers had caused so much damage to the integrity of both eyes and it was a slippery slope determining what to do. We knew that removing Cosette's left eye was a very realistic option and might by all means be the most humane thing to do. However, knowing that Cosette was comfortable on her pain medication we opted to try and save the eye. Treating Cosette's eyes was an arduous undertaking and took months to figure out. At one point we actually scheduled surgery to have the left eye removed but after many consultations with Cosette's primary vet and an ophthalmology specialist we decided otherwise. In the end, we were able to save Cosette's left eye and she did regain most of her vision. All of our efforts had finally paid off.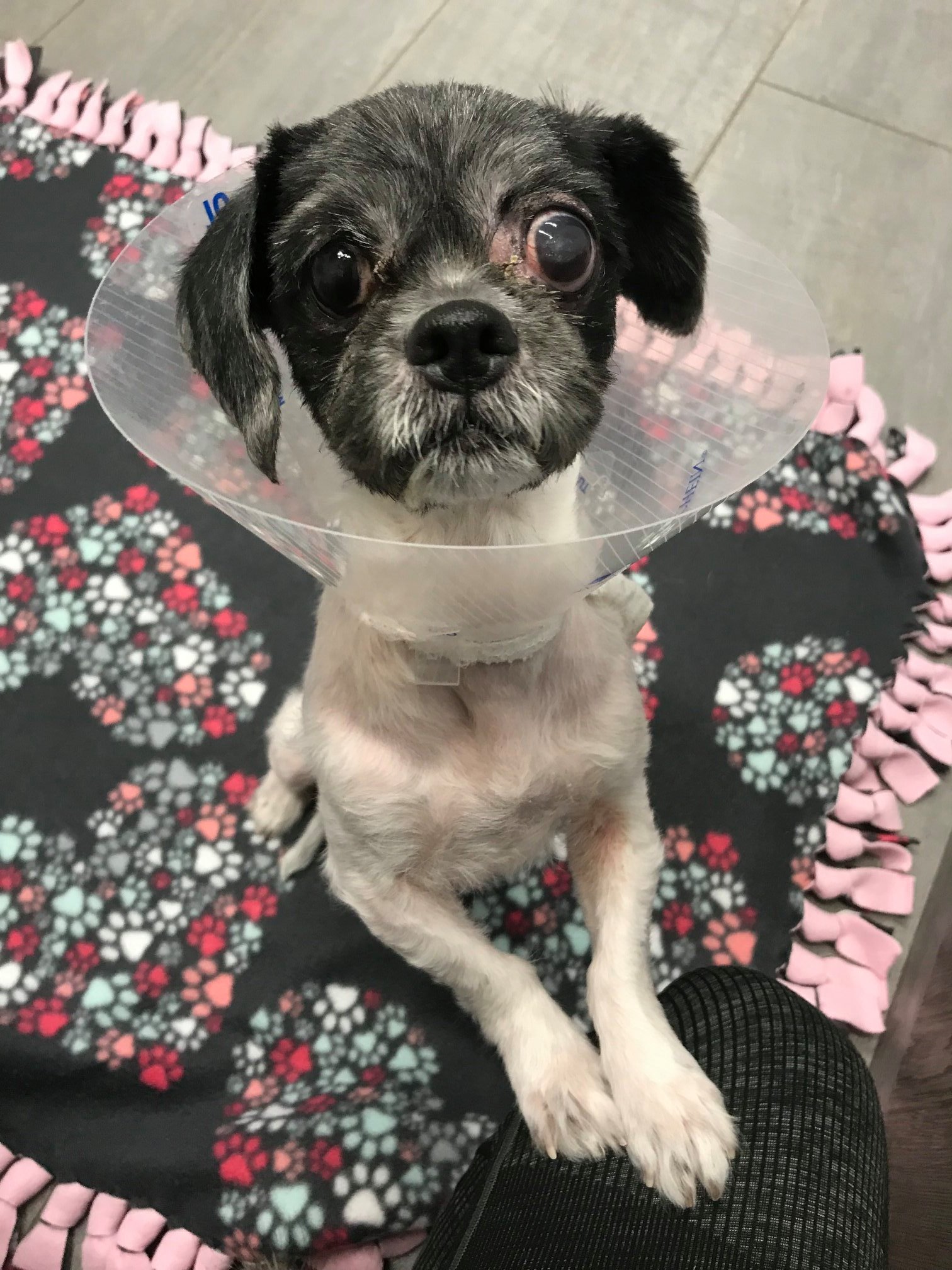 A very sweet part of Cosette's journey through recovery was a friendship formed with TAF's XXL therapy dog Eeyore. For some reason these two bonded and out of all of the therapy dogs Cosette chose Eeyore to watch over her. From that point on the two were inseparable and were rarely apart. Cosette truly found comfort knowing that Eeyore was there by her side.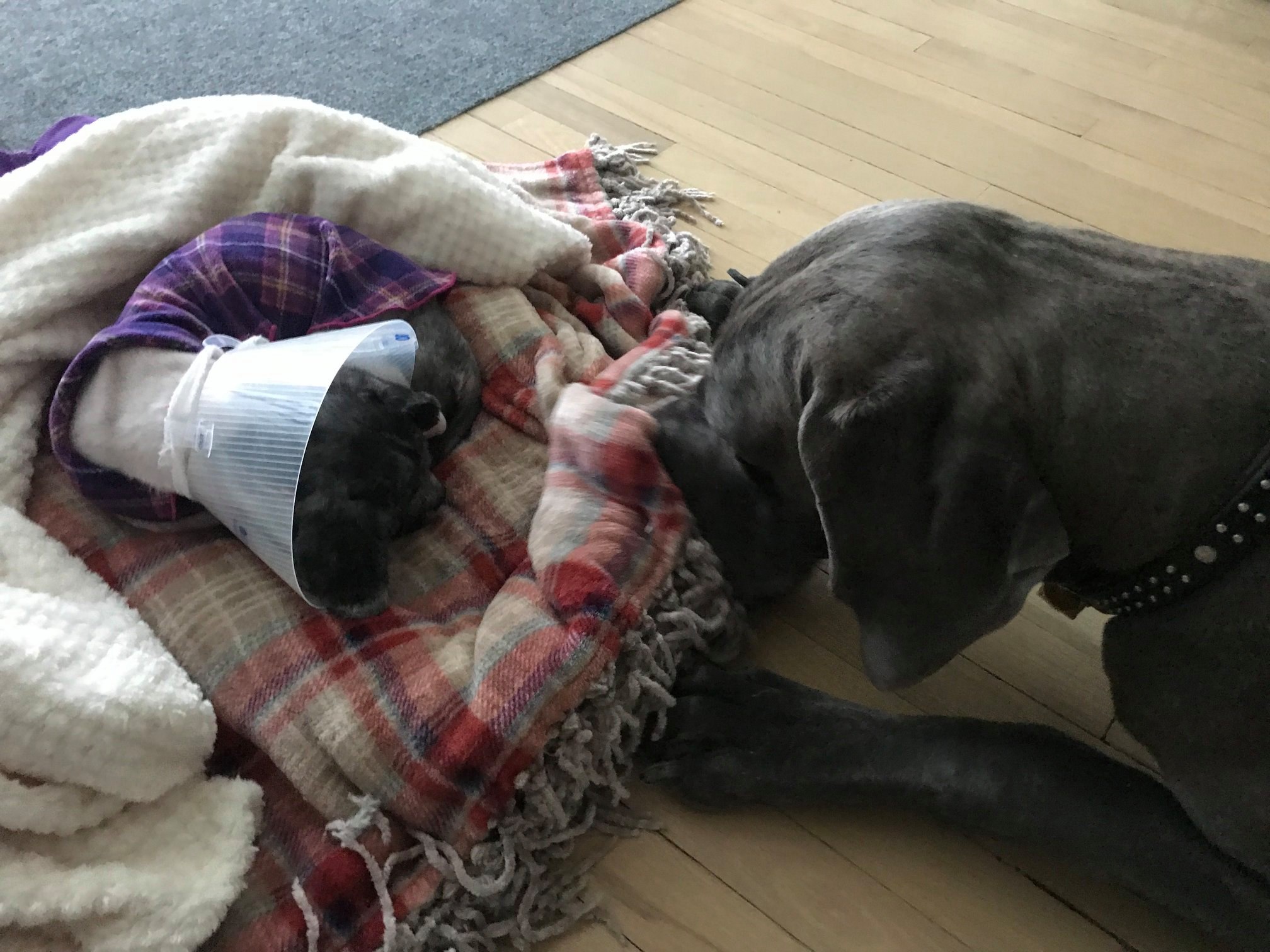 When the day came that Cosette was ready to find a forever home, we knew it had to be with a very special family. A family that would love Cosette unconditionally and be able to administer her eye medications multiple times throughout the day. This would not only be a costly endeavor but a huge time commitment as well. If Cosette was going to be able to keep her eyesight, this was a must. Luckily for Cosette, there was just such a family waiting for her. They wanted nothing more than to be Cosette's mom and dad and give her a loving home where she could continue to flourish… a home where she would never go without or question if she was loved. A forever home that every homeless dog dreams of and deserves… every dog deserves a happily ever after. Now in her new home with her new family, we are happy to announce that Cosette is doing absolutely wonderful! She has moved out of Chicago and now lives in a quiet suburb of Indiana. With two dog siblings and a kitty by her side, she is unstoppable! TAF would like to thank everyone that rallied for Cosette and helped to sponsor her medical care. We would also like to thank her medical team(s) that never gave up on her and or us for that matter… it was a long road but in the end all of you succeeded in saving a helpless dog's life. All the love in the world to Cosette and her new family! ***We chose not to post the worst/most graphic photos of Cosette's injuries. It would just be too much for some people to handle and we did not want to upset anyone.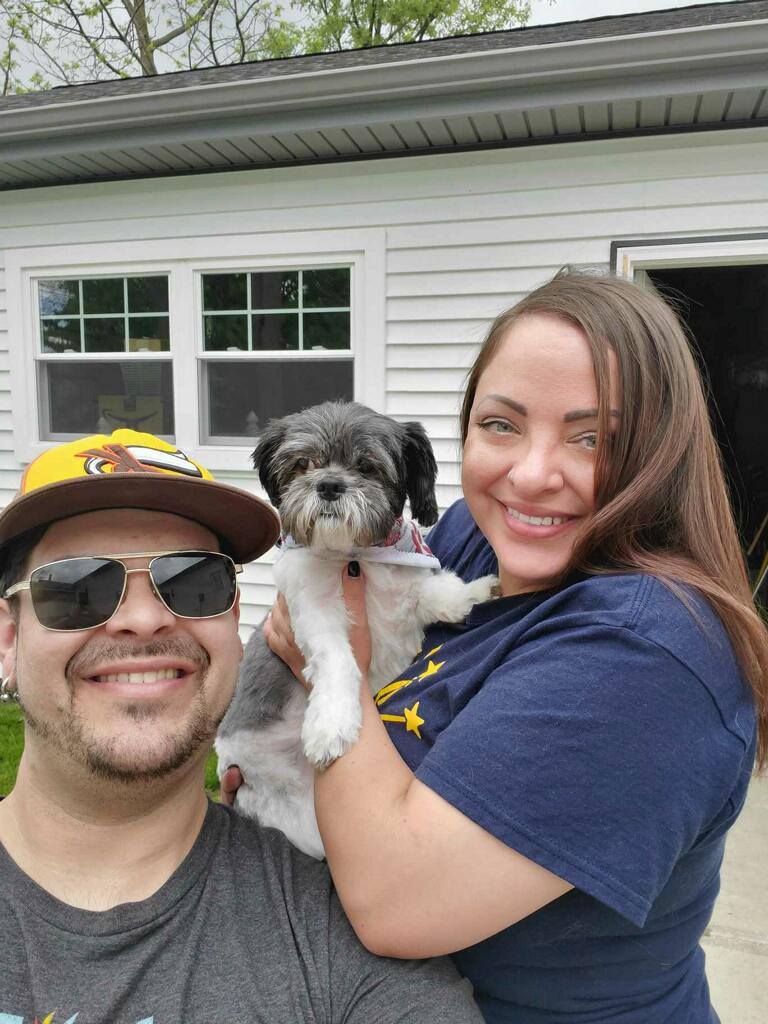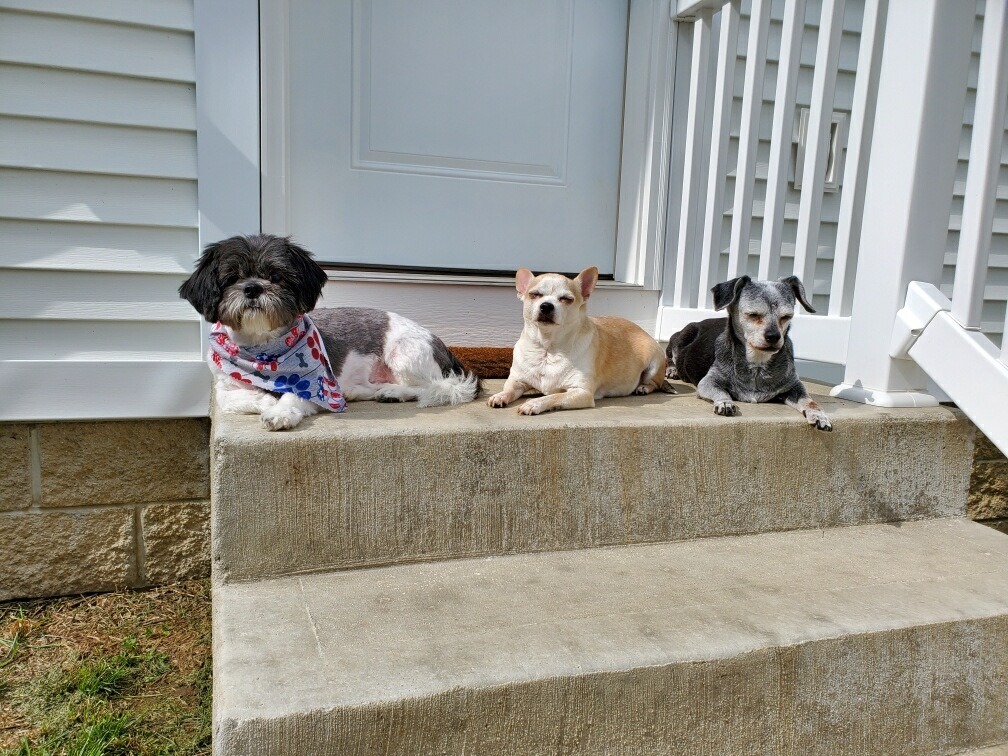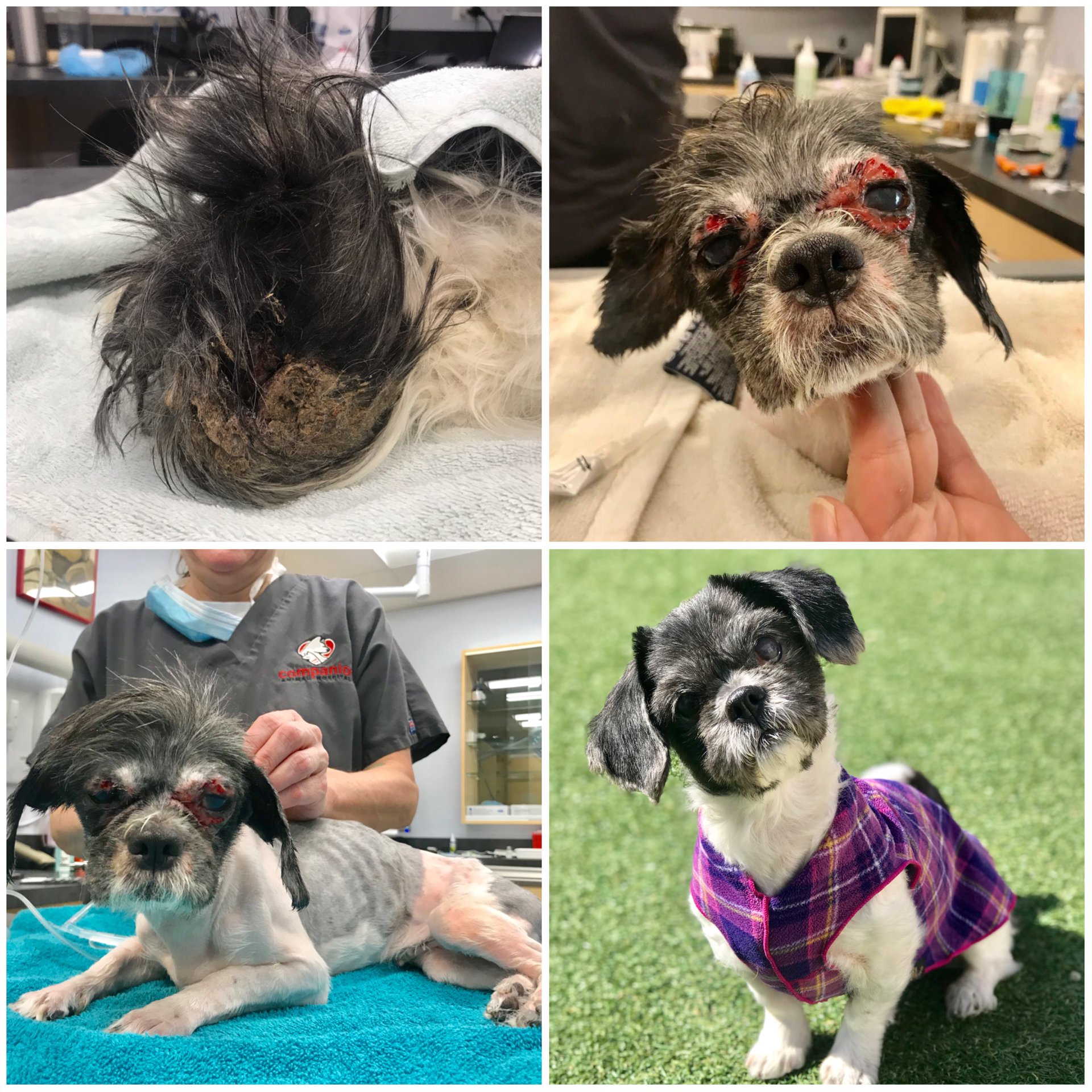 Emmie
A TRUE SURVIVOR... EMMIE HAS GOTTEN HER HAPPILY EVER AFTER!
On May 22, TAF was contacted by the ER about a dog that had been run over by a car. Once it was determined that Emmie had internal bleeding, her 18 year old owner no longer wanted her. She simply didn't believe that she should have to be responsible for Emmie's medical care. Without hesitation TAF said that we would take Emmie and the ER took it from there. Emmie was so fortunate to have the incredible medical team at MedVet Chicago working on her. Between the critical care team and their team of specialists, Emmie survived and made a full recovery!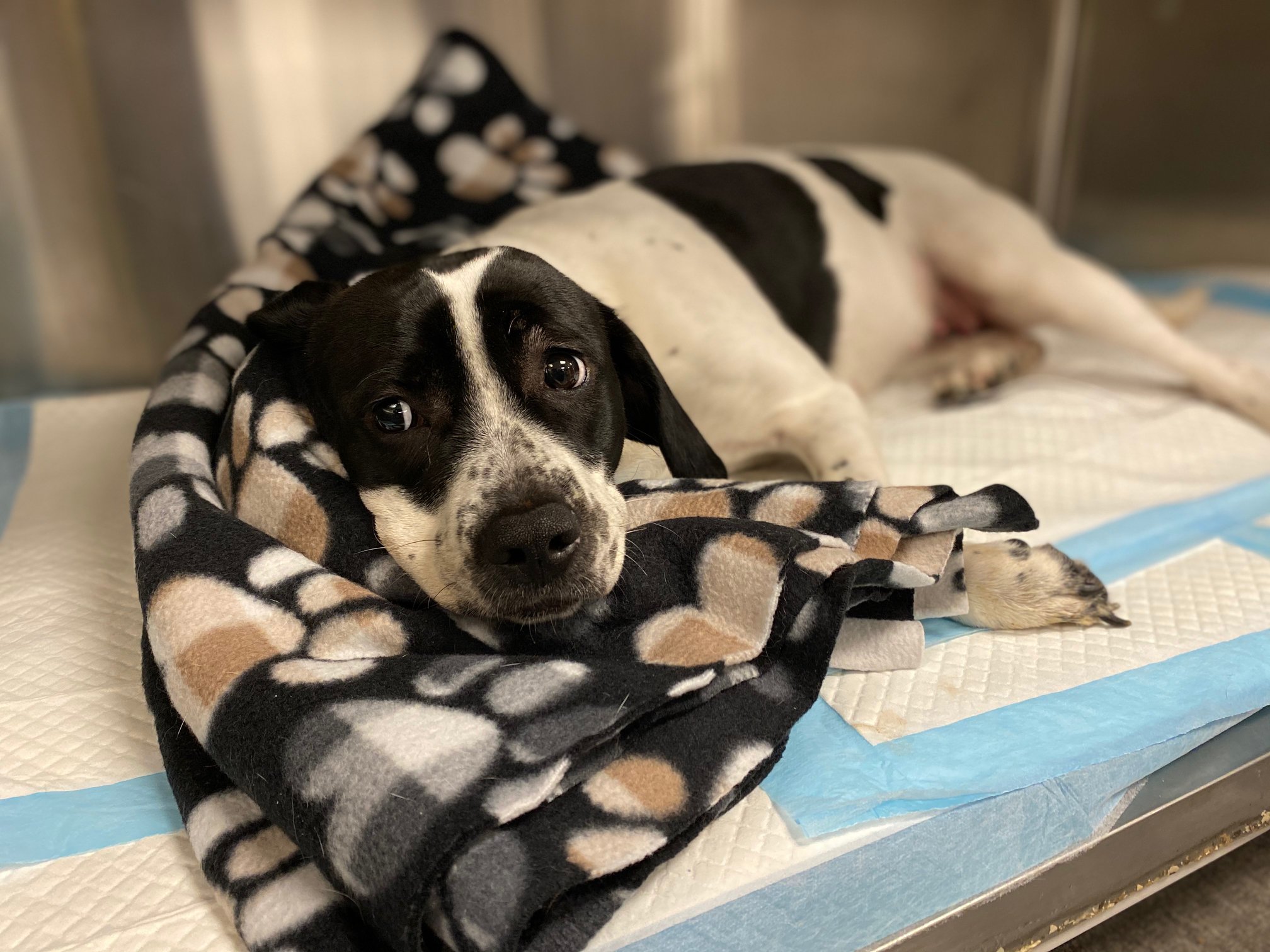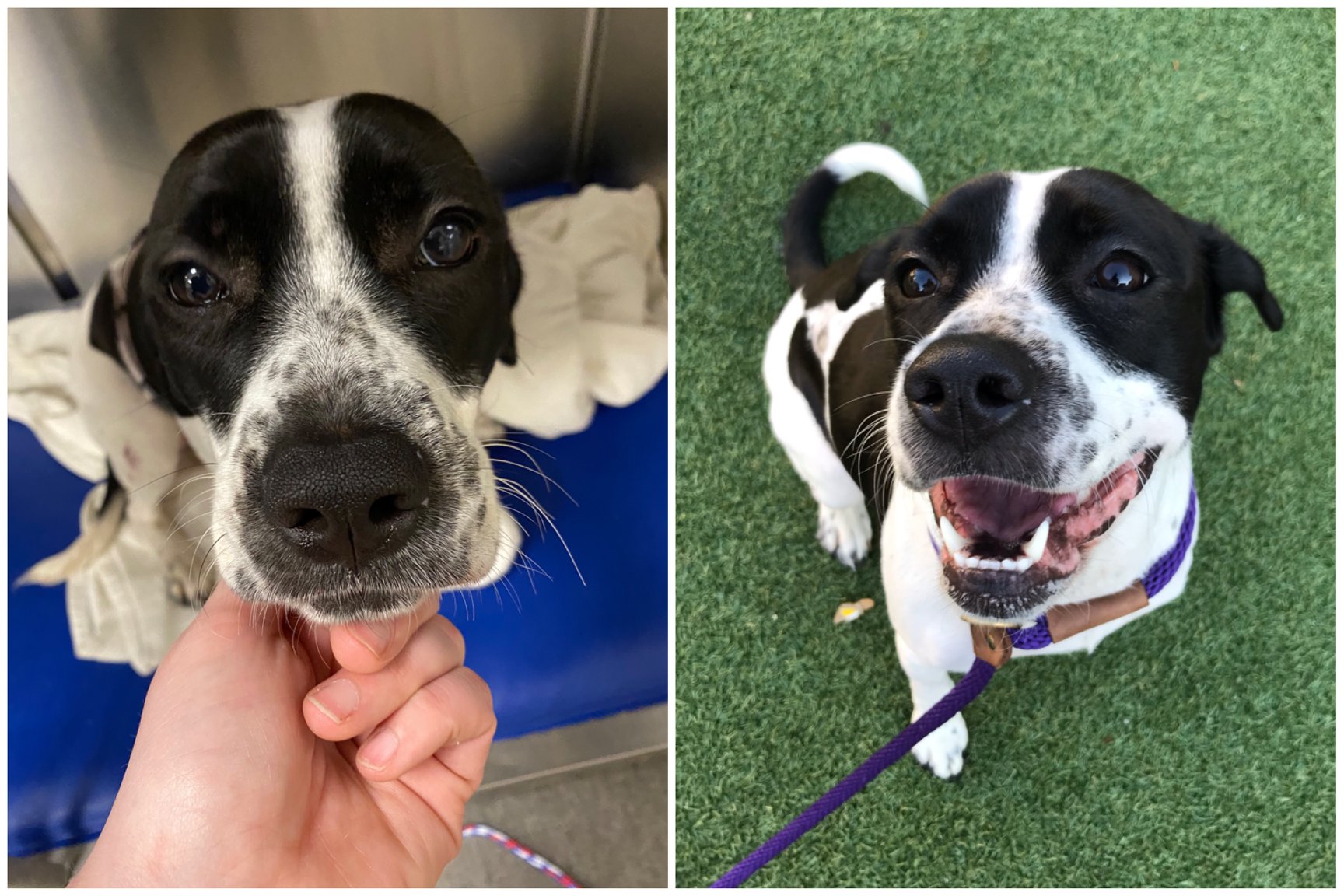 We are so thrilled to announce that Emmie found her forever home! Emmie new mom is an amazing woman who actually just fostered our recently adopted Sprout after 2 months! Fran has time and time again helped the dogs of TAF and we are thrilled that she is Emmie's new mom. It is a match made in heaven… they are both going to be so happy together! TAF would like to thank all of the people that supported Emmie's medical care and those who rallied for her and kept her in their thoughts and prayers. Emmie owes you her life! To Emmie's medical team, you are truly the best and we appreciate everything that you did for Emmie. There is so much kindness in the world and sometimes we just need to be reminded.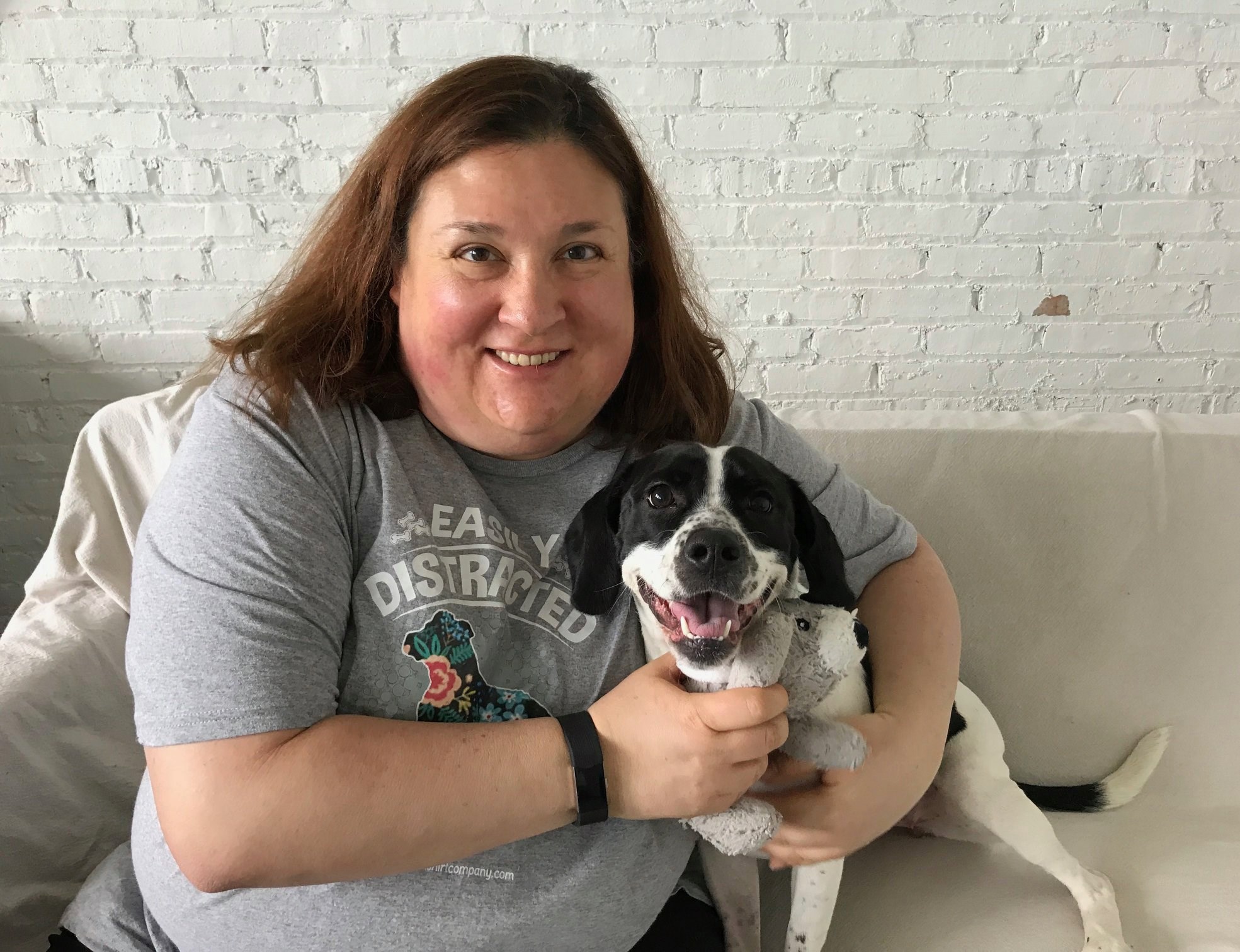 Maisey
Back on the first of November, TAF picked up a matted, urine soaked, filthy dog from Animal Control. Maisey was a complete mess and we knew that we needed medical attention right away. Luckily for Maisey, TAF was able to rally the troops and have Maisey groomed, vetted and in for x-rays that very same day. Lab results would show that Maisey had very large bladder stones, advanced infections in both ears and bad teeth. Once started on pain medication and antibiotics, we were able to get Maisey ready for surgery. Maisey could finally have surgery to not only remove her painful bladder stones but also receive a dental. While still under anesthesia, Maisey's doctor was better able to clean out her filthy and infected ears. Maisey was "fixed" from top to bottom.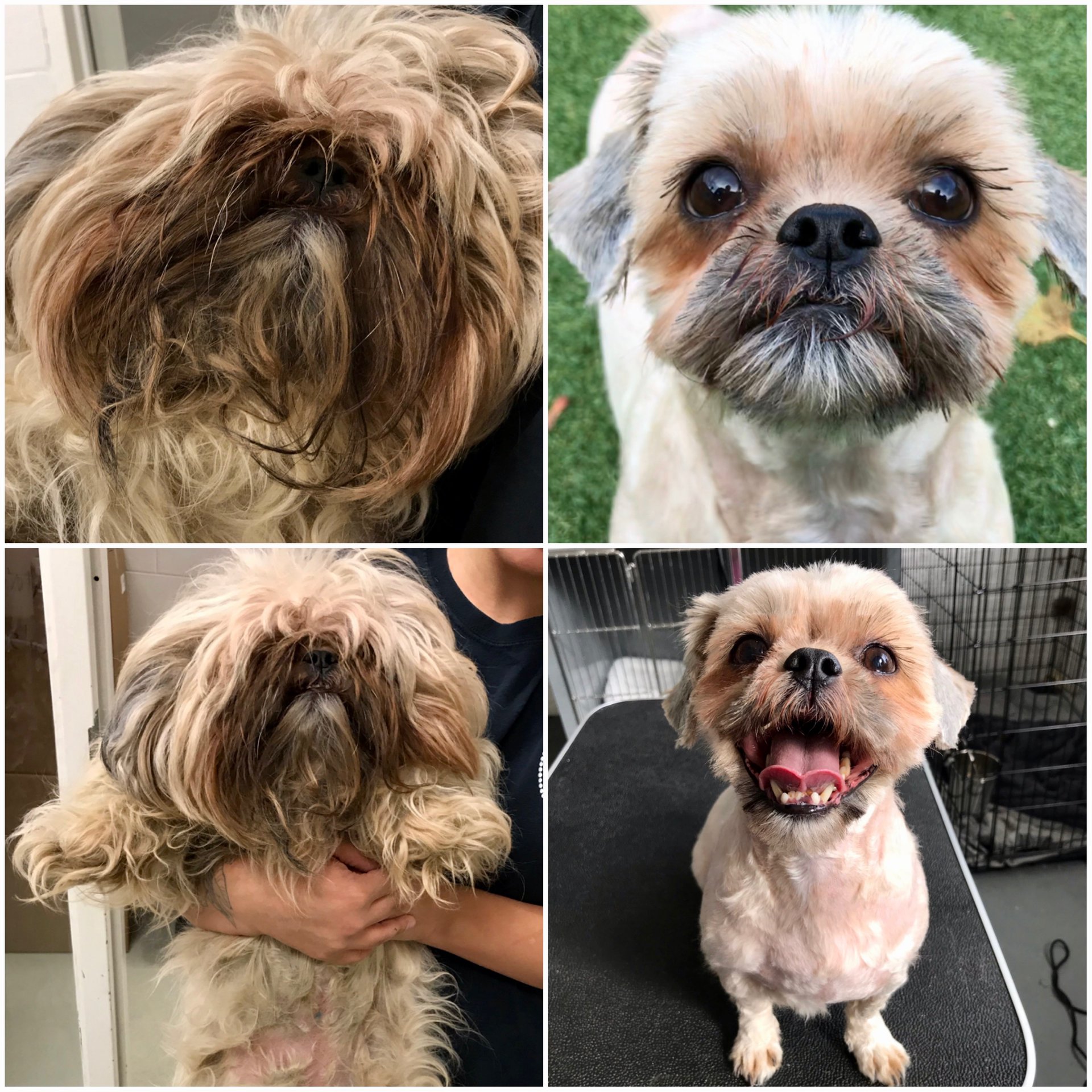 After a very abbreviated explanation of all that Maisey went through, we are so happy to officially announce that she has been adopted!!! This once broken down dog has gotten her second chance. Maisey's new mom absolutely adores her and it was love at first sight. Her new mom was super supportive and knew that it might take awhile for Maisey to stop having accidents in the house. Her mom knew that medically it might take Maisey a little longer to adjust and she was still 100% on board… she loved Maisey unconditionally. Maisey is so lucky and basically hit the mom lottery! *Maisey's adoption photo was taken prior to quarantine.