Our Story
Thank you for your interest in the Trio Animal Foundation (TAF). TAF is a 501(c)(3) charitable organization that assists shelters, rescues and individuals by paying the medical bills of homeless pets. TAF also promotes adoption and responsible pet ownership, including spay and neuter.
Many sick and horribly injured animals are brought to shelters each day, and the costs of medical care can easily reach into the hundreds or thousands of dollars per animal. These high medical costs can deter shelters and individuals from taking these animals in, thus leading to the unnecessary deaths of thousands of animals every year. For these troubled animals, TAF can be the answer. But there is far more to the TAF story than a mission statement. Instead, TAF starts with a story.
Sue's Story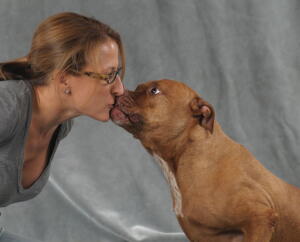 I'm Sue, and I started TAF to address a problem that few have recognized: the need to provide financial help to pay for the medical care of homeless pets. During high school, I worked at a veterinarian's office where I saw the results of animal cruelty, abuse, and neglect up close. I saw dog and cat owners bring in tattered and helpless animals, which broke my heart -- and many had few resources to help. As an adult, I volunteered at local animal shelters and rescue organizations. Once again I saw that costly vet bills were preventing homeless animals from receiving the medical attention that they needed and deserved -- and thus were never adopted into loving homes. I always wished that an organization existed that could help shelters care for more animals by providing financial assistance with veterinary care costs. Eventually, I decided to take matters into my own hands, and founded TAF.
Trio's Story
My dog Trio was used as bait in an illegal dogfight when she was only 4 weeks old. During the fight, Trio's back leg was bitten off. Trio was only given a 10% chance of survival but she pulled through. With the generous contributions from Florence Fitzgerald, a fellow animal lover, Trio received the best medical care possible. Trio was later fostered and looked after by 2 caring women, Gerri and Gail, until she was ready for adoption. That is where I came into the picture. I adopted the adorable, 3 month old, three-legged Trio. The caring nature of these 3 women allowed Trio a second chance at life and for me, a new best friend. Three women, a three-month-old, three-legged dog and the idea for TAF was born. 

I founded TAF to help other homeless pets in need, just like Trio. But Trio's story is not just the story of a single dog -- it is the story of many animal lovers, and how we can all make a difference.
Bridgid's Story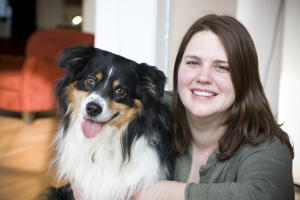 I'm Bridgid and after years of volunteering and fostering for various animal rescues, I opened up Unleashed, a doggie daycare and boarding facility, in 2008. This afforded me the opportunity to start helping area rescues that needed temporary shelter for the dogs that had just lost their foster homes or were coming straight from the pound, as well as to provide a safe and fun place for client dogs in Chicago. After a few months, it became apparent that Unleashed had become a pivotal part in saving countless homeless dogs which inspired me to create my own dog rescue, Project Rescue Chicago. I had seen firsthand the need for reputable organizations that had the dog's best interest at heart. I realized I had made enough connections in the dog world to officially set up my own dog rescue that would allow the dogs in my program to succeed not only before adoption, but once they were in their forever homes. This was made possible by creating a network of trainers, vets, pet supply storeowners, my own dog daycare and boarding facility and taking advantage of the relationships that I had built with other reputable rescues. In 2010, I met Sue and we started partnering on cases with dogs in need of rescue and serious medical attention. Our partnership has saved countless dogs, and in 2014 we officially merged Project Rescue Chicago with the Trio Animal Foundation.
Your Story
If you would like to assist TAF in helping homeless animals, please consider making a tax-deductible donation. Your donations, whether large or small, will be used to help homeless animals receive the medical care that they desperately need. The more money that we raise, the more helpless lives we can save from open access shelters. Your donations whether large or small, will be used to help homeless animals receive the medical care that they desperately need. The more money that we raise, the more helpless lives we can save from open access shelters. 
TAF's success is due to animal advocates and lovers, just like you, so please spread the word so that we can all play a major part in giving the neediest of homeless animals a second chance.