Thank you for your interest in the Trio Animal Foundation (TAF). TAF was founded in honor of a very special dog named Trio. At just four weeks of age, Trio had her back leg bitten off when she was used as bait in a dogfight. Tiny enough to fit in a shoebox, Trio was only given a 10% chance to live. Destined for great things, Trio miraculously recovered and for the next ten years went on to care for the sick and injured foster dogs that came into my home.
The Trio Animal Foundation is a 501(c)(3) charitable organization that pays for the medical bills of some of the sickest, abused pets left behind at open access shelters. After the dogs have received medical treatment, TAF pairs them up with our therapy dogs to focus on their emotional rehabilitation. Once we fix their bodies we are able to heal their hearts and teach them to trust again, making them adoptable and ready for their forever homes.  But that's not all …TAF also assists shelters, rescues and individuals by paying the medical bills of homeless pets while promoting adoption and responsible pet ownership, including spay and neuter.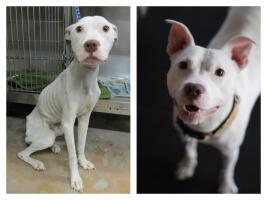 Many sick and horribly injured animals are brought to shelters each day, and the costs of medical care can easily reach into the hundreds or thousands of dollars per animal. These high medical costs can deter shelters and individuals from taking these animals in, thus leading to the unnecessary deaths of thousands of animals every year. For these troubled animals, TAF can be the answer. Please review our grant application to the right to see if you qualify for assistance with medical bills.
To date, over 5,700 homeless animals have received the medical attention that they desperately needed and thousands more will be saved.