AFTER A VERY ROUGH START... THREE-LEGGED TRINKET HAS FOUND HER FOREVER HOME!
On March 31st, TAF was called by an open access shelter about an injured female puppy that had been brought in as a stray. The puppy was estimated to be about 10 months old, weighed in at 5 lbs. and could not use her rear left leg. We were told that she was possibly suffering from a broken pelvis or leg. Knowing that ER hospitalization and orthopedic surgery would easily exceed $4,000, we initially said no. However, after sitting with this decision, we knew that we were in a position to save her and help ease her pain. It was a call on our faith and morality and we knew that we couldn't leave her behind.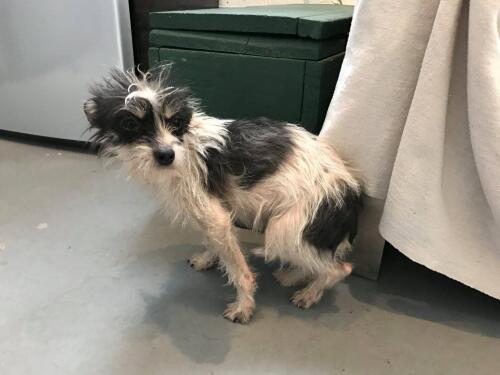 Once at the ER Vet, it was determined that Trinket had a severely broken leg that had gone untreated for quite some time. With quality of life in mind, it was decided that Trinket needed to have her leg amputated. Within days of the operation, Trinket was walking around like nothing had ever happened. In fact, she even wanted to play (which she was not allowed).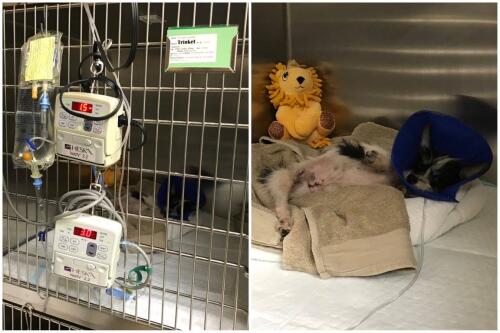 After fully recovery in her foster home with some of the TAF's therapy dogs (Miller, Antler, Hazel Grace and Bentley), Trinket was ready for the wonderful family that was waiting to adopt her.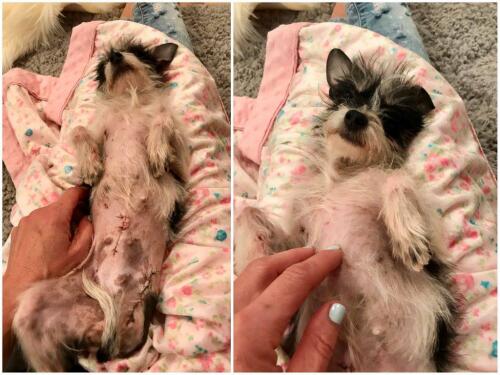 With that being said, we are so happy to announce the Trinket has found her forever home! Trinket's new mom and dad are retired and will be able to spend so much time with Trinket and her brother… nothing but happy memories from here on out! TAF would like to thank everybody that was able to donate towards Trinket's surgery and kept her in their thoughts and prayers. Once again, TAF's supporters saved the day and made it possible for another homeless dog to get their happy ending!