Our Blind & Deaf Senior Finds Her Forever Home
On June 10th, Tootsie was given up to Animal Control when her owner was moving. What Tootsie's owner did not tell the facility was that Tootsie was almost completely deaf and blind. If they just had let someone know about her medical conditions, she wouldn't have been left to suffer in a cage. All that she knew was that she wasn't at home and could only move a few feet in each direction. One might assume that Tootsie had behavioral issues, due to fear, but she did not. Tootsie was quiet as a mouse and just liked to know you were there... she just wanted to be loved. When TAF was asked to save Tootsie from Animal Control, we too had no idea that she was almost completely blind and deaf. Even though we knew her case would be a challenge, we just couldn't leave her behind. In addition to two major medical issues, Tootsie's teeth were so bad that she could not eat without feeling pain with each bite. At that that point, her quality of life was horrible. TAF took Tootsie right to our vet where she was started on pain medication and antibiotics for her teeth. She also underwent a slew of tests to see if there was anything that could be done to help her eyesight and further bring her comfort.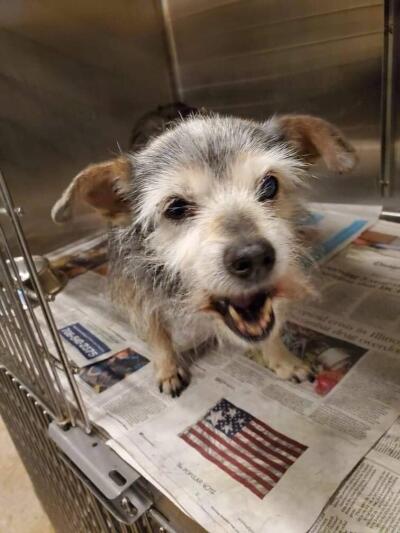 Once considered stable, Tootsie was transferred to a foster home to await dental surgery. Our friends at The Moon Dog Farm would go on to assist with her care until Tootsie was ready to find her forever. They really did us a solid and took a huge load off of our back. We are so grateful for their continued friendship.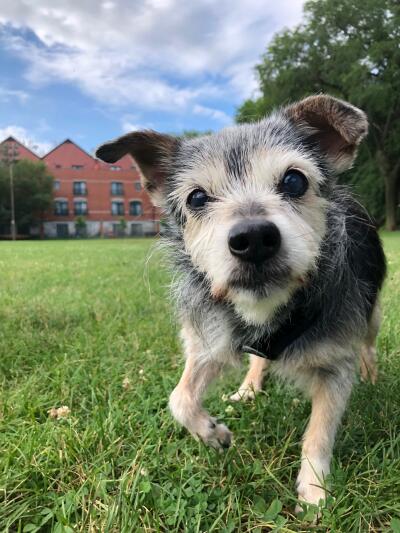 Now for the great part… we are so happy to announce that Tootsie has found a forever home! She has two moms and fur siblings to watch over her, love her and guide her through the rest of her twilight years. We couldn't have asked for a lovelier couple to pick up where we had all left off. Tootsie's moms have shown such an extraordinary act of kindness, compassion and understanding… medical issues and all, they have given Tootsie her happily ever after. Here is a wonderful update from Tootsie's new mom's… Tootsie eats like a horse and we are working out a system of gates to keep her safe. She rests well (hard stop at 9 pm) and she LOVES the stroller when we go on walks. We don't know what her life was before but we are committed to making all that she has left safe, loving, and happy. Thank you for bringing her into our lives and pack!!! I think that it goes without saying that Tootsie has just hit the jackpot. We are so grateful for everyone that gave this forgotten senior a second chance. To our donors, we couldn't have done it without you. We continue to be blown away by your generosity and for making saves like this possible. You are truly the best.