With a Broken Jaw & Maggots, Starla's Spirit To Survive Prevailed... Back in August, Starla was brought into an open access shelter with maggot filled wounds down her neck and upper back. It would soon be discovered that her jaw was also broken in multiple areas and a section of the bone was protruding through her cheek. When TAF was contacted about Starla, she had already started extensive medical care to remove the necrotic tissue on her back/neck. Once her dead tissue was cut away, Starla needed to have her skin stapled back together. It was at this point that TAF was contacted about addressing Starla's broken jaw. The shelter had taken her recovery as far as they could and knew that we could take Starla to the next level of care.

By the time we took Starla to the ER Vet, a Dental Specialist was waiting to give directions to prepare her for surgery. Once given IV antibiotics, pain medication and supportive care, Starla was ready for an extensive surgery to save her life. When all was said and done, a small section of Starla's shattered jaw was removed and the side of her cheek was repaired. In less than 24 hours, Starla was up and eating on her own. Starla split her recovery up in two different foster homes. She started off with the TAF therapy dogs and then went to The Moon Dog Farm were she was given some extra attention. Due to an emergency situation on our end, we needed The Moon Dog Farms help and they had our back. This is an amazing group with their hearts in the right place.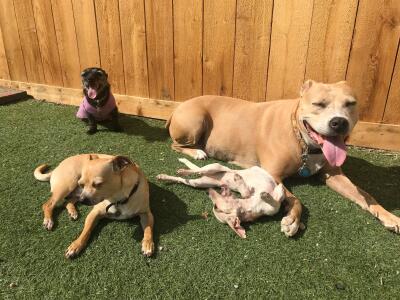 With that being said, we are so happy to announce that Starla has made a full recovery and has found her forever home! Starla new family lives in the suburbs and has a fenced in backyard for Starla, and her three siblings, to play in. Starla is in the perfect place to fit her needs and her new mom continues to use essential oils and massage to help in her recovery. It is a match made in adoption heaven. TAF would like to thank everyone that helped to sponsor Starla's medical care. We couldn't have brought her to a Dental Specialist and kept her hospitalized at the ER without you. Also, thank you to those that rallied for Starla and kept her in their thoughts and prayers. Lastly, thank you to Animal Welfare League for working with us to bring this little dog back to life and give her a second chance.