On September 26th, TAF was contacted by an open access shelter about a horribly neglected dog that had just been brought into their facility. We had no idea just how bad Sang Su's condition was until we saw him in person. He looked like a matted ball and he was a complete mess. We all assumed that he was a Shih Tzu or Lhasa Apso mix because of the texture and look of his fur. These two breeds, along with the poodle, are also some of the most neglected when it comes to abuse due to lack of grooming.

That very next day, Sang Su's whole outlook on life was literally about to change… After being placed under anesthesia, it would take four medical staff 2 hours to cut through all of Sang Su's urine soaked fur. What they found underneath the matted mess that encased his body was truly unbelievable. Sang Su was not a Shih Tzu or Lhasa but a Cocker Spaniel mix! It was a complete shock to everyone! His long tail was actually matted fur that spiraled and just kept going. Sang Su only had a nubbin for a tail and he turned out to have long ears. We were completely blown away when we saw him walk into the lobby from the back room at the vet. It was like a reality reveal party on T.V. and Sang Su just received a makeover.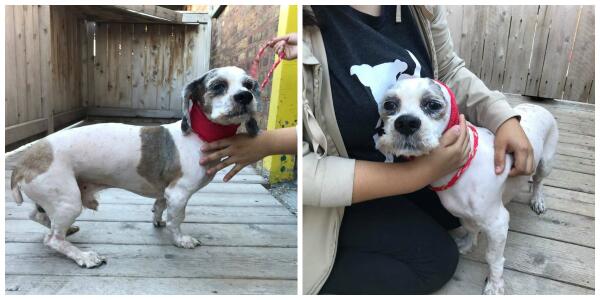 Medically speaking, Sang Su's ears were an infected mess not only on the inside but parts of the outside, too. They were so full of sores and now that his ears were free, all he wanted to do was shake them. Because of this, Sang Su started to form hematomas on his ears. To prevent him from needing surgery, Sang Su needed to wear a wrap around his head to keep his ears still. Sang Su also had a secondary skin infection, infected eyes and major inflammation in the areas that his fur was pulling so tightly next to his skin. Emotionally, Sang Su's was very unsure and just wanted to be held. His eyes looked vacant and he showed no signs of happiness. One can only imagine what this poor dog has been through and the loss that he has endured.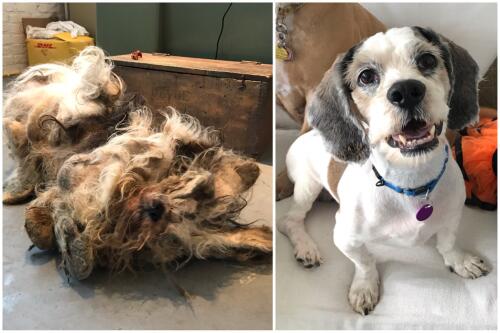 Finally, the day came when Sang Su was healthy enough to be introduced to some of TAF's therapy dogs. It was that day that he got a little pep in his step and some happiness back in his heart. Our dogs were able to do something that us humans couldn't. They taught Sang Su how to be a dog, again. It was like they flipped a light switch and Sang Su remembered how truly wonderful life can be.

With that, we are so happy to officially announce that Sang Su has found his forever home! Sang Su now has a mom that adores him and thinks that he is absolutely amazing. It was love at first sight and we couldn't be more thrilled with this happy ending… Sang Su got his second chance.