ROCKY'S WORLD JUST GOT A WHOLE LOT BETTER!

When Rocky was transferred into our care from a rural high-kill shelter, they forgot to tell us that he was heartworm positive. In addition to this, he had horrible eye infections and a skin infection that had left a baseball size bald spot on his back.


TAF started medical treatment right away on Rocky and he was hospitalized. Rocky has already received his first heartworm treatment with us and will need to go through one more round. Since coming into our care, both his skin and eye infections have all cleared up.

TAF received an email from a girl who was interested in adopting Rocky. After a few email exchanges, we learned Brianna had found Rocky wandering on a country road. She took him to the police station to check for a microchip and when it was discovered that Rocky was indeed chipped, the police contacted his owner and sent Brianna on her way. While waiting for his owner to come pick him up, Rocky was sent to the local shelter. After a few days Brianna called to check up on him and was told Rocky's owner had officially relinquished him to the shelter, who in turn transferred Rocky to a rescue. Fortunately the shelter told Brianna that Rocky was safely in our care, which is when she saw his story on our Facebook page.

Brianna offered to take Rocky to her home and care for him during his heartworm treatment. After learning how much effort Brianna had put into getting Rocky to safety, we knew that the best place for him to be was with someone who genuinely had his best interest at heart. TAF contacted her vet to see if they would finish Rocky's heartworm treatment at their clinic. They spoke with our vet in Chicago, and agreed to treat Rocky. We set up the appointments and made arrangements to cover the costs of the remaining heartworm treatments.

Last Saturday Brianna drove up to Chicago to pick up her boy. Rocky recognized her right away and basically jumped right in her car. He looked over his shoulder at us and was like, "see ya"!

Brianna did everything that you should do when you find a stray and who would have known that her perseverance would lead Rocky right back in her arms. It was always meant to be!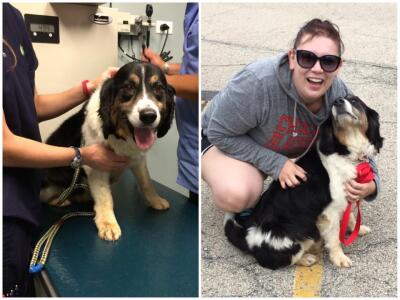 Thank you to everybody that donated to Rocky's medical care and kept him in their thoughts and prayers. Your support is truly appreciated!