THIS! THIS IS WHY TAF CHERISHES OUR THERAPY DOGS… MADELINE HAS FOUND HER FOREVER HOME!!!

When TAF was asked to help with some pretty advanced medical cases at an open access shelter we stepped up to help. We were actually able to do so because of the generosity of all of you.

Upon leaving, we were asked to look at a scared senior Chihuahua whose future did not look so good. When we were brought to Madeline, none of us tried to touch her. We knew that she was too stressed and to do so would set her up for failure. Instead, we worked with the shelter manager to come up with ways that would make it easier for the staff to handle Madeline and give her time to adjust. Finding a place for her was going to be a labor of love and in a shelter environment it might take months. We knew in our hearts that Madeline's chances of a happily ever after were very slim…

About to get into the car with our medical pups all loaded up in their kennels, a heaviness fell over us. We knew the reality of Madeline's situation and it didn't feel great. It was at that time that we agreed to take Madeline with us. We had no game plan only the knowledge that TAF's therapy dogs would take it from there and lead the way… and that is exactly what they did.

When Madeline arrived at her foster home, she was terrified and lashed out. However, when we brought in our littlest therapy dog Bentley Madeline's whole demeanor changed. She had found a friend to follow and show her the ropes. We slowly worked her up to the other therapy dogs. Hazel Grace and Antler were next to meet her. All of our dogs are trained to not approach a shelter dog until given permission. Once we knew that Madeline was up for meeting them, all of the littles and Antler hung out. Once Madeline was much more confident, we introduced her to our XXL pups. Eeyore was pretty impressed with this pint-sized dynamo. As for Fiona (still in training), she was literally and figuratively kept on a short leash. A 130(+) pound, 10-month-old puppy is a bit much for a 6 pound dog… at least at the beginning. By the end of Madeline's stay with us, she was hanging out with the whole pack and made herself quite comfortable.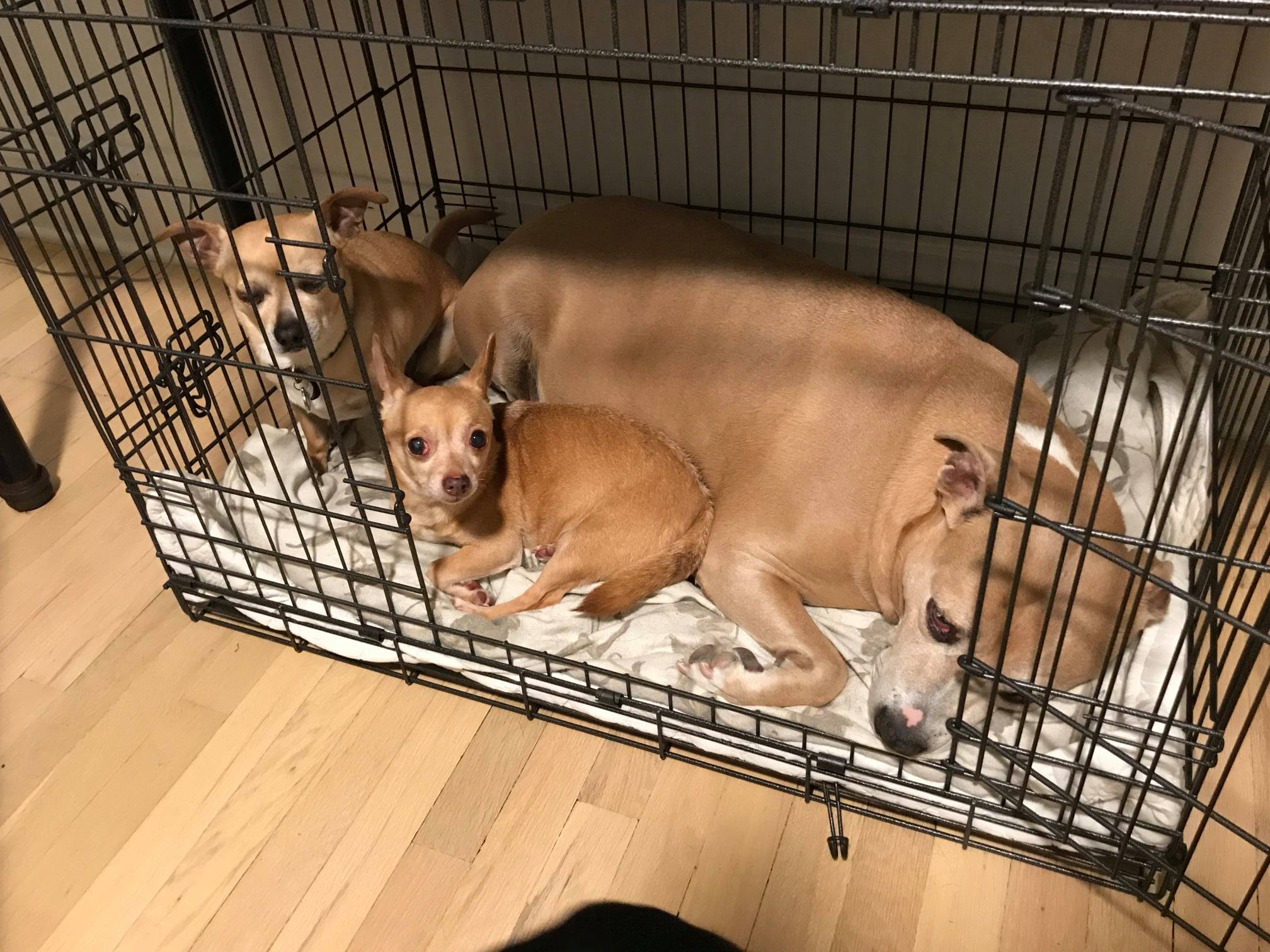 (During this time, Madeline underwent surgery to repair a cherry eye, had a dental with several extractions and was spayed.)

Even though Madeline had come such a long way, she still had quite the temper. We knew that she would need to find a forever home with people that were Chihuahua savvy. The type of people that appreciated a more "spirited" senior pup who was set in her ways and might not let them into her circle of trust for weeks. More importantly, a family with other pups to welcome her in. If there were other friendly littles in the picture, Madeline was destined to succeed.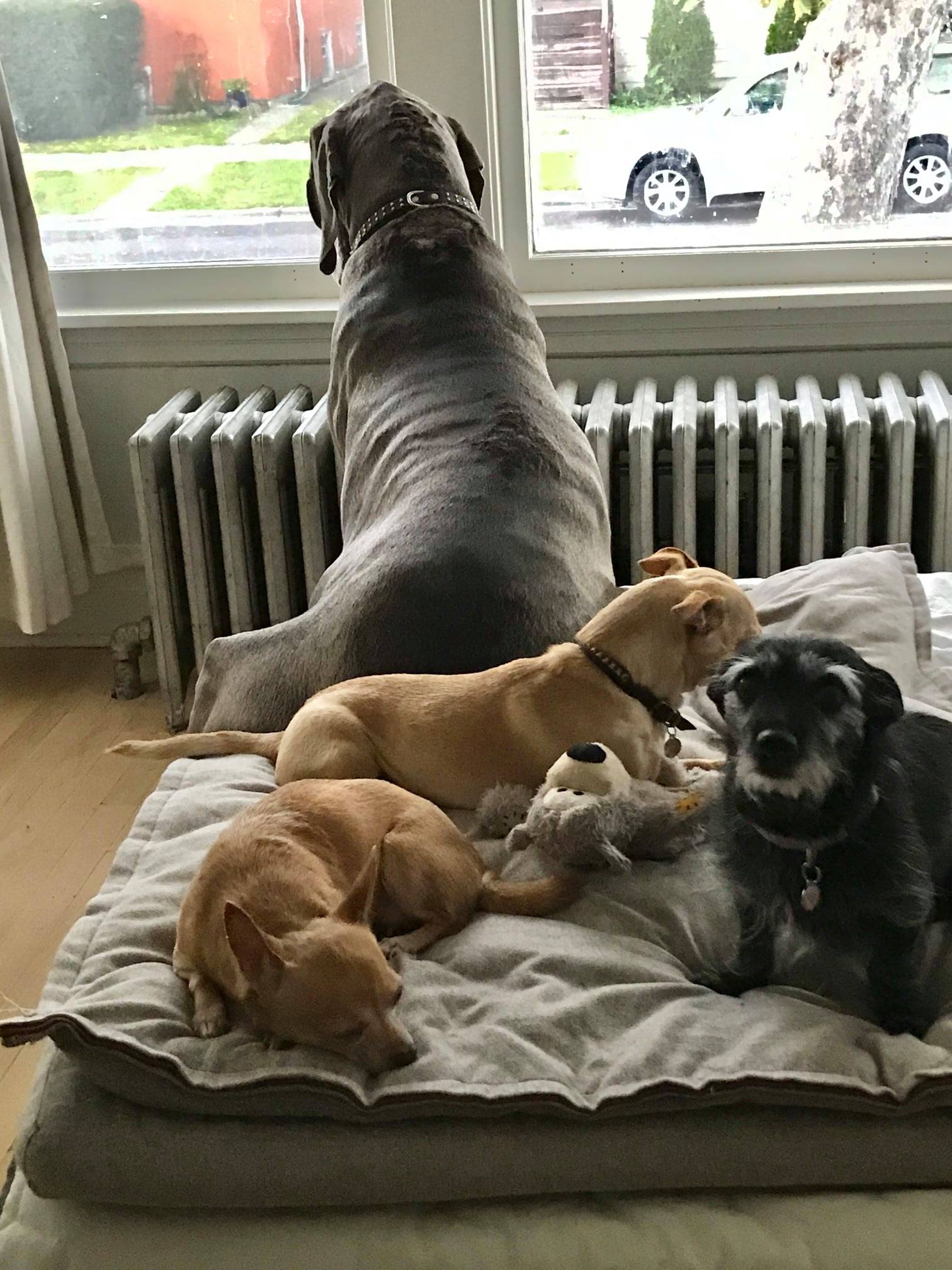 Well, how does the old saying go? From your lips to God's ears… that is basically how it went down. I can tell you that 2020 got a whole lot better when we received a special email regarding Madeline… a whole lot better.

When the time came to bring Madeline to her potential forever home, we had faith that she would work it out. If she followed the blueprint that we had set up for her in her foster home we knew that she could do it. Her future mom and dad already knew all of her quirks and were willing to give her as long as she needed to adjust. Even if they couldn't touch or hold her for weeks. They were Chihuahua lovers and have always focused on helping Chihuahuas who are misunderstood and left behind.

Let me tell you, when Madeline and I walked into this lovely couples home I think that both of our jaws dropped. The whole house and backyard was designed for Chihuahuas. There was even a wardrobe closet in the corner for all of the pups' clothes etc. (It definitely rallied that of Hazel Grace's closet). Once we went out to the backyard, there was a pack of brown Chihuahuas running in a herd and Madeline was one of them. It was a littles party and we were lucky enough to be a part of it.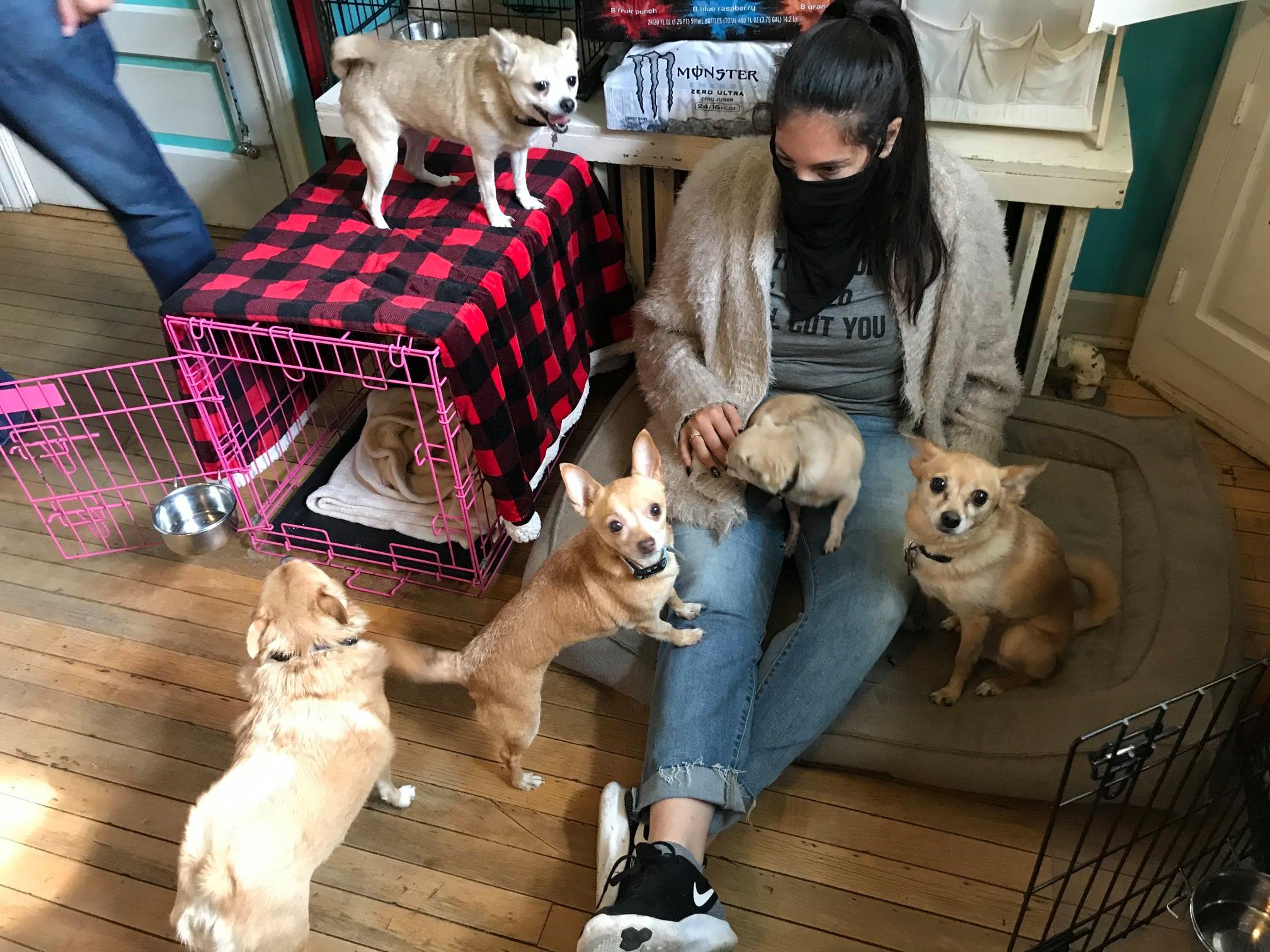 Once inside, it was now 100% up to Madeline. After playing this moment out in our heads over and over, we just had to step back and see how Madeline interacted with her potential adopters. As I stood there a bundle of nerves, and holding my breath, wouldn't you know it that Madeline went right over and sat on her mom's lap. To prove how cool she was, Madeline walked right over and sat on her dad's lap, too. If that doesn't tell you something about Madeline's new family I don't know what does. Madeline was not ready to be picked up yet but as nervous as she must have been, there was a calmness to her. She just looked up at me and was like, "This is them… this is my forever family".

With that, I am happy to officially announce that Madeline has found her forever home! She has got to be one of the luckiest dogs in the world to get a second chance like this. I can't even find words to accurately describe the kindness, joy, understanding, patience and love that you feel in Madeline's new home. Hands down, in the 10(+) years that TAF has been around one of our favorite happily ever after stories. This one was good for the soul.