A supporter of TAF contacted us to see if we could work with her and Project Rescue Chicago to get an abandoned, 10 month old, heartworm positive jack russell terrier out of a kill shelter where he was slated to be euthanized. We agreed to cover his medical costs and the dog, who is now known as Kaner, was saved from the shelter!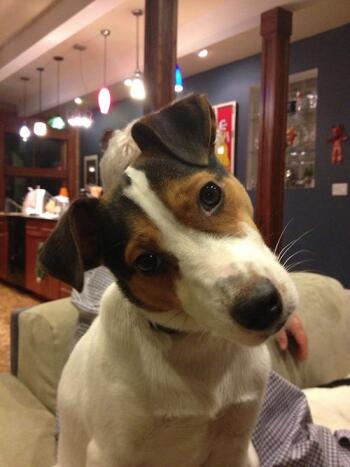 Kaner went right to the vet for bloodwork and xrays to assess his overall health and the severity of the heartworm disease. Unforunately, he fell sick with a terrible pneumonia only two days later and was hospitalized for a week. After 3 weeks of antibiotics, Kaner was healthy enough to receive his first heartworm treatment injection. He did well with his crate rest, despite wanting to run and play like any 10 month old pup! 
Kaner just received his final injections and is doing very well. TAF is very happy to have been able to help save this boy and ensure he received all the medical attention he needed to lead a happy, normal, pain-free life!