On two separate occasions, TAF was contacted about two dogs in dire need of medical attention that had been brought into an open access shelter.
One dog, Hannah, was so terribly matted that she could no longer eat, drink or use her front leg. Her leg was in such critical shape that her medical team feared that it would need to be amputated. The fur was wrapped so tightly around her leg that it had cut through her flesh and her bloody tissue was starting to ooze out. Once shaved and at the ER Vet, it was discovered that Hannah had several deep, ulcerated lesions that extended all the way to the ligaments and tendons in her leg. This coupled with Hannah's emaciated, weakened state did not leave her doctors optimistic.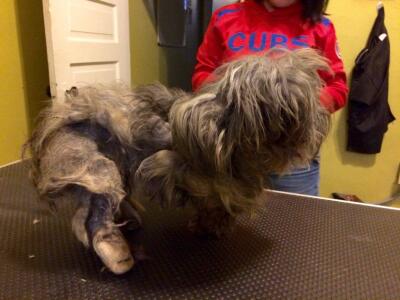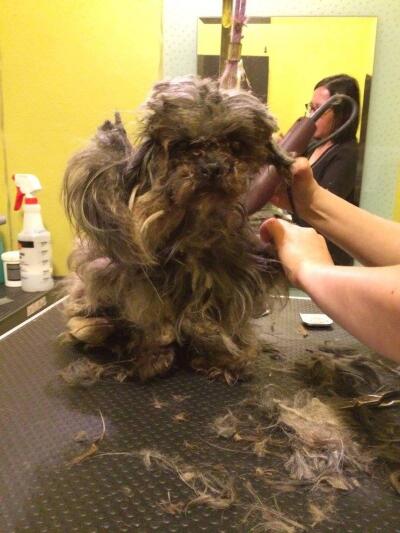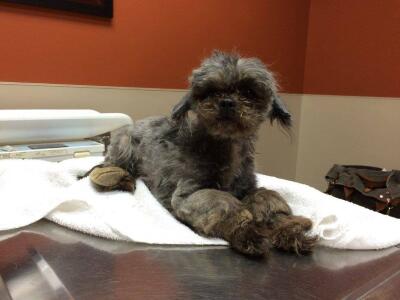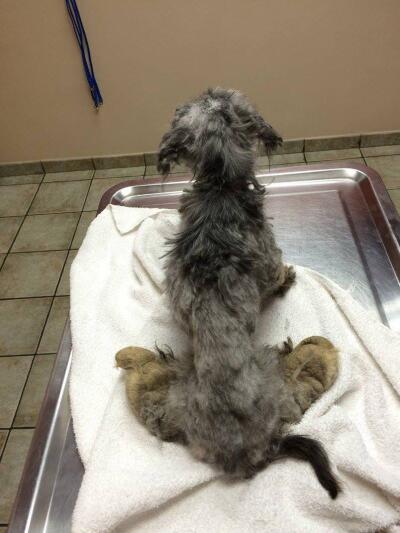 Because of the severe abuse and neglect, Hannah would go to be hospitalized for weeks undergoing surgery and receiving IV pain medications, antibiotics and fluids. 
At the same time Hannah was at the vet recovering from her abuse, the other dog Buddy was also there. Unbeknownst to us, these two were forming a special kinship through the bars of their cages at the vet. Perhaps that is what they needed to make it through the atrocities that they had lived. A bond between two friends that had suffered similar abuses and were now struggling to survive not only physically but mentally. The comfort that they brought each other was insurmountable and was the driving force behind their recovery.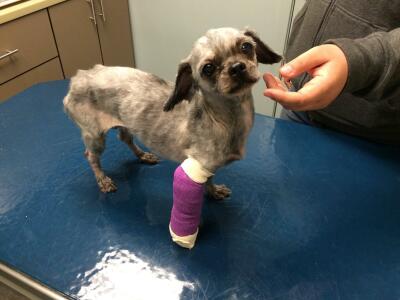 It was about the time that Hannah and Buddy were leaving the hospital that we received one of the most touching and inspirational adoption applications that we had ever read. It told the story of how a loving father and mother took a 12 year old boy into their home after tragic circumstances left him to grow up in and out of abusive foster homes since the day that he was born in Cook County Jail. After taking on unfathomable hurdles for the past 17 years, their son is now an honor roll student who is lettering in 3 varsity sports and is college bound. Only love can hold one up for such success… the love of a son and the love of his mom and dad. Surely, our Hannah and Buddy would be blessed to be part of this family.
When the day came for Hannah and Buddy to meet their potential family, it was truly amazing. Hannah's new dad lay on the floor so that she felt more comfortable and Buddy went up to their son and sat on his lap. The family was head over heals for them and said that they wanted to give them a forever home… together!
To say that Hannah and Buddy's new family have moved us would be an understatement. They are a beaming light in a world that can be dark and cruel. They are an inspiration and are actually doing the footwork to make this world a better place. Their love truly knows no bounds and we are so thankful that they have welcomed our beautiful pups into their home and into their hearts. Hannah and Buddy have finally gotten their happy ending and we are all better people for having met their new family… may the world follow suit.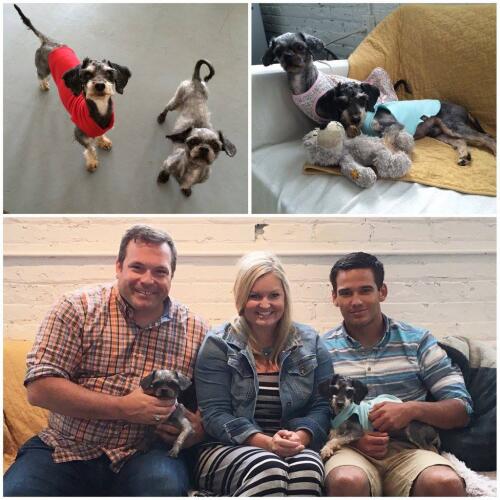 TAF would like to thank everybody that donated their time and money to make sure that Hannah and Buddy didn't go without and received the best medical care possible. You made their success possible! To everybody that has kept these two in their thoughts and prayers, you are truly special people and we appreciate you!
Read Buddy's story here: http://www.trioanimalfoundation.org/before-after/buddy-2