IT TRULY DOES TAKE A VILLAGE... AFTER 5 MONTHS OF HARDSHIPS, TAF SPONSORED GRETA HAS MADE A FULL RECOVERY AND HAS FOUND HER FOREVER HOME!!!
On May 19, right after our annual Rockin for Rescue Fundraiser, TAF went to visit our local shelter to transfer some dogs into our program. It was then that we first met Greta, a tiny 6-pound Chihuahua mix girl who was very sick and clearly suffering from knee problems. We just couldn't stand to leave her behind as she had already been passed up by other groups given her medical condition. We took Greta straight to our vet where she was immediately hospitalized for terrible pneumonia. She remained hospitalized for over a week, on IV fluids and antibiotics for her pneumonia, and pain meds for her knees. The vets diagnosed her with severe (grade 4 on a scale of 1-4) luxating patellas in both knees. Poor Greta was so miserable and in so much pain. However, she was so sweet, loved to snuggle, and would gently put her tiny paw on your cheek when you talked to her.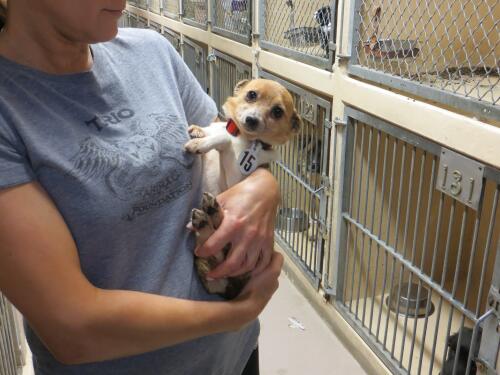 It was at this this time that Greta received a very special visit from her namesake Greta Stolte. You see… Greta's dad is actor Christian Stolte of the hit TV show Chicago Fire. The whole Stolte's family has been a huge supporter of TAF and came out to meet the sick little pup that had won us all over. The Stolte family spent time playing not only with Greta but also with TAF's Miller and the rest of our rehabilitation dogs… it really made all of the dogs very happy. *top right picture in photo
After weeks of medication, Greta was finally well enough to undergo orthopedic surgery in both knees in attempt to correct her luxating patellas. Because she was so small, the surgeon decided it was best to do both knees at the same time. The surgery was successful and Greta started yet another long road to recovery. We had to carry her everywhere for the first week or so, but she was still spunky, happy, eating well and very sweet.
6 weeks later Greta got the "all clear" from the vet and surgeon and was listed for adoption, but she had another setback when she started coughing, showing signs of collapsing trachea. This poor little girl seemed unable to catch a break! Fortunately her collapsing trachea was determined to be very mild and she recovered from her coughing fits quickly, so no further interventions were required.
Last week PRC received an amazing, warm, loving application to adopt Greta and we crossed our fingers that Greta's luck would finally turn around! Well, it was a perfect match!! Greta's new mom had always wanted a dog and finally felt the timing was right. Greta climbed up onto her lap and snuggled in immediately...it was perfect! *bottom right picture in photo.