Look who is healthy… FARMER!!!

TAF first came across Farmer on 11/13/13 at a local open access shelter. The poor guy had open oozing sores all over his body and his paws were easily 3 times the size that they should have been. He was defeated and looked like he just wanted to die.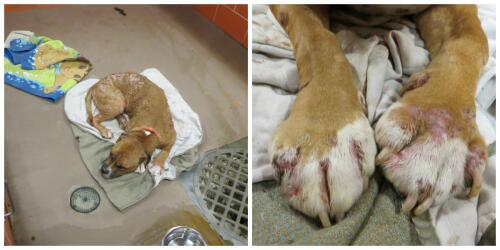 When we talked to the facility about pulling him, we were told that he had to be held for 10 days because he was microchipped. As senseless as this seemed, it is the law in Illinois and we had to abide by the rules.

Finally, on the evening of 11/21/13, with the help of Project Rescue Chicago, we were able to pick up Farmer and get him to our vet first thing in the morning. 

Farmer underwent a slew of testing to try and determine the reason for his medical condition.

Right off the bat, it was confirmed that Farmer had a temperature of 105 degrees and that his gums were pale. Initial blood work confirmed that he was anemic and a skin scraping tested negative for both demodectic and sarcoptic mange. It was at this time that bite wounds were also ruled out.

As Farmer sat quietly in the room, his raw skin could not stop twitching because of the exposed nerves in his open wounds. The pain that Farmer must be experiencing would bring many of us to our knees. The poor guy's paws were still so swollen that they look like water balloons about to burst. There were no signs of a tail wag or even a glimpse of light in his eyes.

It was at that point that Farmer was hospitalized on IV pain medications, fluids and antibiotics. If his quality of life didn't improve soon thereafter, we knew that we had to consider his quality of life and do what was most humane.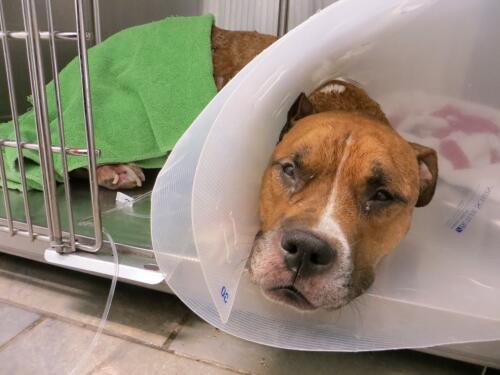 On 11/25/13, the biopsied tissue, that was sent off to the lab, was able to also rule out blastomycosis, allergies and a reaction to flea bites.

At this point, we decided to continue treatment and kept Farmer on his IV fluids, strong IV pain medications and antibiotics. Farmer was also sedated so that he could have his wounds cleaned out and his dead skin debrided (removed). 

Once Farmer's fever started to go down, we knew that his immune system was kicking in and that there was a good chance that he was going to make a full recovery and… he did just that.

After weeks of hospitalization and months of vet visits and skin treatments, our Farmer is now happy and as healthy as could be. Just look at that smile on his face!