On July 6th, TAF received a call that the Chicago Police Department had just rescued 2 dogs from an abandoned building and needed assistance getting them emergency medical care. At 1 am, TAF met the officers at the ER Vet and Emmy (red pup) and Oscar were transferred into our care.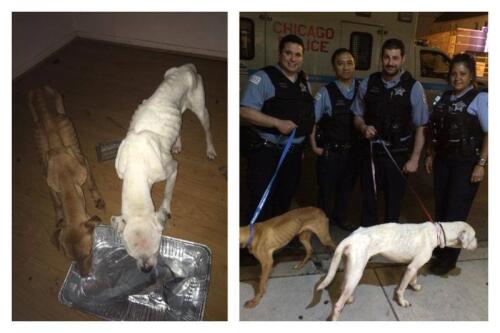 Emmy weighed in at only 22.4 pounds and her body was in starvation mode. She was anemic, had an elevated white blood cell count and was dangerously dehydrated. Emmy was started on IV fluids, pain medication, antibiotics and a slow feeding regimen. The slow feeding regimen was to prevent "refeeding syndrome" that could have overwhelmed her starved system and cause organ failure and even death. Several small, high fat meals were fed to Emmy over the course of the day to help her system adjust.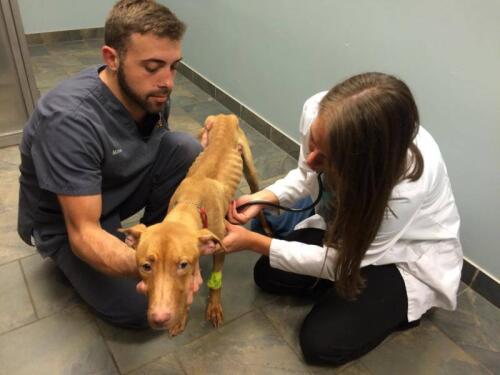 During her hospitalization, Emmy fell for one of her vet technicians and he fell for her. When Emmy was weak and didn't want to leave Anthony's side, he would drape her around his neck and carry her around like a little fawn… this is when Emmy was happiest.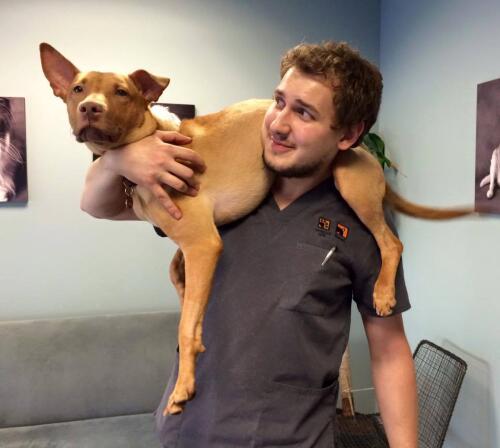 As Emmy started to gain her strength back and put on some weight (19 pounds), she was not about to give up her favorite routine with her new best friend. Since Emmy was now allowed to walk around the back rooms of the vet office, she would search for Anthony so that he could hold her. Thankfully, Anthony had a strong back and a heart of gold!

When it came time for Emmy to come back with us, Anthony had a very hard time letting her go. In fact, he teared up when we picked Emmy up to leave. It would take almost losing her to another home for Anthony to realize that he couldn't lose his favorite girl. It was then that Anthony asked to take Emmy home with him… the two haven't missed a day of work since.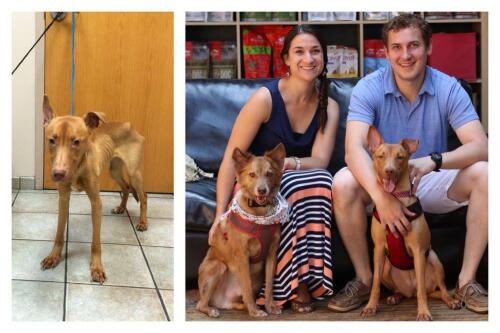 A big thank you to the Chicago Police Department, Emmy's medical team and TAF supporters for giving Emmy this second chance at a new beginning! For some reason… this second chance seems more beautiful than most!