Wearing only an over-sized metal chain-link around her neck, Elsa was found tied up in the backyard of her owner's home on the south side of Chicago. It was just after July 4th and she was emaciated, defeated, terrified and had lost any sense of hope… she was truly somebody's leftover. (*Elsa's owners were never charged.)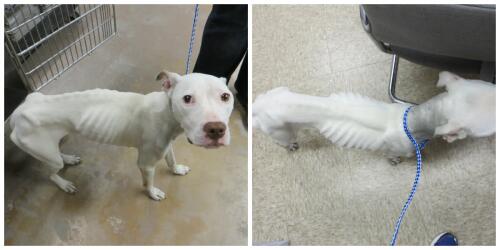 Knowing the severity of her medical condition, TAF pulled Elsa from Chicago Animal Care and Control and brought her straight to our vet. Elsa was hospitalized on IV fluids/antibiotics/pain medication and continued to receive supportive care for quite some time. For weeks… we just waited and prayed that Elsa's medical team could get her through her darkest hours.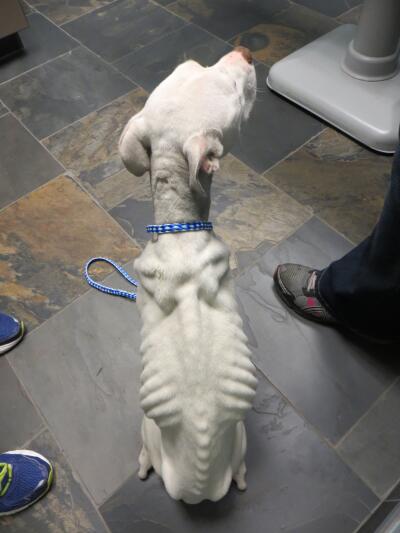 For the last six months, TAF has worked to build up Elsa's confidence, get her to the appropriate weight and work on her social skills. With the help of the staff at Unleashed, Canine Sports Dog Training and TAF's Medical & Rescue Director (Bridgid), Elsa has become an ambassador for her breed and has been given the gift of a second chance.

Because of everybody's hard work and Elsa determination and stoic spirit, Elsa has now found herself in the loving arms of her new mom. Tonight Elsa will be sleeping by her mom and wake up to the first day of the rest of her new life.

I saw this quote and I could just imagine Elsa saying it, "AFTER A WHILE I LOOKED IN THE MIRROR AND REALIZED… WOW AFTER ALL THOSE HURTS, SCARS, AND BRUISES, AFTER ALL OF THOSE TRIALS, I REALLY MADE IT THROUGH. I DID IT. I SURVIVED THAT WHICH WAS SUPPOSED TO KILL ME. SO I STRAIGHTENED MY CROWN… AND WALKED AWAY LIKE A BOSS." 

Elsa, you are one in a million and we wish you and your new mom more love than you ever thought was possible. May you be blessed with years of happiness.