On January 16, 2018, TAF introduced you to a sick pup named Cody. After 8 months of prior medical treatments failing him, TAF took over Cody's medical care and brought him into our program. When Cody arrived, he was in a tremendous amount of pain. His skin oozed puss and blood and he cried out when you touched him.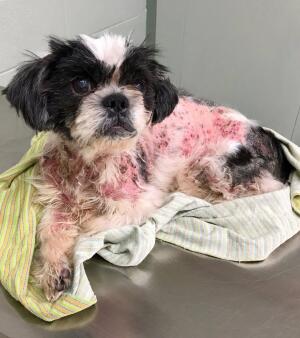 Tests would go on to show that Cody was suffering from demodectic mange and a massive secondary skin infection. Skin cultures would go on to show that Cody's skin was riddled with E. coli and he was diagnosed with the dog-version of MRSA (methyl-resistant staph) known as MRSP. Well, after getting the right combo of antibiotics, Cody's immune system finally caught up and after months of skin treatments, medications and TLC, Cody made a full recovery. 

However, before leaving us Cody did manage to get in a pretty extensive dental surgery. Oh… and a last minute neuter. To all of our surprise, we found out that Cody was not neutered the day before he was to be adopted! You see, Cody was cryptorchid and his testicles failed to properly descend from the abdomen into the scrotum. In Cody's case, his testicles actually were in his inguinal area right next to his lymph nodes. Since he had been sick for so long, it was assumed that his lymph nodes had just been swollen upon exam. To look at him, you couldn't see a thing. It would take a last minute vet visit and x-rays to confirm that this was the case. When the day finally came for Cody to officially get the seal of approval from his medical team, it was quite the victory!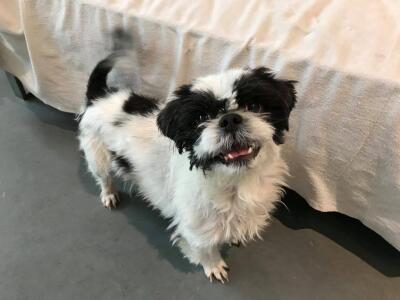 It was then that the most wonderful couple came along… a couple that had been looking for a dog that many might have passed up due to age or emotional issues. When Cody first met his new mom and dad, he was shy and even nipped at his dad. After a year filled with constant hospitalization and medical isolation, Cody was scared and unsure of his new visitors. At this point we thought that Cody might have run his future family off. That, however, was not the case. This wonderful couple just sat with him and were 100% accepting that it would take Cody time to adjust to new people and new environments. They were so sweet with him and without hesitation welcomed him into their home… his forever home. Needless to say, Cody just hit the jackpot and has a mom and dad that adore him. After all he went through, he is now the luckiest dog in the world. TAF would like to thank everyone that supported Cody all these months through donations, well wishes and support. Without people like you, this little guy may not have made it… thank you!