In Honoring His Name, Brix Finds His Forever Home... On May 10th, TAF was contacted by the Chicago Police Department's 16th District about an abused Mastiff mix that had been brought in to the station. The pup was emaciated with scars from fly strikes & frostbite on his ears and laceration around his legs. His teeth were almost worn down to his gumline and he had raging ear infections. Knowing that he deserved a strong proud name, TAF decided to name Brix after a departed Chicago Police Department K9… surely Brix would make his namesake proud.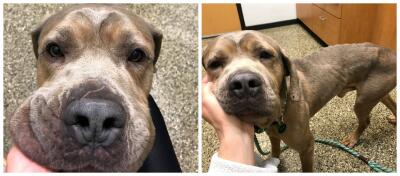 After months of medical care, a slow-refeeding program, ear surgery, neuter and some emotional rehabilitation, Brix finally came out of his shell and was ready for adoption!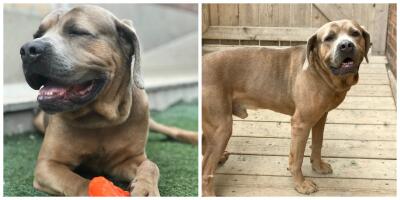 With that being said, we are so happy to announce that Brix has found his forever home! As fate would have it, his forever family is in law enforcement and his #1 person in the whole world is a Marine. We knew that he was destined for great things and he proved us right! TAF would like to thank Brix's new family for continuing with his training and being committed to caring for his every need. They are so in love with him and we have never seen Brix smile like the day he did when he met his family… it was like a flip had been switched and he knew that his whole world was about to change… like he had been waiting his entire life for that exact moment. Oh, and Brix also has a new Boxer sister that he is over the moon for… it is all just perfect! TAF would also like to thank those who donated to Brix's medical care and to the CPD for contacting us and keeping Brix safe until he came into our care.