One Last Big Win For 2018, Brady Finds His Forever Home! In August, TAF was contacted about an 8 month old puppy that had endured abuse since the day he was born. The abuse started in his home and continued for the many weeks caged at the vet. Due to a $179 unpaid bill, Brady's vet refused to let him go and did not provide him with adequate medical care. When Brady finally came into TAF's care, he was around 20 pounds underweight and his skin felt like a combination of tissue paper and hardened leather. Suffering from demodectic mange, a secondary skin infection, infected eyes and yeast infections in his ears, Brady was in a living hell.

With a lot of pain medication, we hit Brady's ailments aggressively and with everything we had. We knew that if we could not quickly improve Brady's quality of life, a hard decision would need to be made. Within a week, it was obvious that our medical approach was working and Brady was improving with each passing day. We knew that in the months to come, Brady would make a full recovery. While Brady was physically healing, it was imperative to start working on his mental health. He was at such an impressionable age and had no socialization skills. He was fearful, untrusting and on the defense.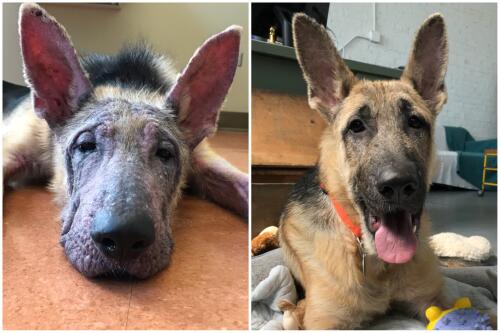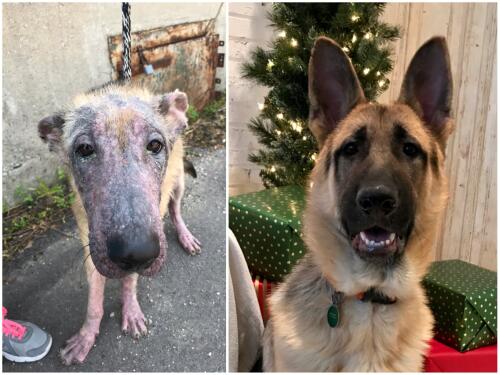 Besides spending one on one time with Brady, we had a trainer come in 5 days a week to work with him. We did everything that we could to physically and emotionally put Brady back together again… and we did just that. After 5 months of treatment, we are so happy to announce that Brady has found his forever home! His new mom is head over heals for him and it couldn't be a better fit. Brady's new mom is very knowledgeable about German Shepherds and is 100% on board with keeping up with his training. She has the best attitude and a heart of gold. If Brady can be ½ as positive and happy as his new mom, he is going to have an amazing new life. TAF would like to thank everyone that donated towards Brady's medical care and rallied for him from the beginning. We could not have done this without your help. Unfortunately, Brady's abusers never saw their day in court. Every individual, or group, that has had firsthand knowledge or proof of Brady's abuse has been unwilling to go on record to help TAF press charges. Without their backing, we have nothing. At least when all was said and done, Brady got his happy ending. That is something to smile about.