This past September, TAF received a call from Animal Control asking for help. Crammed into a small crate, three senior dogs had been brought in by their owner. Two of the dogs were under socialized senior males and the other a senior female. They were stained with urine, needed medical attention and were scared to death. They needed TAF to save them.

Mabel, Bert (brown pup) and Ernie (black pup) needed to have extensive dental surgery. All of their medical issues had been ignored for well over a year and they were in an extreme amount of pain because of it. They had been suffering for so long and you could see it in their eyes.

When it came to the boys, their mouths were full of rotted teeth. Many of their decaying teeth were encased in thick grey plaque with dead hair wrapped around them. Ernie's mouth was full of 20 rotten teeth. When the teeth wrapped in hair were removed, puss oozed from the surface of his gums. During Bert's surgery, 9 teeth needed to be removed as well as a growth on his leg.

Even with all of their medical issues, Bert & Ernie's emotional anguish was far worse. Their spirits had been broken and no amount of medication was going to fix it. Their sadness was palpable and we knew that with the help of our therapy dogs and positive human contact, we just might be able to help bring joy back into their lives.

The boys would go into foster at The Moon Dog Farm to recover from their surgeries and then made their way to TAF. Once in our care, we worked on building their confidence and focused on their individual emotional issues. You see Ernie and Bert are an extremely bonded pair the likes that we have never seen before. At times they fed off of each other's fears and this hindered their recovery.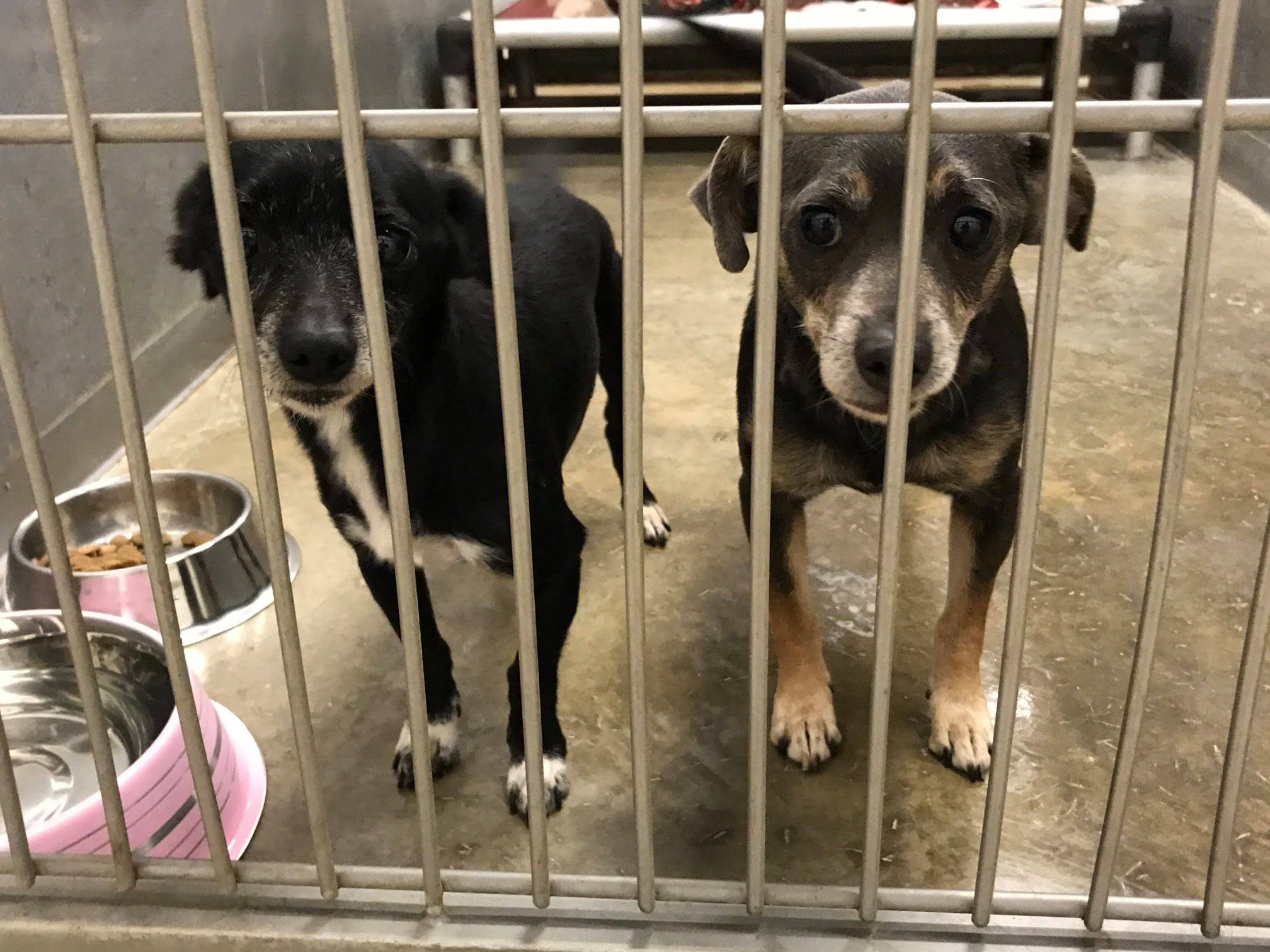 First we slowly introduced TAF's lead therapy dog Antler to the boys. Antler knows that she is not allowed to approach the new shelter dogs until she is given permission. In this case, Antler and I sat down in the backyard and let the boys come up to sniff us. The two darted around us and would run up to sniff Antler. Bert was quite protective of Ernie and did not like if she showed any sort of interest in Ernie. After a brief introduction, the boys were praised for being so brave and repeated this a few more times. Once the boys were open to meeting new friends we brought in TAF's littlest therapy dogs Hazel Grace and Bentley. Since the two had just been neutered, they were definitely more accepting of Hazel Grace. Before long, though, they trusted all of the therapy dogs and we had finally made some real progress.

Knowing that the boys could go into a home with other dogs exponentially increased their adoptability. Finding a home that is open to adopting a bonded pair of seniors is a pretty challenging feat and often darn near impossible. This is why many rescues do not pull a bonded pair from a shelter. It is extremely stressful and with the judgment of some folks on social media can be quite brutal.

Well, as fate would have it, a very special woman's whole world was rocked when both of her beloved dogs passed away within months of each other. Her girls were her everything and the pain that she felt from their loss was debilitating. Most of us are very familiar with that feeling. At times it is hard to breathe because the pain is so raw and cuts right through you.

Trying to find light through such a dark time, the woman decided to open her heart up once more and help a senior pair that needed a second chance. Kelly's girls (both doxi-mixes) must have been watching over her because they sent Bert and Ernie her way. Two doxi-mix boys that needed someone to take a chance on them and continue in their emotional healing… really everyone's healing.

When we took a road trip to meet Kelly, to say that we were all nervous would be the understatement of the year. I knew that the boys were afraid of new people that they met and I feared that they might not show well… I was wrong… so so wrong.

We met in Kelly's back yard and to my surprise the boys started running around exploring. They were so happy. I didn't think that anything could top that until the boys ran over to Kelly. They actually knocked her over and started to climb into her arms. It was absolutely beautiful and brought tears to my eyes. It was at that very moment that they had chosen their mom. They had found their forever home. In an instant, sadness had turned to happiness and the healing had begun… it was an instant family and it was wonderful.

TAF would like to thank Kelly for opening her heart and home to two senior dogs that have only know pain and fear. Your kindness will surely inspire more people to do the same.

TAF would also like to thank all of the donors that helped to sponsor Ernie and Bert's medical care, shared their posts and rallied behind them. You are all good people and we appreciate you.

One last thank you is The Moon Dog Farm for once again stepping up to help us. You are really good friends.