With A Crooked Smile, Abe Goes In For The Win! Back in March, TAF was contacted about a very old dog with a deformed face at an open access shelter. He had been there for over a month and his chances of getting out were slim to none. Upon meeting Abe at his cage, he actually wagged his tail and greeted us. Abe must have known that we were there to save his life.

In the coming days, we would find out that Abe's heart and lungs were infested with heartworm. At that point we had to make a decision based on Abe's temperament and quality of life before, during and after heartworm treatment. After discussing Abe's medical options and adoptability, we decided to go through with treatment and give him the chance to live. He had already survived unbelievable odds and we weren't about to stop him now. In the 300 days of being homeless and ill, Abe made it through every obstacle set before him and did it with a smile… a beautiful crooked smile.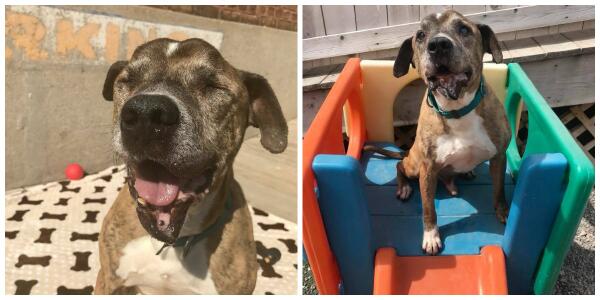 The week before Christmas, TAF put out a plea to help find Abe a forever home. Quite a few people reached out to help Abe but for one reason or another it didn't work out. That is until the perfect application came in for Abe. A quiet home with two senior dogs and a lovely couple that were willing to see if they could make it work. Soon thereafter, Abe and I would go and take a visit out to the suburbs to meet his potential family and see if it was a good fit. After having a couple of days to think it over, Abe received a text on Christmas Eve. It was simply a picture of a Christmas stocking with the name ABE on it. After almost a year, our old man had just found his forever home… a forever home for Christmas.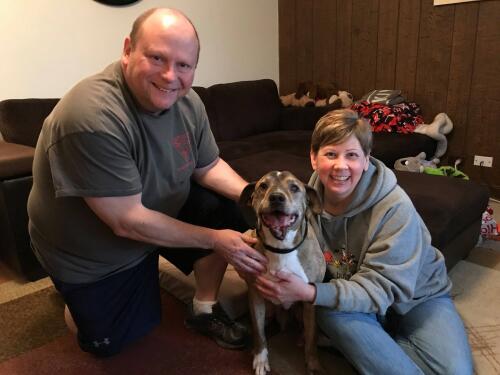 TAF is so thankful to everyone that shared Abe's post and did everything that they could to help. From the Chicago Fire Department, people across the country and around the world, everyone was rooting for Abe. For those willing to open up their homes and take in a senior dog, we have so much respect for you. It is you that give the greatest gift of all… twilight years filled with peace, love and happiness. To Abe's new mom and dad, you have answered not only Abe's prayers but also thousands around the world. You are true rockstars!