TAF received a call from Animal Control about 3 dogs that had been dropped off, crammed into one very small cage, neglected and in need of medical attention.

The pups were two males and one female. The female's back was stained yellow from being repeatedly urinated on by the males in such tight quarters. This must have been going on for weeks.

Mabel's mouth was in pretty bad shape and her tongue was already hanging out. Mabel's rotted teeth had caused a fistula (hole in her mouth) that needed to be sutured back together. Her body was frail and she was terrified. It was quite obvious that Mabel had known nothing but abuse for a very long time.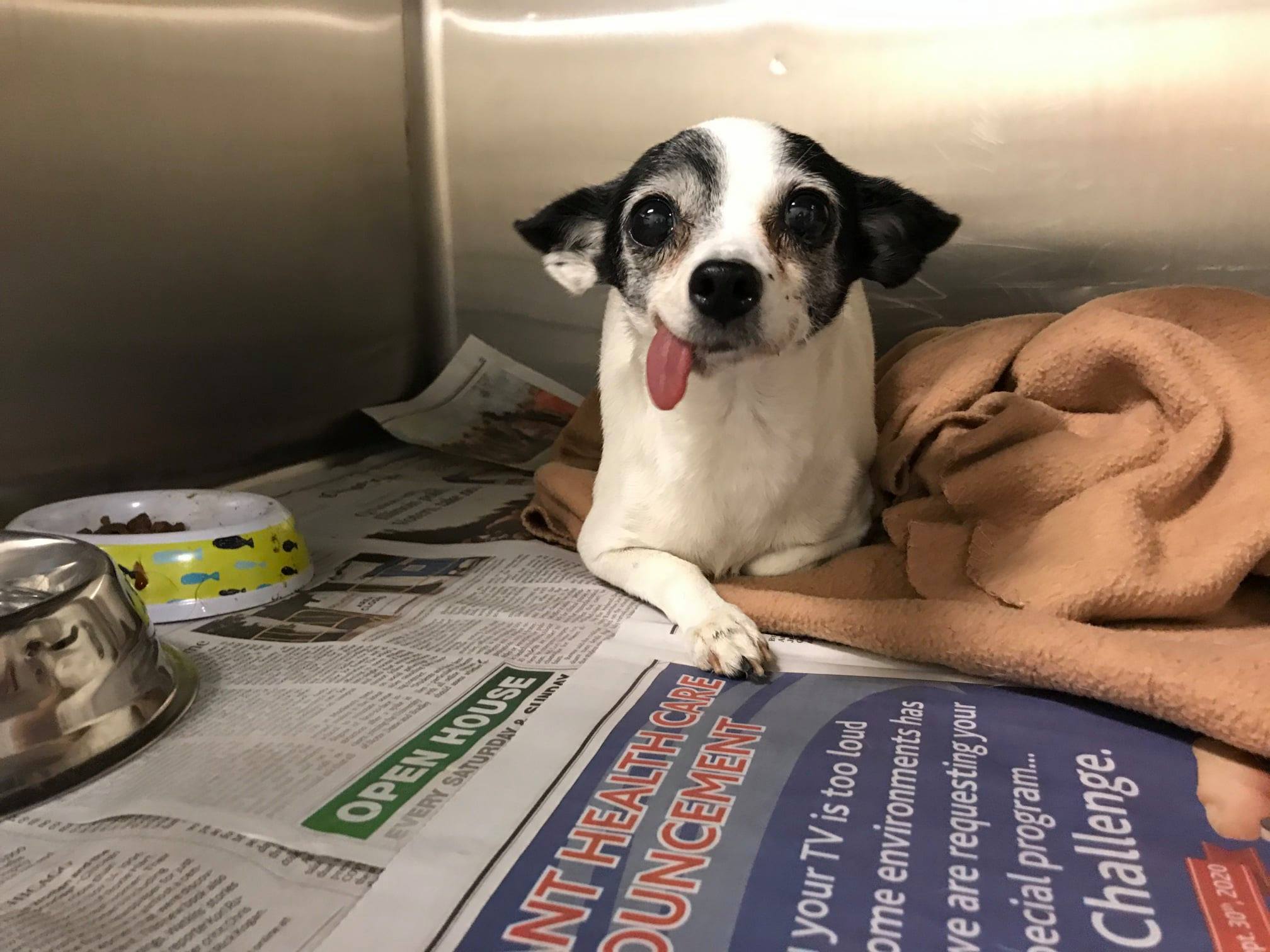 After her surgery, Mabel went to The Moon Dog Farm for her initial recovery and then made her way to be with TAF's therapy dogs. She sat next to her foster mom while she worked and she learned what it felt like to be loved and taken care of.

Pretty soon, an amazing adoption application came through for Mabel. A wonderful family stepped forward and asked if they could give our wonderful senior a forever home... that is not common for a 14 year old dog. This incredibly kind family wanted to give Mabel a second chance.

When Mabel went to meet her new mom and dad, they were waiting outside with her new fur brother and sister. Mabel had an instant connection with her big sister and they were quite sweet together. When it came time for Mabel to meet the new little in the household, it took her a little time to win him over. Before long, she had won her brother over. In fact, if you look at the photos, you can see her spooning him while they took a nap together.

TAF would like to thank Mabel's new family for taking a chance on her. They saw that beauty in adopting a senior and knew that they could give Mabel her happily ever after.

TAF would also like to thank everyone that donated towards Mabel's medical care and rooted for her all of the way. We couldn't do what we do without all of you!

Lastly, thank you to The Moon Dog Farm for watching over Mabel until she could move in with her buddies and work with the therapy dogs. There were a whole lot of happy puppies over here!